Last Friday seems like a really long time ago, but perhaps our arbitrary new year starting in the middle of the week made me feel like everything should reset. Perhaps it's because my good friend Anne is staying with us so it seems like there's more going on. Or maybe because I wrote a bunch of year end/year beginning blog posts already this week. In any case, here we are, three days into the year. Shit is on fire and Trump has brought us to the brink of war with Iran so that's a lot to take in. I don't know what to do other than keep living my life so here is this week in review.
Consuming
Here are some things I read, watched, or bought this week.
Reading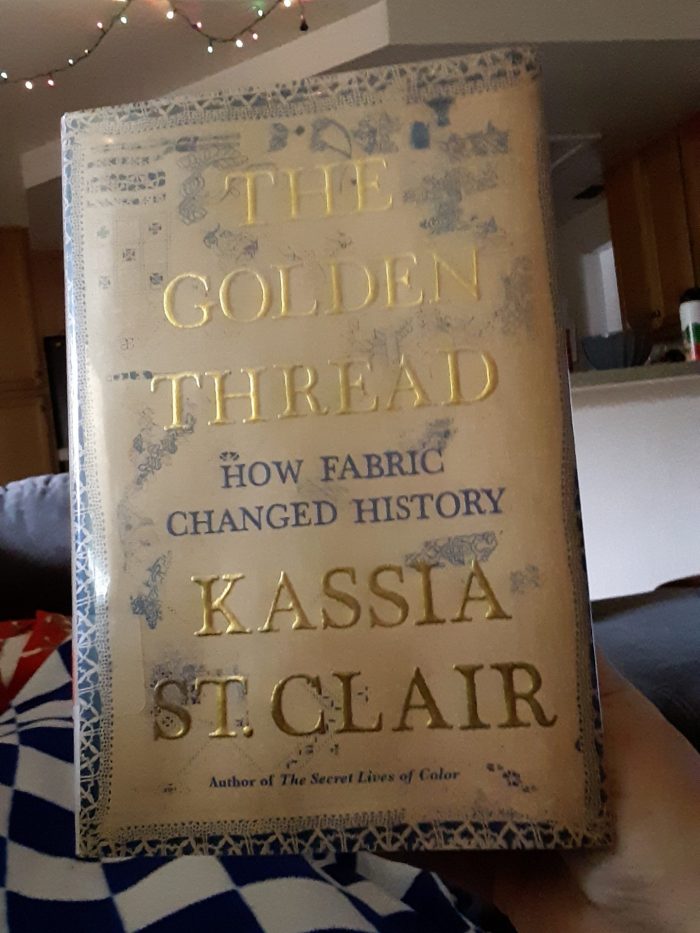 My first book of 2020, by instagram post and by the date I finished reading it was The Golden Thread: How Fabric Changed History by Kassia St. Clair. This book is something of a cousin to another recent read: Threads of Life: A History of the World through the Eye of a Needle, but it manages to deal with different topics, and it's more focused on fabric itself, rather than needlework. I liked some of the historical discussions but the most interesting part to me was the chapter on space exploration and the role textiles play in creating a safe environment for astronauts. It was a well-written book but didn't hook me quite as much as Threads of Life did, probably because it didn't have any of the memoir components, and stuck strictly to the history.
I also read the first two books of The Murderbot Diaries (All Systems Red and Artificial Condition), which is essentially about a humanoid robot that has anxiety and depression (I'll say it again: Big Millennial Energy). It's a lot of fun to read both for the concept and the way the story is told. Recommended reading for sure.
Meanwhile, on the internet:
Watching
Anne wanted to see Frozen 2 and, while I'm not that invested in Frozen, I was willing to go along for the ride. The plot was kind of bizarre and there was a whole lot of singing, but okay. One thing I was amused by was Olaf, the magic snowman sidekick whose every waking moment was spend staring into the void of existential angst. It's the biggest Millennial Energy I've seen on screen and it made me laugh. That fucking snowman has no idea why he's alive, what the point of anything is, or why nothing make sense but god damn it he presses on anyway.
Rampant consumerism
This week I received the hilariously named Glute Loops, which I ordered last week. It's a fancy resistance band for leg exercises. It offers a lot more resistance than the cheap bands I'd been using and the weird round bands they have at my gym. I used it for hip abductors this week and was like, god damn. Recommended if you need an exercise band.
Making Things and Doing Stuff
In Anne's honor, we threw a Halloween-themed New Year's Eve party: New Hallow's Eve. We got the Halloween decorations back out, watched Hocus Pocus, Beetlejuice, and other Halloween classics, and invited people to dress in costume. We also had an "Oreo Tasting" to sample some of the many, ridiculous Oreo flavors, which are all surprisingly good. I have eaten a great many of the leftover Oreos this week. The carrot cake and peanut butter chocolate pie are standouts.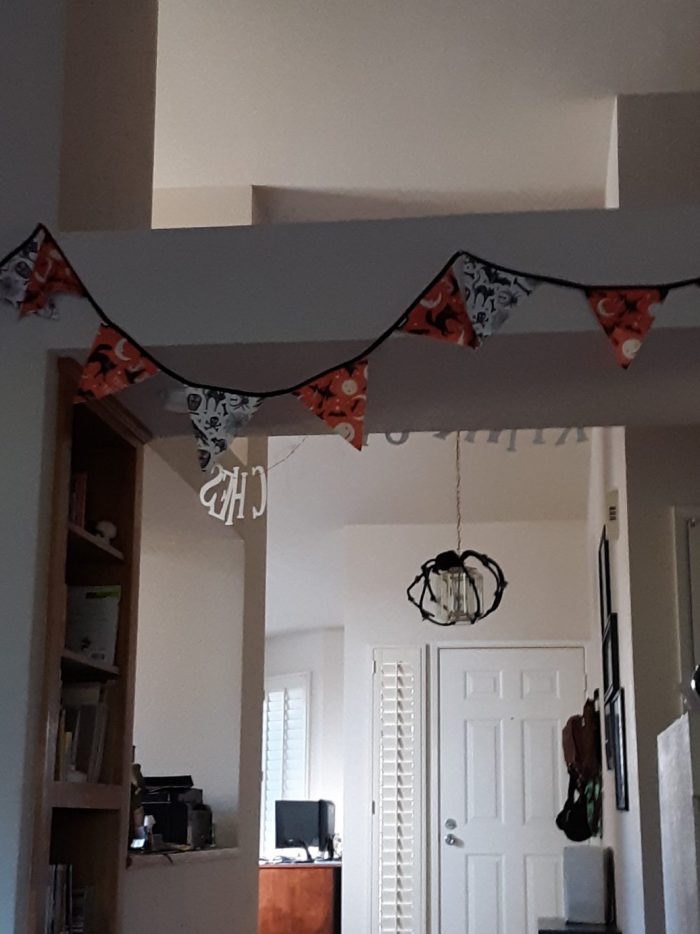 Language Learning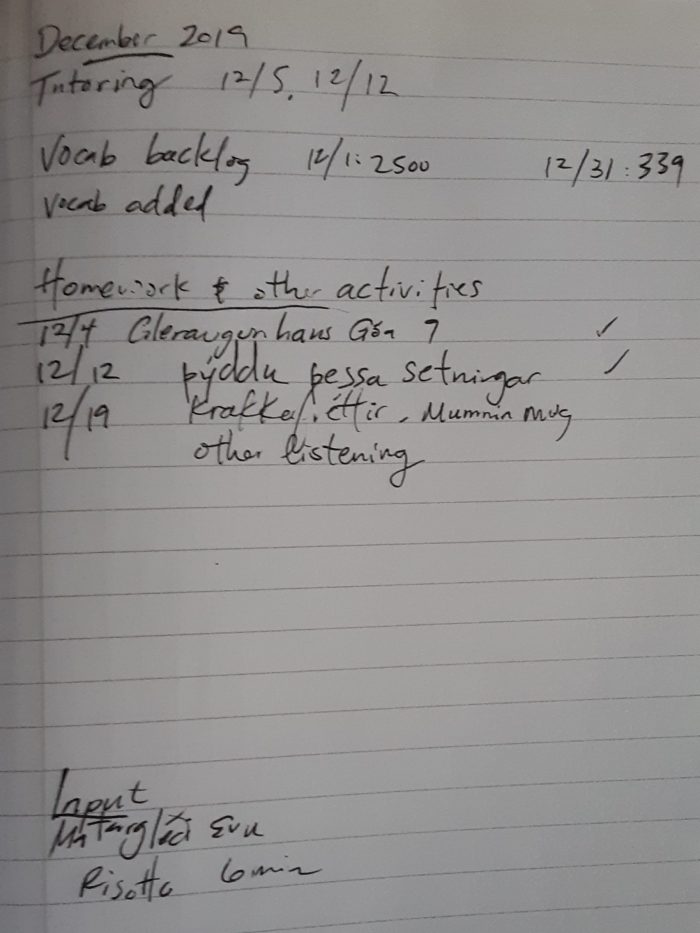 December was a good month for Icelandic. I got through almost my entire flashcard backlog (no easy feat) and actually did homework (and did a good job at it). We had a couple of lessons before heading into the holiday. Unfortunately, I'm not sure when we're starting up again because of my teacher's maternity leave. So, I've been focusing a little more on Spanish this week, but I'm hoping I can maintain some balance so I don't lose the knowledge I've gained.
To start preparing for the DELE exam, I am digging into my Spanish flashcard backlog (almost up to 5,000 cards to review -_-) and I've been making a point of scheduling myself to do listening and reading practice. I decided if I write down what I'm going to do for the week in advance, it removes some of the friction from the process and I study more. That's basically a complicated way of saying I'm giving myself homework now.
Knitting and Crafts
I technically finished the Higuera shawl (okay, wrap) last week, but I didn't want to spoil the surprise for Abby so I'm posting it now. I'm quite happy with how it came out. I love the cable pattern along the edge and, now that I'm done knitting it and can actually look at it, I really like the lace pattern too. The pattern calls for only three rounds of the leaf pattern, but I kept knitting to finish the rainbow so it's huge. But that works out: more rainbow, more pride.
This week I also made a Hallowenmas stocking for Anne, who does not like Christmas that much. It's a patchwork of Halloween fabrics that I had on hand (because you can't readily buy Halloween stuff in December), but I think it works and I like the look of it. Anne liked it too and that's what's important.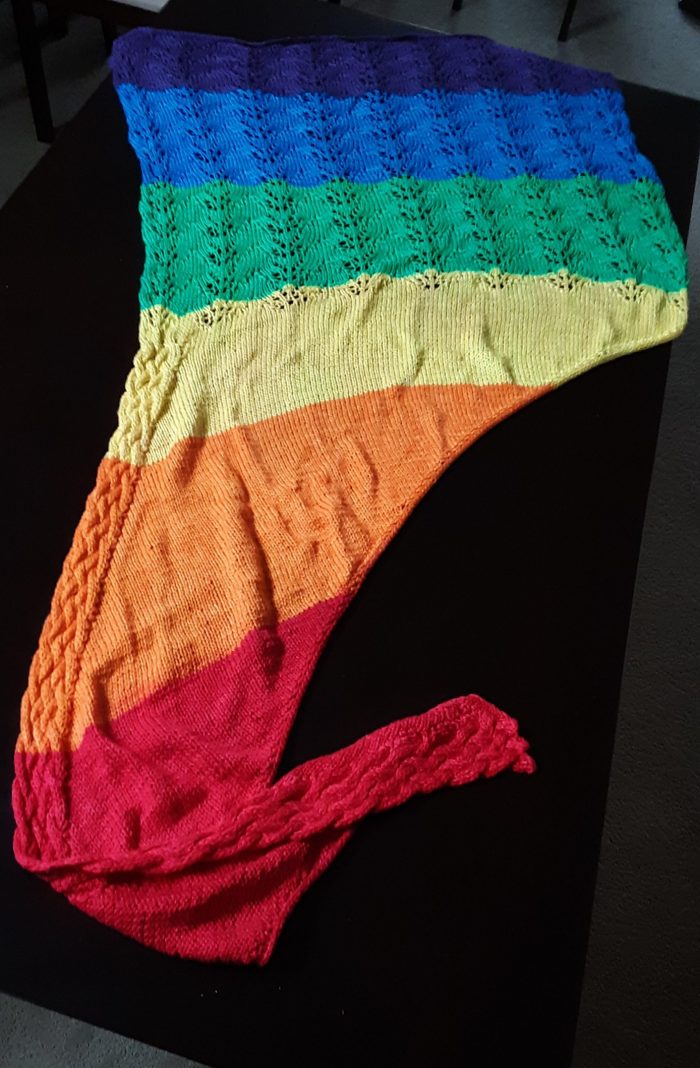 Kitchen Witchery
My dutch oven has so far been very pleasant to cook in! I tried it for the first time last weekend to make braised french onion chicken with gruyere, aka chicken thighs in french onion soup, and it was delicious. We followed that with some homemade milkshakes to use up the last of the ice cream. Since Anne has been here, I also made carnitas (by request) and pinto beans (not pictured), which I cooked in the dutch oven. Today I made cinnamon rolls. We're making a lot of good choices here.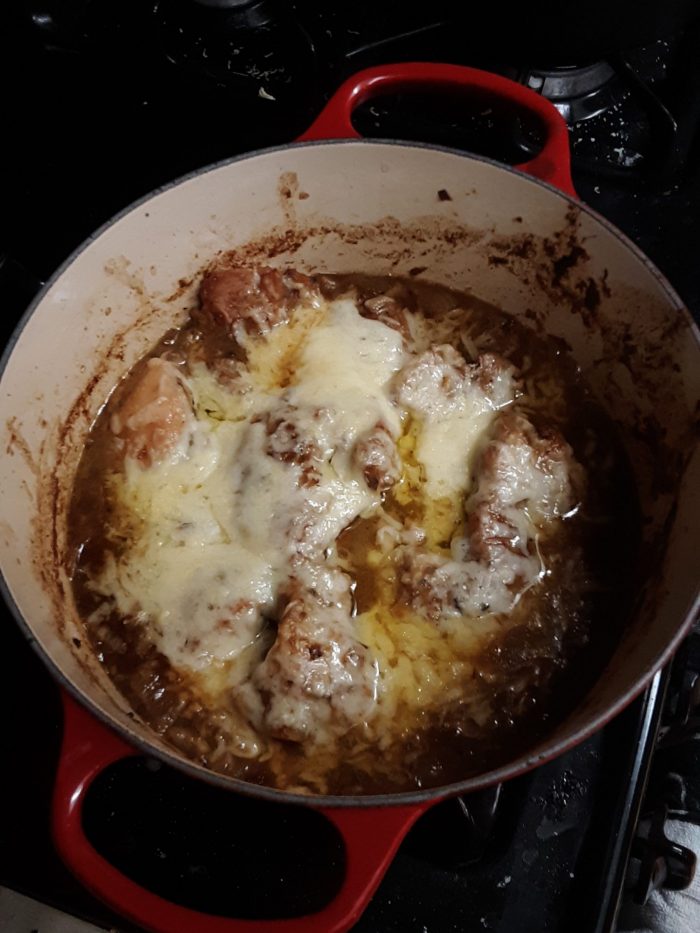 Finally, here are some cat pictures for your nerves.