I worked all day today, so this is another special evening edition of the blog. I normally logoff work at 4, but today I was stuck editing until 6, mostly due to the incompetence of others (naturally). I'm getting better at not being riled up when I have to work late. I know the trade-off is freedom to be a little loose with my hours the rest of the time. So while I didn't enjoy it, at least I'm not mad. We've had several urgent projects happening, which I don't appreciate. I have to keep financing my existence, alas.
Consuming
Here are some things I read, watched, or bought this week.
Reading
Between work and roller derby, I don't think I got in a lot of reading this week. I did finish reading Kameron Hurley's Empire Ascendant and I started the non-fiction book Nine Pints: A Journey through the Money, Medicine, and Mysteries of Blood, although I didn't read much of either.
A few things I read from the internet:
Facebook will now show you exactly how it stalks you — even when you're not using Facebook via Washington Post. Entry number 780,444 in why facebook sucks (and yet, I'm still using it -_- ). This article is useful in that it both identifies the problem and tells you how to avoid it by adjusting your facebook settings.
My Instagram via n+1. A long read on social media, hating social media, instagram, and its impact on how we interact with the world.
Patriarchy Proof: Thinx and the Perils of Emphasizing Female Founders via Bitch Media. This is interesting to me because period-proof underwear is something that's constantly in my social media ads, even though I have an IUD and don't menstruate much, and when I do I am all about that menstrual cup. The article explains that there is now some evidence that Thinx are toxic (yikes) and that the company is not as woman-friendly as it likes to project.
Watching
Last weekend's movie was Valerian and the City of a Thousand Planets, which is a fun, pretty sci-fi movie. It's directed by Luc Besson, who directed The Fifth Element. Valerian definitely had a similar feel. I did think it was trying a little too hard to be "woke," but not so hard as to be objectionable. It was a fun movie, even though, in Kirk's opinion, the leading man was not likeable.
Rampant Consumerism
I made plans to visit my sister in March so I bought a plane ticket! I am feeling fortunate because I have a bunch of airline miles banked and only had to spend $11 on my tickets to pay some of the required fees. It seems like some kind of insane loophole that you can get free plane tickets in the form of "miles" for using a credit card (especially when you never accrue interest), but okay.
Making Things and Doing Stuff
Here are some things I did and made this week.
Strongs
This is the last week of my current set of workouts. My program has been focused on jumping this month, which has actually gone okay. I definitely feel better at jumping and I have more stamina for it. I was worried that jumping would hurt my knees, but it hasn't. Actually, roller derby has been making my knees sore, which has made me somewhat disinterested to go do a jumping workout. However, assuming I make it to the gym tomorrow, I'll still have done two workouts each week all month, plus two nights of derby, which is a respectable amount of exercise.
Knitting and Crafts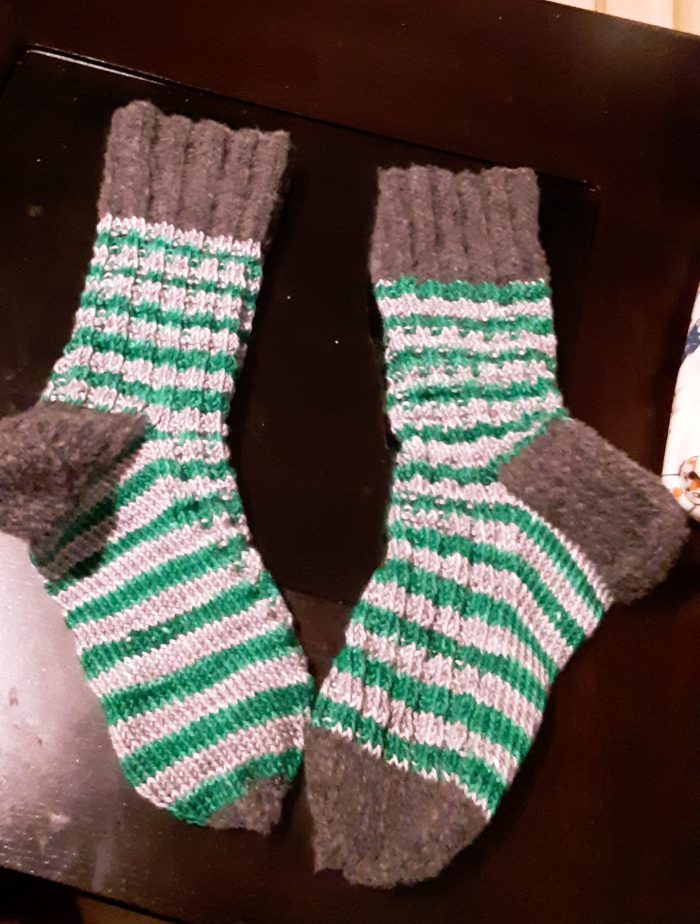 The socks are done! I almost wrote "finally" done, but they didn't really take that long. Everything I knit feels like it's "finally" done when I'm finished, but that's the nature of constructing textiles one stitch at a time. You may notice that the toes are a little uneven. I was about to run out of my contrasting color (which I ironically used a lot of in the cuff because I was worried about running out of the striped yarn), so I gave the second sock just a bit of toe. I still need to wash and block them, but otherwise, they're finished.
My next project is going to be another pair of socks. I have been planning to start a shirt, but I decided on another pair of socks because new things are hard.
Kitchen Witchery
I'm not trying to brag, but I made some really good food this week. The highlight was this pan pizza recipe, which is definitely the best pizza I've made. If you're wondering, I topped it with olives, pepperoni, and cashews, which is the ideal pizza. Kirk said he was sad that I always make good stuff like pizza when he's not here, so I'll be making it again tomorrow night for our eating pleasure. I also tried this recipe for loaded sweet potatoes covered in roasted chickpeas and tahini. Even though I like all those ingredients, I was skeptical that I would like this dish, but it was delicious. Kirk said he loved it too, even though he'd expected to hate it.
I gave myself a sneak peak at our next cookbook club selection, Feed Zone Portables, which is a cookbook of snacks for athletes. It's for people sick of granola bars and the like. Instead you can make your own rice cakes or other portable, nourishing snacks. The two recipes I tried were better than I expected. I am always in need of snacks (#foreverhungry), so I'm going to try working these into my regular rotation. This week I made date and almond rice balls as well as sweet potato cakes, which look like a muffin but are more just sweet potato and rice held together by a bit of egg and flour.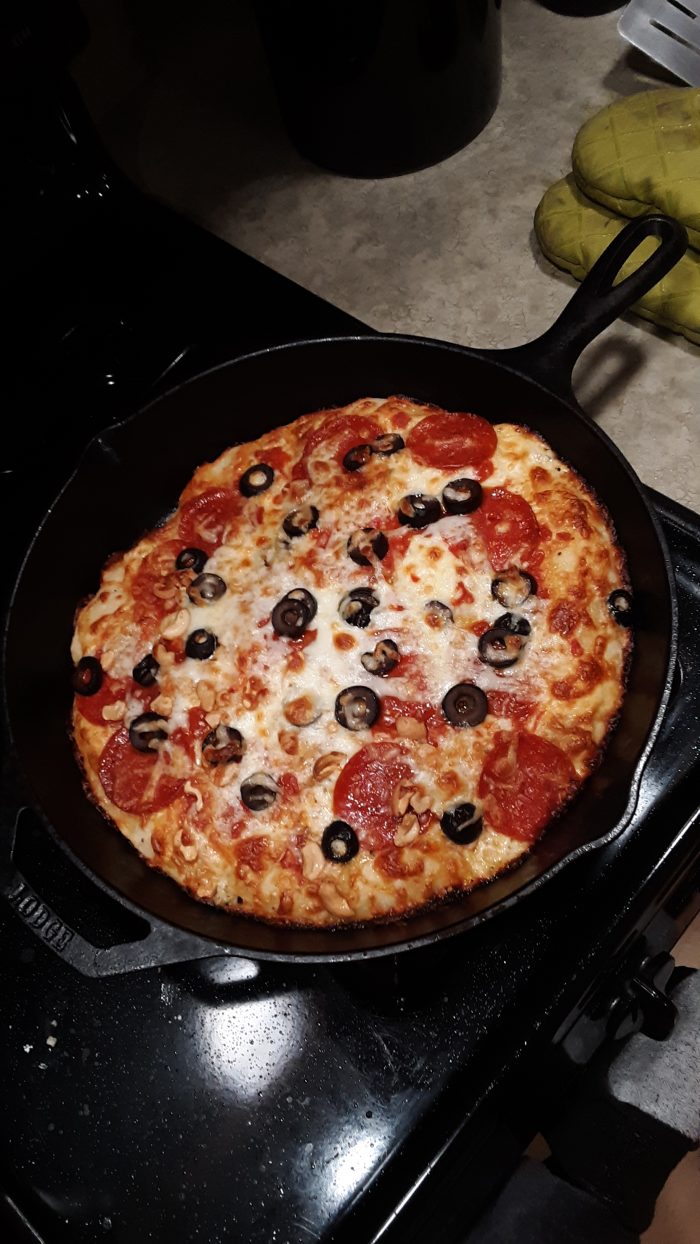 Finally, here are some photos of Huey for your nerves. I can't get enough of her snoozing on the edge of the couch lately.