I said in my last post that I would write about divesting from Bank of America. I am here to deliver.
I had never really thought about where my money goes when I put it in the bank. Money is just in the bank, right? I guess I pictured a Scrooge McDuck-ian style vault, or something like you see in a heist movie. I've learned that's not the case at all.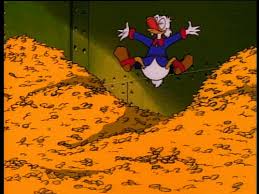 I gradually became aware of the Dakota Access Pipeline issue via Facebook, which seems to be the popular method for obtaining information these days. At first my opinion was "That's terrible, but it's not like I can go protest in North Dakota in the middle of winter." I started paying more attention to the issue and following the Injustice Boycott. I learned that there are actions that I can take other than going to North Dakota. I can divest from banks that fund the pipeline. I was also surprised to learn that Bank of America is invested in private prisons. This is not what my money is for.
Preparation
A week or so before I went to the No DAPL protest, I polled my Facebook network to ask if anyone had a credit union in Sacramento they liked and wanted to recommend. I got a lot of responses. Asking Facebook is, of course, not a replacement for actual research, but if you have well-informed friends I think it's a good place to start. I got a number of responses including Golden 1 (which I was familiar with), SAFE, and Patel Co, among others. I also learned about the credit union co-op, which links credit unions together. This allows credit union members to use other credit unions' ATMs. I would not have thought to look that up on my own.
I looked at the sites for a few of the credit unions my friends suggested and decided on Golden 1. For my banking, they seemed to have the best rates. There are also two branches near my apartment, so I knew it would be a convenient choice.
Before heading out, I paid my credit card off and moved all but $25 to my checking. I wrote down how much I had left in my account and put a check in my purse so I could give myself the money. I think there are other ways to do balance transfers, but that seemed the most straightforward to me.
Opening New Accounts
Fresh from the excitement of the protest, I went to Golden 1 on Saturday morning. My boyfriend came along, too. Although he wasn't ready to switch banks, he wanted to learn more about the accounts they offer. We were also keen to find out more about getting a mortgage. We're not ready to buy a house, but we are trying to figure out what we could reasonably afford in the near future.
I hadn't been into a bank to do anything other than deposit or withdraw money in a long time. I went in, wrote my name down on their list for people who want to speak with someone, and waited for maybe 30 minutes. I suppose Saturday mornings are a busy time for the bank.
When my name came up, the bank employee invited us into his office. I told him I wanted to open checking and savings accounts and apply for a credit card (all replacements for accounts I had through Bank of America), and that we were interested in learning more about mortgages. Getting the accounts set up was fairly straighforward, but we were informed that we'd have to talk to a mortgage specialist over the phone and they're all quite busy on Saturday. I asked that they call me back during the week (they never did call me back. We're planning to go talk to someone at the bank soon).
To set up the accounts, I only needed to bring a photo ID and, of course, money. They have it set up so you can open a savings account with just one dollar. I had a lot of dollars. I wrote a check to myself (I wrote "Divestment #NoDAPL" in the check memo, just to feel good) and left about $50 in my old account, to cover any direct payments I might have forgotten about. The bank employee had me fill out a few forms and got my checking and savings accounts opened on the spot. I got a debit card that day, but was informed I might not be able to start using it for a few hours. One thing to be careful of if you are changing accounts and moving a large amount of money is that they will probably put a hold on the funds. I got a few thousand dollars within two or three days and the rest of my money dropped in after a week or so. Fortunately, this wasn't an issue for me, but I recommend that anyone divesting plan accordingly.
I also wanted to open a line of credit to replace my Alaska Airlines Visa, which was managed by Bank of America. I found out that the airline miles I accrued as rewards stay with my mileage plan account, not with my credit card. Even though I was closing the card, I still kept the rewards. It seems like a petty concern, but I have a lot of miles saved up for a trip, so I was quite relieved. The bank employee had me fill out a few forms. I wasn't able to find out right away how much I would get because a real person had to assess it. However, they figured it out quickly enough. I got a call two hours later to tell me how much credit I'd been approved for.
In total, I spent about an hour in the bank and probably another hour researching and preparing to switch accounts.
Closing Old Accounts
The main thing I wanted to ensure was the continuity of my paychecks. My paycheck is direct deposited into my bank account every other week. The people at Golden 1 said it could take two pay cycles to get my direct deposit set up and provided me with a form to do it. I came home and looked on my company's employee site. I was able to update my direct deposit account online. I thought it might take two checks to start, but I got paid to my new credit union account the next Friday with no trouble at all.
After my paycheck came through, I went to Bank of America to finish closing my accounts. I run most of my bills through credit cards (and most of them through an account other than the one I was closing). If I depended on my Bank of America accounts, I would have waited a little longer before closing it all up. I only had about $8 left in my checking account.
I spoke to the employee there and told him I wanted to close my accounts. I said that Bank of America is invested in companies that fund private prisons and oil pipelines. He responded, "I can't argue with that."
I handed him my debit card, credit card, and ID. He seemed surprised that I wanted to close my credit card too. When I quit, I quit all the way. He had to make a phone call to close the credit account, but he was able to close up my checking and savings accounts through his computer. When he was finished, he took me up to a bank teller, who gave me my $8 and a receipt. This took about 15 minutes total.
Next Steps
It took two weeks to get my new credit card. After it arrived, I made a list of all the bills I pay and set about switching everything to my new accounts. It helped me to write it down, but I still found things I forgot as I worked through it. The good thing is that most places you send money to want to keep getting your money, so they will give you a warning when your card stops working. Now nearly all my bills are getting paid through my new Golden 1 credit card.
I still have an Amazon Visa card through Chase bank. Chase is worth divesting from, but it's not as dire as divesting from Bank of America or Well's Fargo. I have decided that, in the interest of maintaining my credit score, I'm going to stop using that credit card, but not close the account right away. Closing a lot of accounts at once can impact your credit score.
Overall, switching banks was fairly simple. I can understand that if you have a car loan or a mortgage, there is probably more involved than there was for me. That said, I think it is important for individual citizens to do what they can to spend money in a way that supports or defunds causes, as appropriate.
Corporations do respond to the pressure of people voting with their wallet. Just last week Nordstrom, among other retailers, announced it would stop carrying Ivanka Trump's brand. Specific to divesting from DAPL, the City of Seattle and the City of Davis have both voted to remove their cities' funds from Well's Fargo. That's major. Far from being hopeless, the cause is gaining momentum. Two cities have divested. Individuals are divesting. It might take longer than we like for us to stop this oil pipeline and others like it, but it will happen. I am choosing the radical stance of believing that our actions have an impact.
One More Thing
If you're following the Injustice Boycott and you decide to divest (I hope you do), you can check out their instructions and fill out a survey saying you participated. This helps track the true impact that the boycott is having.