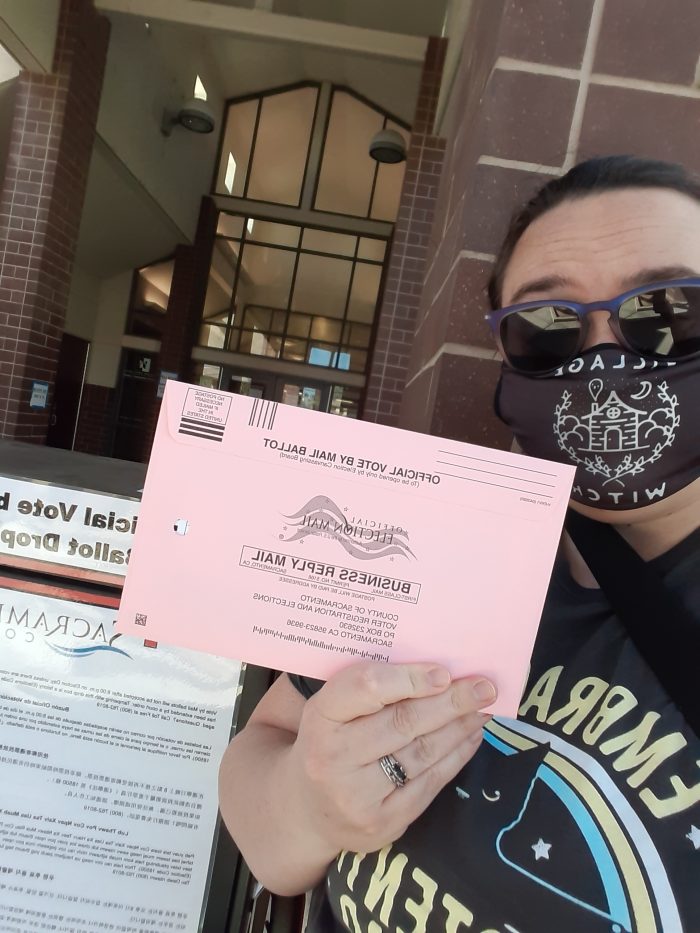 I voted yesterday! It felt really good to finally turn in my ballot after spending a lot of time researching the issues and writing my voter guides. Speaking of, if you're looking for information on the election, here's what I've said about it:
I'm stressed about the election (or rather, about what's going to happen after the election), but I feel like I've done what I can by voting and helping other people vote. I am also cautiously (very cautiously) optimistic about the early voter turnout, which has in many states surpassed all early voting in 2016. Will this be enough to keep Trump from stealing the election? Hard to say.
I've been grappling with the fact that both the left and the right are not going to want to accept the election results. The right because Trump has been claiming the election is rigged and because the Republican party has been doing everything they can to rig it, like setting up fake ballot boxes in California. The left because we know that Russia interfered with the 2016 election and there's really anything to stop them from a repeat performance. What troubles me about this is the false equivalency. It The left may dispute the election based on actual evidence. The right on conspiracy theory. It gives the appearance of everyone throwing a temper tantrum for not giving what they want, even though that's not the case. The Trump administration has been shouting about "rigged" elections for years so that any accusations against him for rigging the election will look reactionary. I don't know how we will ever repair this rift in what was a shared reality.
Consuming
Here are some things I've recently read, watched, or bought.
Books and Other Words
I recently read some really good books, starting with Machine by Elizabeth Bear. This book is the next in the series (or perhaps I should say next in the universe since it doesn't exactly seem to be a series) following Ancestral Night. It's a far-future, space operatic mystery involving trauma doctors, sick AI, and space-faring people from Earth from an earlier age who haven't joined mainstream society yet. Something I really like about this series is it imagines a culture in which everyone takes an active role in stewarding their mental health and in questioning their biases. This is, of course, one of the joys of science fiction: an opportunity to imagine the kind of society we want.
The more of C. L. Polk's books I read, the more I love her. This week I read her new book The Midnight Bargain, which is basically a romantic fantasy. This book has it all: magic, fashion, women becoming best friends, and everyone smashing the patriarchy. The Midnight Bargain was fun to read and gave me everything I wanted. Go read it.
Finally I read Mary Roach's Packing for Mars: The Curious Science of Life in the Void, which talks about the human element of space travel. Roach brings her characteristic humor and research skills to the question of how space agencies get people to survive in space. It shattered any illusions I was secretly harboring about ever going to space. I'm convinced I'm absolutely unfit for space travel. Between the motion sickness, questionable food, and the difficulty of relieving oneself, I know I would be a fetid ball of misery.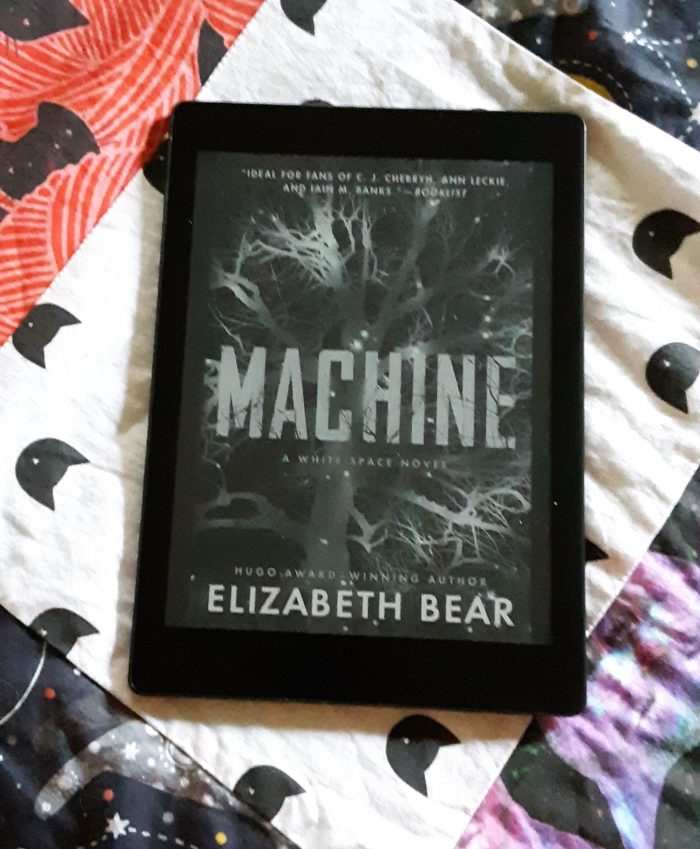 Meanwhile, on the internet:
TV and Music
Last night we watched the movie Hotel Artemis and, boy, was it mediocre. It looked cool. It said it was a near-future movie about a hotel/hospital for patching up criminals. It was an alright concept and it was pretty, but when it was over I was left wondering what the movie was trying to tell us. It seemed like it had too many characters it was trying to develop in too short a time. It was a moderate piece of entertainment with some good actors in it, but it wasn't a great movie.
Rampant Consumerism
I have started doing some Christmas shopping, but of course I don't want to divulge the details here. Instead, I will say that we bought some new plants for the garden. Our summer garden was not productive. We forgot to refresh the soil before planting and then I never wanted to go outside to water between the extreme heat and the smoke. We're hoping for more success this season. We bought broccoli, spinach, and lettuce, among other things. We're planning to actually plant it all this afternoon so I don't have any exciting photos yet.
Making Things and Doing stuff
As usual, I have been doing a bit of everything lately.
Spanish
As you may have already guessed, I spent some time working on my voter guide translation. My teacher Olivia helped me refine it, but she said I had done a really good job . I was really pleased to hear that I was able to get my voice and style to come through when writing in Spanish.
Knitting and Crafts
I finished another pair of socks. This pattern is Cirrus Socks and the yarn is from Black Cat Fibers. When I was knitting it, I wasn't sure I liked the pattern, but I'm happy with how it eventually came out, thankfully. I've also set up my yarn winder in the guest/craft room to wind up some of the yarn I bought recently. Normally I leave my sewing machine on the table (I try to keep the number of steps between me and a project low otherwise I'll never do anything), so I've been on a winding bonanza to get everything wound and put away. This is a great activity for when I'm stuck on a conference call but don't need to participate in any way.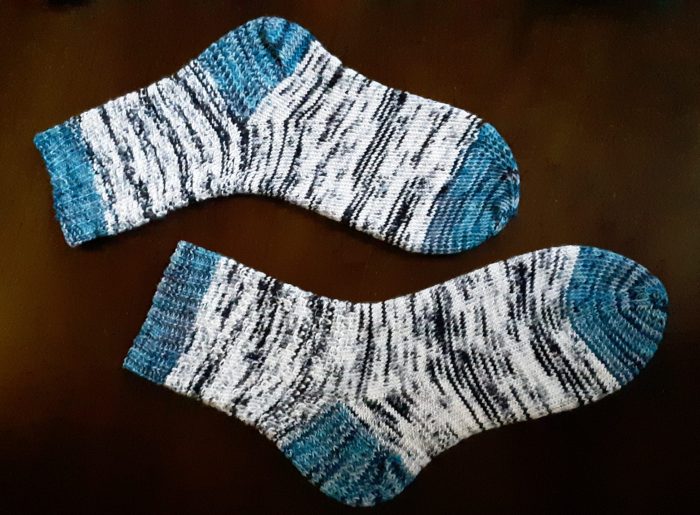 Moving It
I'm having a lot of fun with my weekly ballet class. Today we started learning grand allegro (I obviously look nothing like this yet), which is fun. The big, dramatic stuff feels more like what I expected ballet to be rather than the smaller movements and fundamentals we spend most of our time on. But I guess most physical activities are like that.
Kitchen Witchery
As for food stuff, last weekend we had a shark coochie (no coochies at this link, don't worry) extravaganza in honor of Mandy's birthday. I also made red velvet sandwich cookies and attempted to make snickerdoodle ice cream from the recipe in the Salt & Straw cookbook. Unfortunately, the recipe resulted in a horrible, gloopy mess that still has me traumatized. I'd already made the cookies so we spread them over some vanilla ice cream instead for more or less the same end result.
Birthdays aside, I want to show that I have perfected the chickpea-loaded sweet potato. I'm sure I've shared this recipe before because I make it a lot, but the last round it came out very attractive and tasty, probably in part thanks to getting a fresh pomegranate, instead of buying the prepacked seeds that always seem to be the edge of spoiling. I served it with a cauliflower recipe that I usually reserve for Thanksgiving, but you only pandemic once so why not. In the interest of trying more festive drinks, we also had this pomegranate cider spritzer, which was good but I think the proportions are a little off. It needs a bit more fizz and a little less cider. More experimentation is needed.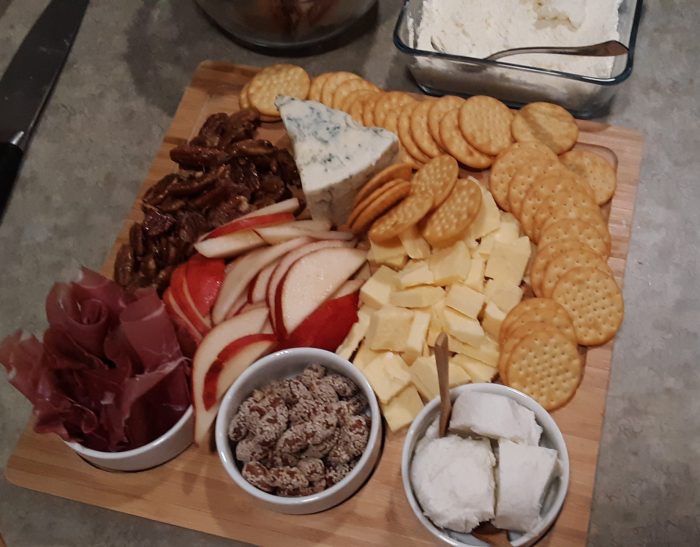 Cat Therapy
Finally, here are some cat photos for your nerves.