The big news of the last two weeks is that Kirk and I are now fully vaccinated! I'm glad we can start to feel safe while out in the world but I think it's going to take a long time to feel emotionally normal about being in public and interacting with other people. It's been a long year and I'm not there yet. I did, however, go to ballet class in the studio yesterday and I was happy about that. It's much easier to dance there than at home on carpet!
Now that I'm vaccinated, I'm trying to take care of some in-person things I've been putting off, like going to the dentist (my appointment is next month) and seeing my doctor. I'm happy to report that I switched my primary care doctor to someone who doesn't seem as interested in antagonizing me about my weight. My previous doctor seemed good but I would put off seeing her because she was harsh about my weight. I recognize the doctor has to talk about it, but they can definitely do it without being an asshole.
I'm currently in a new health saga related to my ears. I'm having a hard time hearing lately; everything feels muffled. I told my doctor I thought my ears were full of gunk so she sent me to get them flushed out. Unfortunately, flushing my ears out didn't do much and I still can't hear. The doctor I saw thinks it's an allergy issue, which, I suppose I am due for after 10 years living in this land of super-saturated pollen. I've been prescribed an allergy pill and a nasal spray so we'll see how it goes. In the meantime, if you see me in person, don't be shocked if I ask you to repeat yourself.
Consuming
Here are some things I've recently read, watched, or bought.
Books and Other Words
In the last two weeks I read:
My Year Abroad by Chang-Rae Lee. I was not ready for this book at all. It came in my Powell's Indiespensible subscription and I knew nothing about it before reading. It starts out pretty normal and escalates to complete absurdity. It's a story about being young and directionless and where life can take you. It was a wild read.
How to Lose the Information War: Russia, Fake News, and the Future of Conflict by Nina Jankowicz. This is a good read if, like me, you are low-key obsessed with understanding Russian influence on our current political climate. The author looks at various European countries (Ukraine, Poland, the Netherlands, and others) and describes how Russia has launched disinformation campaigns to undermine their governments. It's a helpful book in understanding that this is a global problem, not just an American one.
González & Daughter Trucking Co.: A Road Novel with Literary License by María Amparo Escandón. This was a fun read. I've been working to read all the books on my shelves so I took on this one, which I got last year in my custom book bundle for Last Bookstore L. A. This novel is the story of a girl growing up on the road with her dad who becomes a trucker in the U.S. after fleeing a revolution in Mexico. The story is told from the perspective of the girl as an adult in a Mexican women's prison. I thought it was an enjoyable read overall, if not mind-blowing.
Meanwhile, on the internet:
Rampant Consumerism
After four years of use, my hammock stand was losing structural integrity so I decided to get a nice, new hammock stand. Now I have this amazing, viking-longship-looking structure gracing my back patio. So far I like it! It feels really sturdy and it looks nice too. Of course, as soon as we got it, the weather turned windy and cold to mock me, so I haven't been able to sit out there much yet. I'm looking forward to more hammock time soon.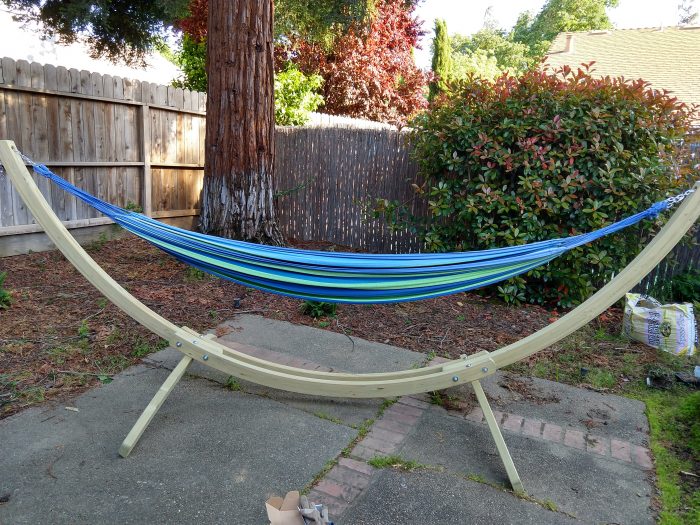 Making Things and Doing stuff
There are some things I've made and stuff I've done.
Knitting and Crafts
It feels good to finish something! Today I finished the "mystery knitalong" from Hands on Knitting Center that my mom bought me for Christmas the year before last. This is an interesting pattern because it's like a sampler of different textures and styles. I like the colors of this yarn a lot too. You can't tell from the pictures, but it did end up a little wonky. When my stitch count was off, I'd just add another stitch (assuming I'd dropped one) to try to even things out. In the end, one end was much wider than the other. I'm sharing this to chuckle at myself. I'm glad I'm able to knit and not be a stressed-out perfectionist about it. If I'm wearing it, no one will notice or care that it's "wrong" compared to my pattern.
Kitchen Witchery
I mentioned last month that I was going to try drying some herbs. Well, here are the results! I left the herbs in the garage for about three weeks. I probably could have brought them in after two weeks, but honestly I kept forgetting about them. I ended up using my new herb grinder for this job, which worked great. I'm not sure if drying herbs is worth the trouble given how easy it is to buy them, but I'm glad I know how to do it and I'm happy to preserve what we grew.
Last weekend I tried two recipes from the Feast of the Islamic World cookbook. I made Ramadan cookies filled with wanuts (Ramadan kareem, by the way!) and a lentil polow. The cookies were flavored with rose and orange blossom waters. I reduced their amount but it was still a little strong. Kirk and I determined we didn't much care for the cookie texture. I'm not sure if I did something wrong or if it's just different than how I picture a cookie. The lentil polow (a rice and lentils dish) was really good. It was flavored with saffron and topped with fried onions. I've been eating the leftovers all week by using it as quesadilla filling. This is not traditional but it is tasty. Finally, this wasn't in the cookbook, but I must recommend this cauliflower recipe. It's so good!
I was in a mood for new recipes last weekend so I also baked Norwegian crescent buns from the Nordic Baking Book. These are like crescent rolls I've made before, but not so buttery. They were really good with jam.
I've been working to clear out my freezer so last week I made some vegetarian enchiladas to use the bag of frozen butternut squash that's been sitting there for a year. I didn't use a recipe for this, just let the spirit move me. I seasoned some beans and the squash and topped it with jack cheese and enchilada sauce. It was not the world's best enchilada, but it was respectable.
Today I felt the need for bread and tried this Vermont whole wheat oatmeal honey bread. I already want to eat it all. It has a bit of sweetness and the texture is great. A++ will bread again.
Cat Therapy
Finally, here are some cat photos for your nerves. Every few weeks, Huey chooses a new location in the house to be her favorite spot. Her current selection is the top of this chair in my office, hanging out with these stuffed animals.