Last week was one that passed in a blur. I don't really know where the time went, but it is now gone. I was forced to spend part of the week being annoyed about work (above the normal annoyance of simply working). My new boss this week effectively announced to the group that he intends to micromanage us so that's … fun. He also told me he doesn't know what I do so he wants to be in whatever training I do for our new editor. I'm having PTSD flashbacks to my last job. I feel like I can't catch a break.
Consuming
Here are some things I've recently read, watched, or bought.
Books and Other Words
I'm in the middle of several books (books that need to go back to the library soon), but I didn't finish any this week. So please enjoy some internet readings instead.
Meanwhile, on the internet:
TV and Music
This week, like a number of people I expect, I stopped paying for Spotify premium. I'd been somewhat aware that artists are not well compensated for the music people listen to on Spotify but the controversy with Joe Rogan this week really shed some light on that subject. The people who make music are getting paid between $0.0033 and $0.0054 for each song that people play. Spotify is pocketing a lot of the difference and doing things like paying noted racist and covid misinformation monger Joe Rogan hundreds of thousands of dollars. I'm not thrilled with my money helping to fund that.
I'd been thinking for a little while about how I can actually listen to music and not just let Spotify take me on a passive journey. I was recently lamenting to a friend that I used to know everything in my library and now I have no idea what I've listened to. So, after I cancelled Spotify, I put all my mp3s on my phone so I can actually listen to them (I forgot I had a huge SD card in there. Whoops). I downloaded VLC for Android to play my music. I decided that, instead of giving Spotify my money, I'm going to buy a few albums per month from an actual music store. I bought a few this week from 7digital to fill in some music I know I was listening to often on Spotify but didn't have in my own library. To listen to my podcasts, I downloaded the BeyondPod app, which I am liking so far.
What's hard about divesting from Spotify—or quitting facebook—for example, is that it's a lot of effort. It definitely takes more work to think about what music I want to buy, go buy it, transfer it to my phone, find a new app to play it on. It's more work to reach out to individual friends and cultivate relationships outside of facebook than to just click "like" on friends' posts. These apps offer us convenience but are not actually making our lives better. I know I'm not even close to the first to make that observation, but I'm feeling it acutely as I try to find ways to relate to the world—art, friends—in a more thoughtful way. Part of the issue is certainly that modern life already takes a lot of time and energy. It's hard to work 40+ hours a week in a job that makes you feel shitty. Then you have to do your laundry and buy groceries, do your stupid little tasks for your stupid mental health. So yes, it does seem great to outsource some labor to social media. I don't have an answer. I can only say that I'm in there too.
Making Things and Doing stuff
There are some things I've made and stuff I've done.
Knitting and Crafts
I thought I would share some knitting progress after being in a bit of a slump. This sweater is a lot of fun to knit and it's shaping up great. It's knitted in pieces and this is the back. It's almost finished! The magic of knitting with bulky weight yarn!
Kitchen Witchery
I'm still all about the Grist cookbook; I made two recipes from it this week. First, I tried the butternut squash risotto, topped with paprika oil and arugula. Normally, I'm not a big fan of throwing a big pile of leaves on top of a warm food, but I actually liked it a lot. I served it with these baked chicken thighs with butter and onions to round out the meal. Next I made the smashed garlic chickpeas, following the variation that called for a Moroccan-ish almond and apricot topping and served with roasted carrots and broccoli. I also made some couscous since we had it on hand and it fit the theme. Because this is a Grist fan account now, I'll add that I'm planning to make a recipe from it tonight. It's a butternut squash pasta which will use up my leftover squash and leftover almond-apricot topping. This is what passes for excitement for me.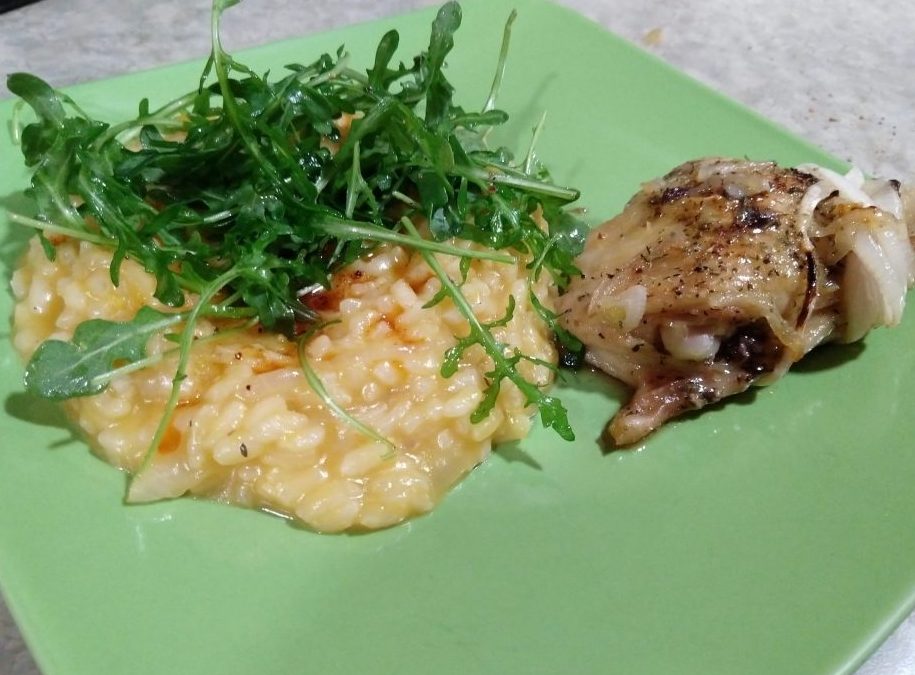 I've been baking a lot this week too, starting with the orange poppy seed Snacking Cake. We have an orange tree in the yard and, although I'm not a great fan of oranges, I've been trying to find uses for them. I was surprised that I liked this cake a lot since I'm not a big fruit person. I made two recipes from 100 Cookies, which is also becoming a favorite cookbook. I tried the cinnamon bun blondies, which conveniently helped me use up the rest of my cream cheese and all the leftover egg yolks from when I made the meringue-topped carrot cake bars. I also made these very festive neopolitan cookies, which were not as hard as I thought they might be. It's sugar cookie dough divided into three pieces. One part is mixed with chocolate, one with pulverized freeze-dried strawberries with another, and third is plain. You take a bit of each and roll it together for each cookie. It takes a little time but it was fun.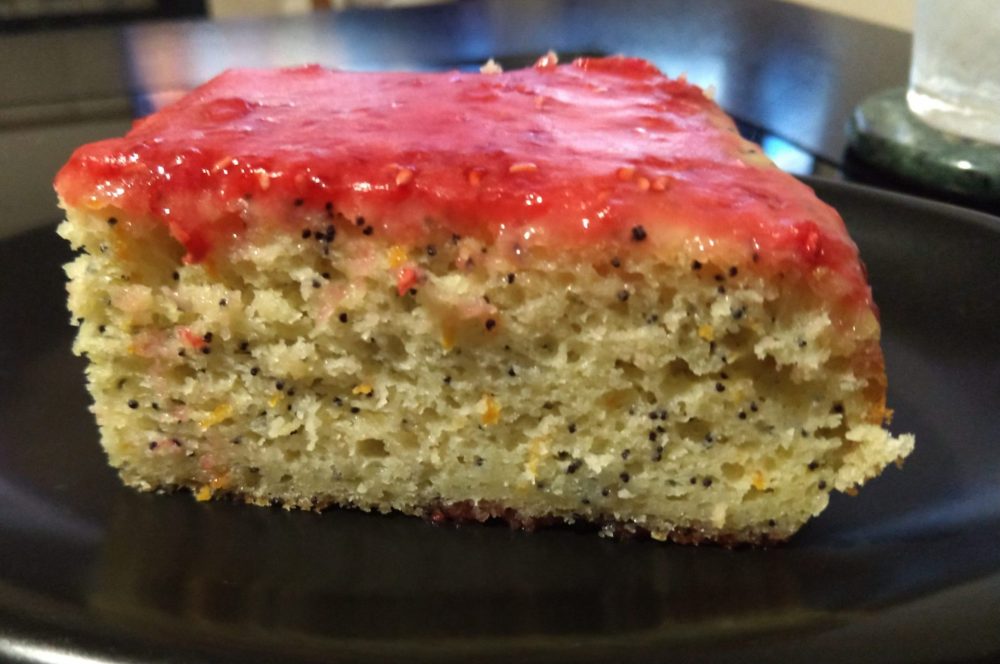 Cat Therapy
Finally, here is a cat photo for your nerves. I don't make him sit this way, he does it to himself.