This was one of those weeks that felt both fast and slow. It's hard to remember what exactly happened because there was so much chaos surrounding our car (buying a new one, returning the rental, and disposing of the old). I was also tired all week, which always makes it hard to do things. On top of it all, I'm excited for Rollercon, so I'm not very well grounded in the present. All the same, here I am, writing about the week that was.
Consuming
Here are some things I read, listened to, or bought this week.
Reading
This morning I came across the article Small Acts: Finding Friendship with My Spanish teacher and it really resonated with me. The author, Courtney Maum, decided to learn Spanish as an act of political resistance, which I think is wonderful. Although I've been learning Spanish for years, I can absolutely relate to the impetus here. Wanting to connect with people that our government is trying to demonize is one reason it's important to me to keep improving my Spanish (and, perhaps, to eventually remember how to speak Arabic). I also liked that she discussed making friends with her teacher because that is what happens. My Spanish teacher, Via, and I have been meeting for a couple of years now and I really would say we are friends, even though I pay her for our conversations.
I also read about the people who drive all over the country scouring stores for deals that they can resell on Amazon. Amazon Ruined Online Shopping profiles a few people who make their living this way, traveling in search of rare finds like discontinued cereal flavors. Some friends pointed out that this isn't really a new practice, but for me it's another reason to be disillusioned with Amazon. We (as a society, but maybe "I" is better) think that retail is magic and Amazon really just has everything. Of course, they don't. As we learn more about the working conditions that underpin its success and Jeff Bezos' wealth, Amazon has become a company I can't patronize in good conscience.
Listening
I've had the Lingthusiasm podcast on my radar for some time, but finally listened to an episode this week. I enjoyed the episode on "Untranslatable Words" and the discussion of the fact that nothing is really "untranslatable," just maybe less conveniently translated.
Rampant Consumerism
Last week we did the most consumerist activity of all: we bought a new car. It was not something we had been planning to do and so was fairly stressful. Our old car had been with the mechanic for an entire month (did you know that, if you keep a rental car for more than a month, you have to go back into their office and sign new paperwork?) and we realized it was never getting fixed. They replaced the car's computer only to discover that they would now have to open up the engine to deal with some new problem. We got that news on Friday afternoon, decided it was time to give up, and bought the new car on Saturday. We now have a brand-new Prius—it had 13 miles on the odometer when we bought it—which is exciting despite the stressful circumstances. It has a lot of nice features and of course gets great mileage. Overall, we now have a better car, but we also have a car payment. What can you do.
Making Things and Doing Stuff
Here are some things I did this week.
Getting Crafty
I've been working on some cool outfits for Rollercon festivities. I'm preoccupied with adorning myself with as many lights as possible. Here are some action shots of the process. Also my house is full of glitter thanks to that tulle.
the most glitter-intense tulle ever

illuminated bustle

sneak preview of my Reidell party look

hot looks for one-wheeled devices
Kitchen Witchery
I haven't done much noteworthy cooking this week, but I did bake these handsome loaves of zucchini bread based on the recipe in The Bread Bible. They're tasty and a good use of vegetables.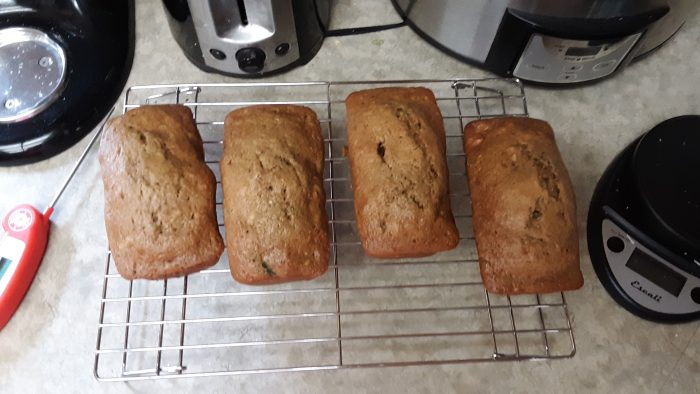 Finally, here's a photo of Viola for your nerves.