The last couple of weeks have been giving off one of those "if it's not one thing, it's another" feelings. We bought the new car last month. Now we have to get our shower repaired. It's been leaking periodically since we moved in but we've come to a point where the grout is cracked and some of the tiles are starting to bulge, so that is not great. Much like getting a new car, it's a little fun to pick out designs and make our shower just how we want it, but it's not fun to spend even more money. 2019 is proving to be an expensive year. I've been emailing contractors and having people come to my house to make estimates. I guess this is what people mean when they talk about the "joys" of homeownership. What I'm trying to say is: I've been a little stressed.
Consuming
Here are some things I read, listened to, or bought this week.
Reading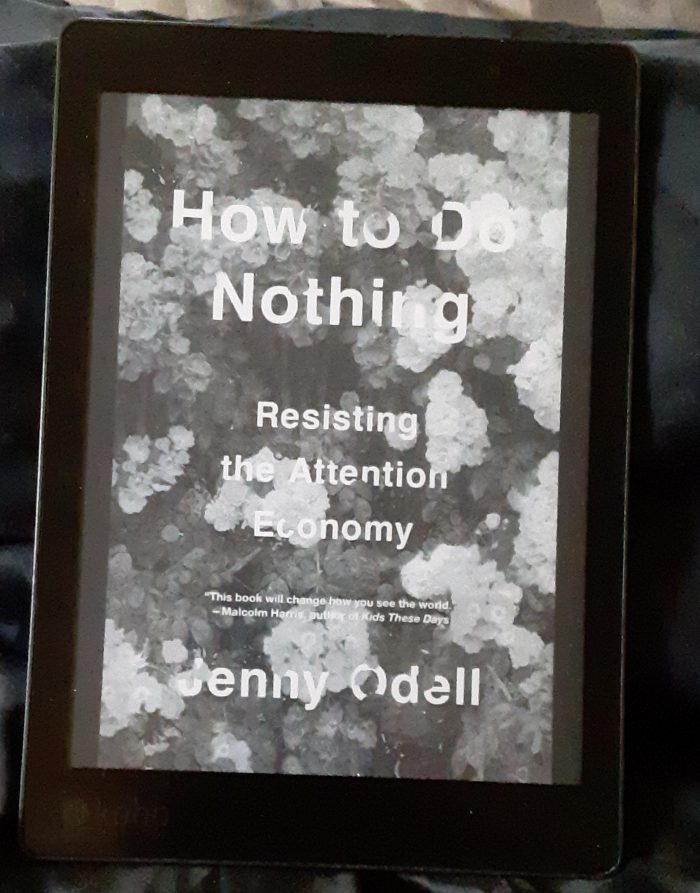 I finished Jenny Odell's How to Do Nothing: Resisting the Attention Economy this week. I encountered a few negative reviews of this book, but I really liked it. Maybe it comes off as too academic or not focused enough on providing instructions for how to do nothing. But the point of the book is you have to discover your own "nothing" outside of social media and our attention-stealing machines. This book resonated with me and I felt like I was truly in the discourse with the author because I've read so many of the books she cited. It was neat to see someone refracting their experience through all these works and how she arrived at her specific way of thinking. The book takes the stance that we can resist the attention economy by creating context and noticing the things in the world around us, which Odell does through learning to identify and connect with the flora and fauna around her. It's a little hard to sum up this book and my thoughts about it, but I definitely recommend reading it. If you want to pair it with another work, I recommend Anti-Social Media for the full "I'm tired of the modern internet" experience.
Listening
I could omit this section because I haven't listened to much new or interesting lately. I've been enjoying the silence, if you will, since coming back from Rollercon. My neighborhood is very quiet and it's been nice to sit with that.
Rampant Consumerism
Rampant consumerism or maybe anti-consumerism this week? I finally decided to cancel my Netflix streaming account. I've been threatening it for months, but I finally did it. I've been frustrated by the lack of things that interest me. I end up browsing forever and watching nothing, which is not the point of Netflix at all. Some months ago I signed up for a one-disc-at-a-time DVD plan again to get access to things I actually want to watch. After cancelling the streaming, I increased that to two. I think this will help me be more deliberate about my time and watch things I actually want to watch, instead of watching things just because they're on Netflix.
Making Things and Doing Stuff
This week I got back into my groove post-Rollercon. It took me an entire week of doing almost nothing to feel fully human again.
Kitchen Witchery
I've had fun trying new things this week. I've been interested in cool foods for the hot weather and I've felt a little more adventurous about vegetables and meatless meals so we're getting a bit of that. I made a really nice salad of quinoa, lima beans, green beans, and zucchini this week (not pictured), but was reminded that quinoa makes me sick to my stomach now. Not just uncomfortable, but full on roiling. I felt gross almost all night and I'm never eating quinoa again. Fortunately, I was able to put the rest of the beans to good use though and made a lima bean parmigiana from How to Cook Everything Vegetarian. I also learned the art of pita bread last week (from The Bread Bible). The pitas were delicious and Kirk, who is not a bread lover like I am, liked them and said they were like what you'd get in a restaurant.
Last weekend our cookbook club met! We cooked from The Oh She Glows Cookbook, which I honestly expected not to like—not because it's vegan but because the recipes didn't seem especially appealing. I was proved very wrong though. I made a lentil-walnut loaf, which is the kind of thing I'd been wanting to try. It turned out quite tasty. For a dessert, I made "yolos," which I was skeptical about since the author positioned them as a knock-off of Rolos, yet they contain no caramel. The yolos are a date and peanut butter mixture covered in chocolate and they were surprisingly delicious. I'm not sure if this book is going to enter my regular rotation, but I'm definitely keeping the yolos recipe.
Lima Bean Parmigiana

Pita bread success

Homemade "yolos"

Cookbook club: part of this complete dinner
Knitting
I'm in the middle of knitting a sock and I wanted to share it. Turning the heel is the most magical part of sock knitting. How many grandmothers sacrificed to bring this wisdom down through the ages? This is sock one of two, so I'm not even halfway done, but I'm enjoying it. Socks might be my favorite thing to knit.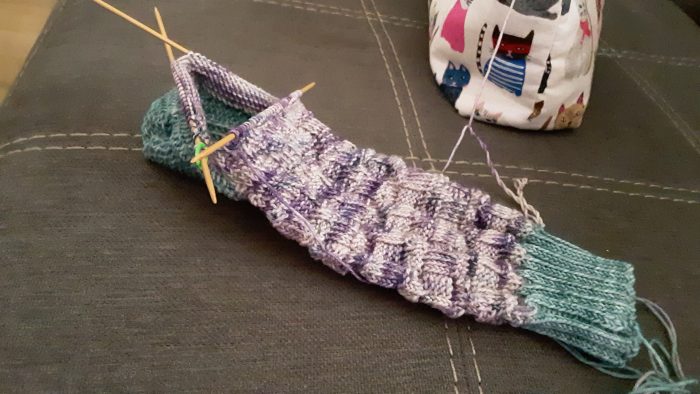 Language Learning
Things went well with Icelandic this month, but not so well with Spanish. This month I wanted to focus on getting language input so I started watching an Icelandic cooking show. Although I only watched a few episodes, it was more than before, so I'll count that as a success. Spanish sort of got derailed. I think I put in too much time to catching up on Icelandic and then, with my Rollercon vacation I didn't do much else. Alas. One day I may learn balance.
Icelandic notebook: July

Spanish notebook: July
Finally, here's a Huey cat for your nerves.
Huey in command.

Huey in repose. Husband for scale.