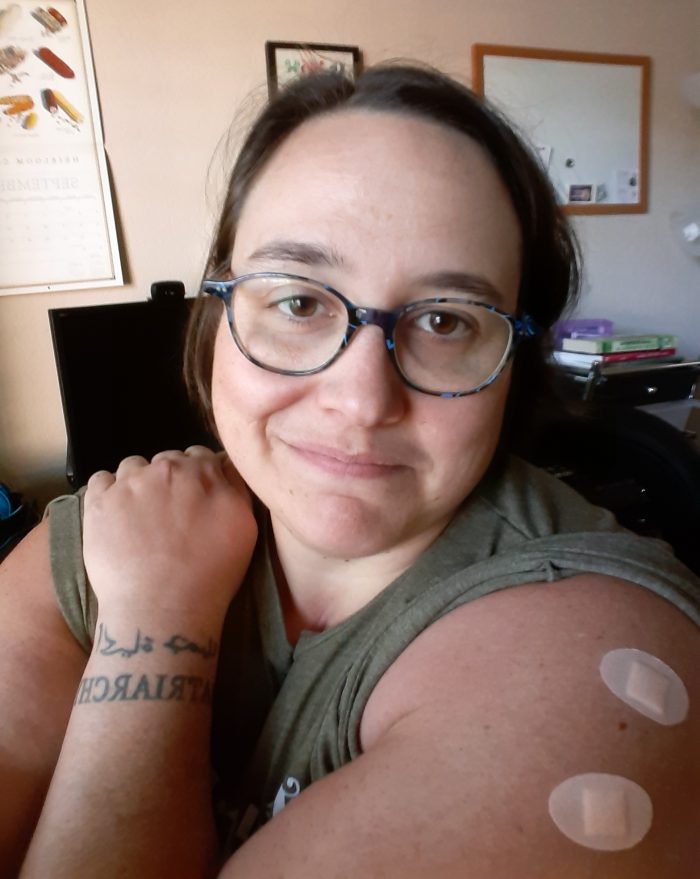 It has been another busy week here between the onslaught of proposals (boooo, work), roller derby, my mom visiting, and the minutia daily life. I'm able to cope with work being full by focusing on my upcoming trip to Peru. On Monday, we went to get vaccinations and a flu shot in advance of traveling. My doctor recommended hepatitis A and B vaccines, typhoid, and rabies, but I skipped the rabies shot because really. I also got some pills for altitude sickness and food poisoning that I hope I won't need to use.
Consuming
Here are some things I read or bought this week.
Reading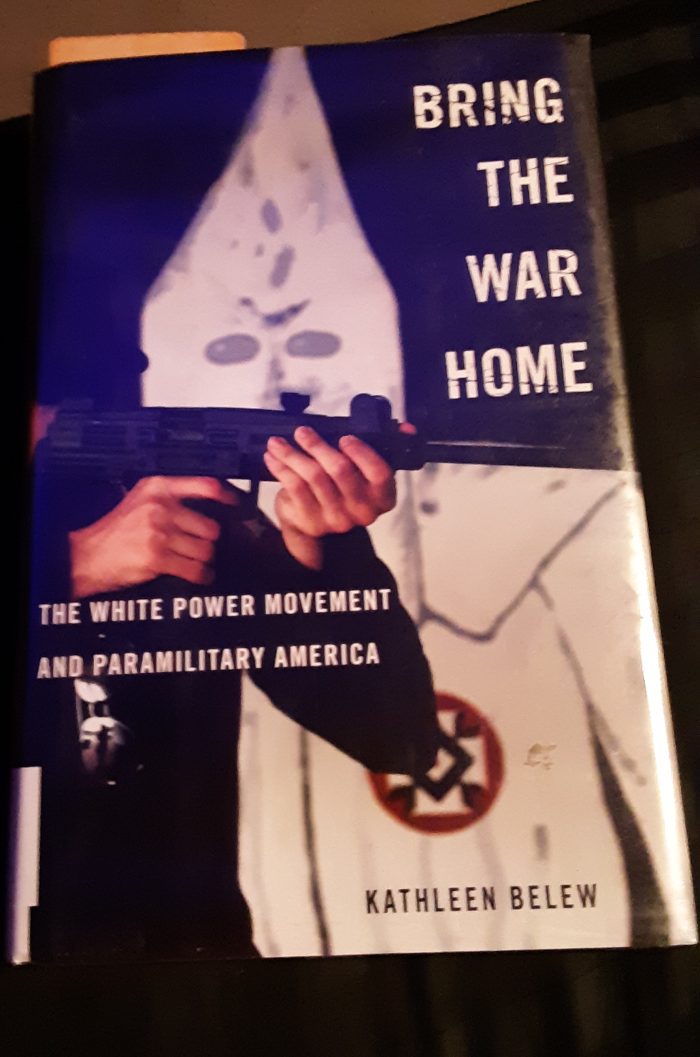 I looked at my reading log earlier this week and realized I hadn't finished any books yet this month. Then I went on to finish three books this week. I'd had three non-fiction books going at once—no wonder I hadn't finished anything. I just wrapped up Braiding Sweetgrass, House of Trump House of Putin, and Bring the War Home. I know I have already talked a bit about the first two here on the blog, but not yet about Bring the War Home, which discusses the white supremacist movement beginning around the Vietnam War through to the Oklahoma City Bombing in the 1990s. The author, Kathleen Belew, charts the development of the white power movement and how it was organized, both in spirit and function, around experience in and dissatisfaction with the Vietnam War. It was a lot of information but really interesting to see that these white power activists have been using the same methods and talking points for decades. Belew concludes that more recent acts of white power terrorism, like those committed by Dylan Roof, were inspired by the movement that grew out of the post-Vietnam era. She states that, because we haven't been able to understand and reflect on these actions as a true movement, we're stuck with many of the same problems now that we had through the 1970s to the 1990s. This book has been a worthy entry in my ongoing practice of reading for the revolution.
This week's internet reading:
Rampant Consumerism
When my mom was here, we decided to take a lap around one of the seasonal Halloween stores. I wasn't that impressed by most of it, mostly because I hate cheap stuff (#RichWhiteWomanFantasy), but I couldn't pass up this ridiculous dish towel featuring Death on a unicycle. We also hit the local yarn store, Knitique, because I told my mom I would knit her a gift and she could pick out the yarn. I bought new glasses this week too, which I am quite excited about. I'm ready for a new look. Plus I bought new sport glasses for derby that should provide me with more peripheral vision. True luxury.
I got my monthly chocolate subscription from Raaka Chocolate this week and the photos generated a lot of interest on my instagram. I started subscribing a few months ago, but this month's box has been the best so far. It included a tahini swirl and a chocolate halva bar, which were so tasty. Highly recommended if you need more chocolate in your life. I like the predictability of it because it helps me avoid randomly buying treats as often because I know I'll have something good in the future.
when you find the ideal tea towel

chocolate time
Making Things and Doing Stuff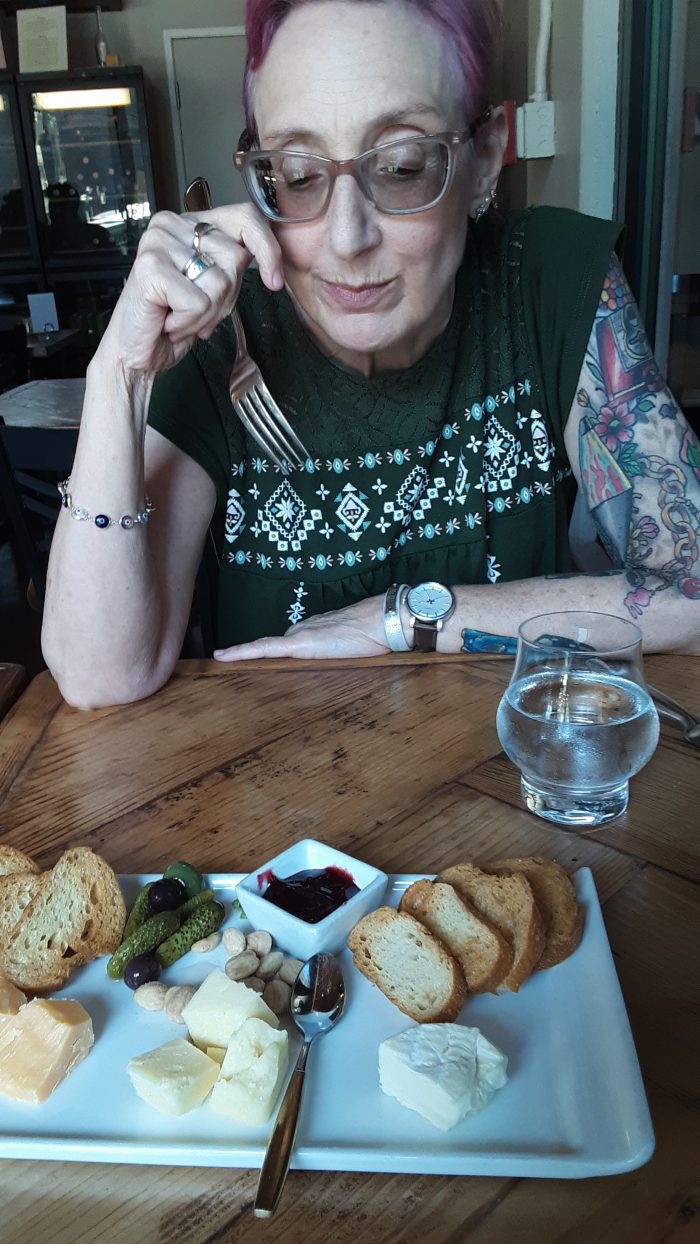 My mom came to visit me last weekend so we tried to show her a good time. We started her trip with lunch at The Rind, Sacramento's foremost cheese-based restaurant. You can see her in this photo getting hype over the cheese plate we ordered. We also hit up Leatherby's because we love ice cream. On Saturday, we did a little shopping, going to the yarn store and running some errands. Saturday night mom came to watch me play roller derby! Of course she wore one of my shirts which resulted in a lot of positive attention. Mom was planning to stay until Monday, but she got sick and left on Sunday instead. I still took Monday off work though because I'm a rebel.
Parent visits aside, I made the mistake this afternoon of riding to the library at the same time that every student in Elk Grove gets out of school. I thought I was early enough to enjoy the solitude of my weekly bike ride, but alas, the streets were thronged with unruly youths. If work hadn't been so busy this week, I wouldn't have had this problem. I had to spend the morning re-outlining a proposal because someone apparently has no idea how an outline works. At times like these, I never know if I'm a judgmental asshole or if everyone is really bad at things. My dad says I'm arrogant and sometimes I believe him. Although I think that today I'm in the right.
Derby Life
We had our second home team game of the season last Saturday and Team Blue Steel faced off against Team Yellow. We coordinated a couple of silly jams, which ended up being quite fun. Those of us who hadn't played home teams before are still experimenting with what we can do and I'm glad we're trying things out. Blue Steel got close to winning, but didn't quite make it. However, I learned after the game that somehow we lost 10 minutes of game time from the period clock. If we had played another 10 minutes, we would have won! It's hard not to be offended but there's nothing to be done about it. I know in my heart that we won the game.
Kitchen Witchery
Kirk harvested our onions from the backyard garden for me. I must say I expected something a little … bigger. This has been an experimental year in the garden. Now we know that onions are not going to work that well (at least during the summer) .
We went to the farmers market on Sunday since there was no morning derby practice. I picked up a pretty big load of vegetables and didn't even spend twenty dollars. Sometimes the farmers market really pays off. We saw a few vendors selling cucumbers for pickling, so we bought some and I pickled that. This is not my first pickling experiment, but I am still not sure of the results of the first one. I pickled pepporchinis last month, but Kirk has yet to sample them. I'm interested to see how the pickles come out, not because I want to eat them (gross) but to find out if I'm good at pickling things.
our mighty onion harvest

miniature onion cross-section

a balanced meal

Farmers market haul

Pickling Time
Finally, here's some cat photos for your nerves. Huey desperately wants to spend more time on the futon in the guest bedroom. Unfortunately for her, I have since put the bedding away and shut her out. Her life is very hard.
Viola is an intense cat

Huey has strong feelings about the guest bedroom