I have spent the last few weeks with an eye on the weather and the fire map. First we had extreme heat, then dry lightning storms. Now, as Californians already know, we have fires. Fortunately, we are not impacted, except by the smoke in the air, but I have felt a certain amount of anxiety over it. It's hard not to when it starts raining ash. I'm feeling a little better now, both because it's not as bad as it was and because I funneled some anxiety into working on our emergency kits. If you have to find a coping strategy, might as well make it a practical one.
Outside of temporal conditions, I have been keeping on on the latest news about shitty things facebook is doing because I love to keep an eye on all the reasons that facebook is complete garbage while remaining an active user. this article about Facebook's algorithm "actively promoting" holocaust-denying content caught my eye. I'm always looking for ways to get back out of facebook and take people with me (previous efforts include starting this blog). I realized a reason for me to stay is the messenger app because I can message everyone. In the last couple weeks, I've switched (and gotten some friends to start using, plus found some friends who were already there) to Signal. This has turned out to be a great app. It has all the messaging features you'd expect, plus messages are encrypted and it doesn't track everything you say or advertise to you! I am still available on facebook messenger, but I hope I can get more people to try to disentangle themselves from facebook with me.
Consuming
Here are some things I've read, watched, or bought recently.
Reading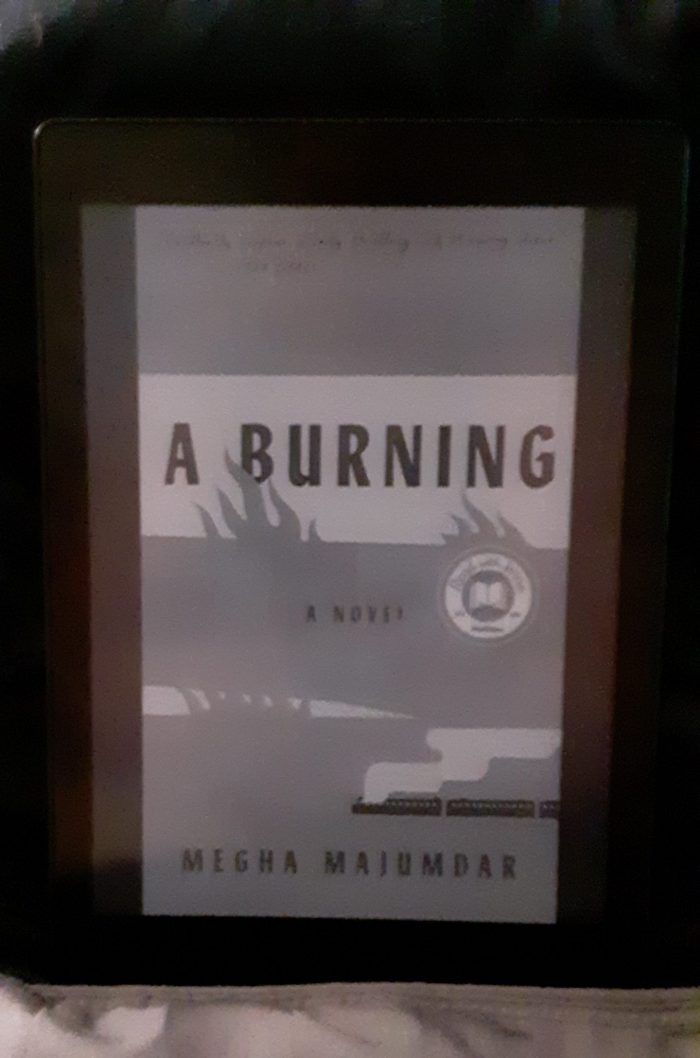 I read A Burning by Megha Majumdar. It seemed like it had been really hyped up and, while I liked it, I didn't love it. That's okay though because not every book has to be my favorite. It was interesting and showed me lives I don't know much about. The story follows three characters in India who are navigating poverty and politics, which I did find interesting, but I think this story was a little hard for me to relate to on some level.
Meanwhile, on the internet:
Watching
We're almost through season 1 of Star Trek: Discovery. We've been watching it the slow way because I'm renting it via DVD Netflix, which, yes, I have a subscription to because streaming is too limiting sometimes. I'm enjoying it a lot. I like seeing a Star Trek with modern story telling. I like the characters a lot and the conflicts they're having and I'm looking forward to watching season 2.
Rampant Consumerism
In recognition of the fact that the pandemic has, perhaps permanently, altered our lives, we bought this combination stationary bike and rowing machine. Kirk and I have both struggled to be active during the pandemic without access to the gym or any normal activities. The last month has been particularly difficult because the heat and the smoke have kept us indoors. Before we were at least walking and I was riding my bike a bit. I've felt majorly restless and I'm hoping having some accessible exercise is going to help. We just got the machine yesterday and I set it up and did a little workout. So far, I like it and my mood already feels a little lifted.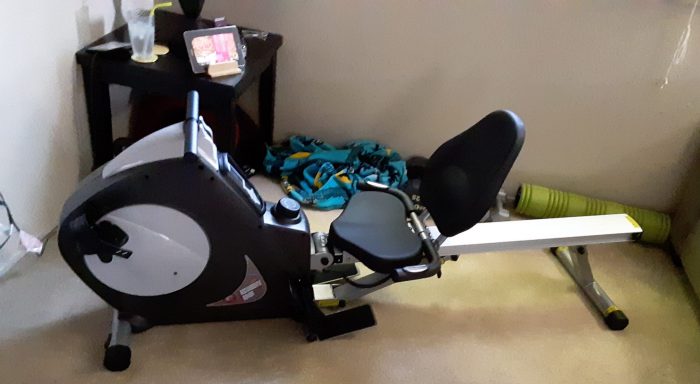 Making Things and Doing Stuff
Work has been really busy all year, which I think I have mentioned before. It's not letting up. It's cutting into my things and stuff time for sure. I am hoping things will slow down a little in the fall and I can have more mental space and energy to do other stuff.
Knitting
I finished knitting the Quaking Aspen shawl and got it washed and blocked. My grandma sent me this mystery yarn a while back and I finally turned it into something interesting. I also used some of the yarn I bought in Peru for the outside edge (the white part), which felt really nice! This was the first time I'd used it. I'm still hoarding most of it for yet undetermined projects.
For my next knit, I've started a another pair of socks, but I am not feeling fully committed to it yet. I will have to see where my mood takes me.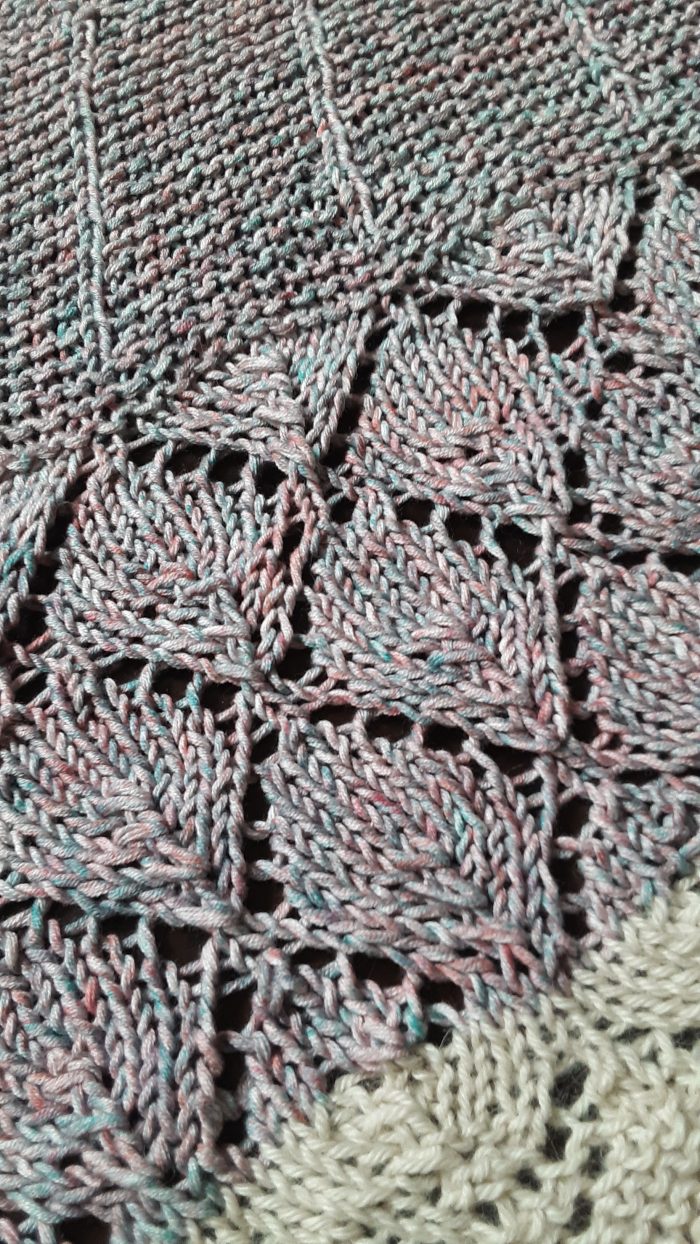 Kitchen Witchery
I've been working on some of my basic food skills to expand my repertoire with some new-to-me, easy stuff and to get good at some things I have overlooked. I really enjoyed these cuban-style black beans with yellow rice and plantains (plantains not pictured here). I cook beans often but was lacking a solid beans and rice dish. This was delicious and the plantains were really good with it. I had never eaten a plantain before but I liked it. I also made this most basic fried rice because somehow I had not made fried rice before (a ridiculous omission). I used the recipe in How to Cook Everything and served it with some broccoli beef.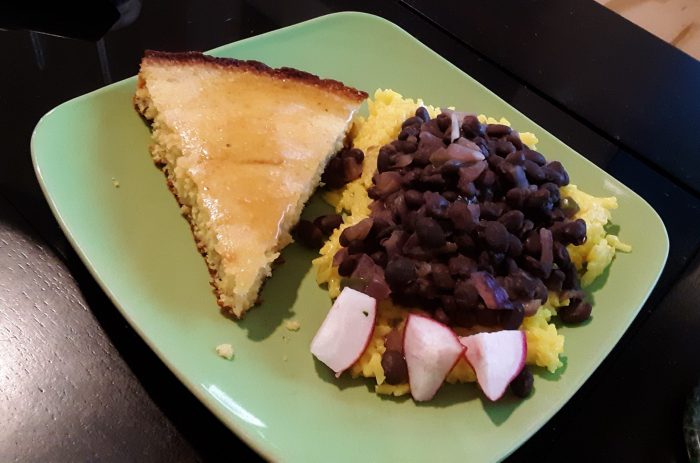 You may recall the under-cooked zucchini bread I shared in my last post. Kirk suggested we pair it with some vanilla ice cream and I couldn't argue with that logic. I sliced it and put it under the broiler for a few minutes to create something like a zucchini bread biscotti. It's still a little rubbery but, hey, nothing that ice cream can't overcome. For additional snackitude, I made some spicy maple-glazed nuts using a recipe from Adventures in Slow Cooking (yes, this is a crock pot recipe). I've been snacking on them and included them in my "ode to ranch dip" snack plate that we had for dinner last Saturday: veggies, chips, and fries served with ranch dip. Basically all my favorite foods. The world could end any day, why not eat more chips and dip? We followed up the ranch bonanza with root beer floats because we're true Americans.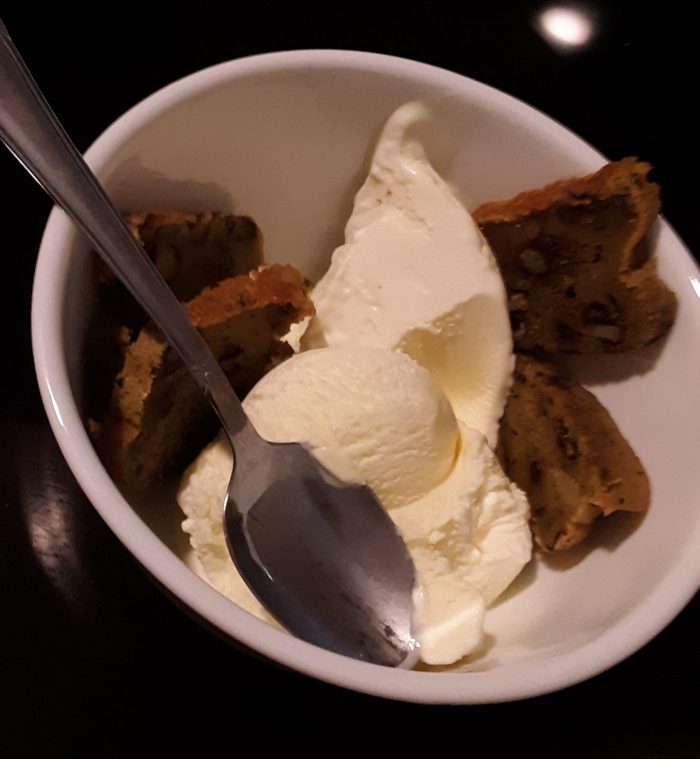 Cat Therapy
Finally, here are some cat photos for your nerves.