In a surprising twist, I am writing this just about a week after my last post. Will this mark the return of weekly blogging? I'm not counting on it, but it is nice to feel motivated to do things. I'm crediting this surge in part to my new exercise machine. I already knew that exercise lifts my mood but it's not always easy to put that knowledge into practice. I would also like to thank giving myself August off doing things other than work. Now August is over. It may still be extremely hot (current temperature: 110 degrees Fahrenheit) and the air is still smokey, but it's basically decorative gourd season now and soon it will be cold and festive.

Consuming
Here are some things I've read, watched, or bought recently.
Reading
I finished a few books this week, starting with How to Hide an Empire: A History of the Greater United States. Author Daniel Immerwahr makes the case that our popular map of the continental U.S. (the "logo map," as he calls it) obscures a lot of details about the country's holdings around the world. Immerwahr chronicles The U.S.A.'s efforts at colonization, which of course began with the mainland and then extended to islands throughout the Pacific. I learned that guano played an important role in early colonization and that the U.S., for a time, owned the Philippines. I consider myself fairly informed, but I didn't even know that the Philippines had been a colony (it was acquired as part of the peace terms of the Spanish-American War). How to Hide an Empire questions our understanding of the United States and concludes with a discussion of how traditional colonialism became obsolete in the latter half of the 20th century through the promotion international standards. Why take over the country when you can get everyone manufacturing screws to your standards? This was a good read for illuminating some things I had not considered, even if I wasn't invested in some of the chapters about wars. However, I was very keen on the international standards discussion.
Next I read Max Gladstone's Empress of Forever. This book was published about a year ago. I pre-odered it and then didn't read it until this week. Why did I sleep on this book? It's a hard science-fiction, a space opera with far-future technology, a pirate queen, a tyrant empress, and lesbians in space. It also has a "power of friendship" theme running through it, which is a vibe we all need in these turbulent times. Highly recommended if you like sci-fi.
I also read Algorithms of Oppression: How Search Engines Reinforce Racism by Safiya Umoja Noble. This book examines how search algorithms quietly support racism. We tend to think of Google search as a kind of public good, but Noble reminds us that it is, in fact, a commercial enterprise that prioritizes profits, not what is necessarily best for people searching. She starts with the example of a Google search for "black girls," which, at the time she started this research, provided only results to pornography. Google responded by minimizing their responsibility, saying the algorithm shows people what they want and it isn't the search engine's fault. However, this ignores that people develop the algorithm. Noble goes on to explore how "algorithmic oppression" impacts us, pointing out that most people think Google is neutral, unbiased, and trustworthy. One of the quotes that stayed with me was this, "I do not think it a coincidence that when women and people of color are finally given the opportunity to participate in limited spheres of decision making in society, computers are simultaneously celebrated as a more optimal choice for making social decisions." We have to think about what power we're giving away to the algorithm and what choices it's making without our knowledge, especially as we head into this year's election.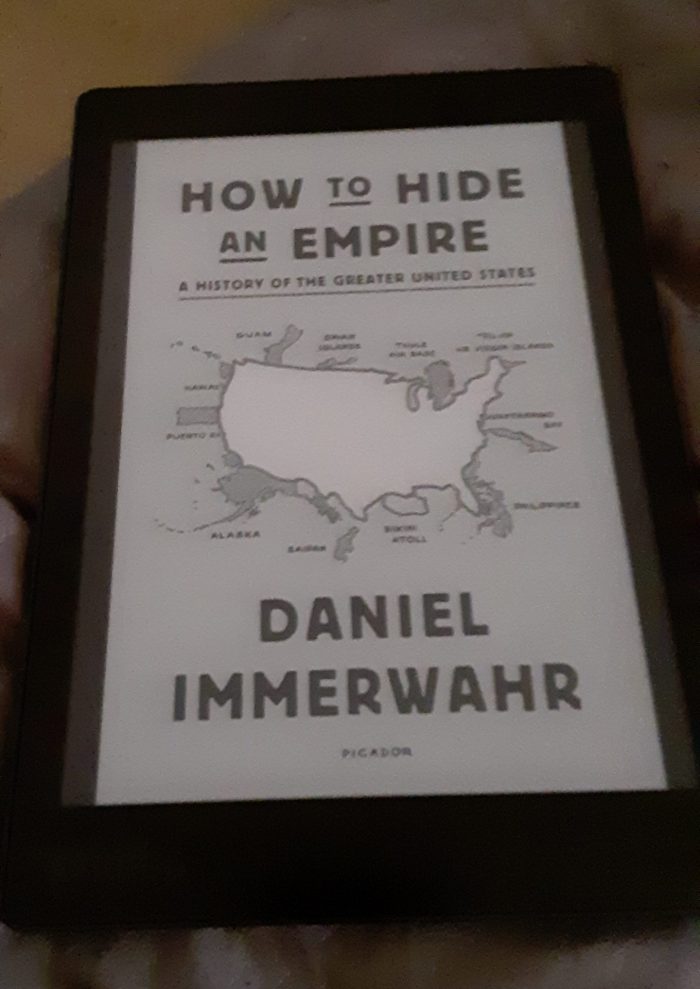 Meanwhile, on the internet:
Watching
Kirk and I started watching The Dragon Prince on Netflix. It's really well done. It is fairly reminiscent of Avatar: The Last Airbender, but it is a good show in it's own right. The more it goes on the funnier I'm finding it, too. It's ostensibly for children, but it is written with adults in mind. It's interesting to me that kids' shows now are full of such emotional wisdom. I think I've said this before when talking about Steven Universe, but kids are getting a lot more to work with in terms of emotional intelligence than the previous generations. I'm pretty sure that Teenage Mutant Ninja Turtles only existed to sell toys (but, hey, I loved that pizza-shooting tank).
Rampant Consumerism
I've slowed my consumer roll after the last few weeks of working on our emergency kits, but I did subscribe to the Culture Study newsletter by Anne Helen Petersen. I was subscribed to her free newsletter for the last year or so, but she is switching to a paid model and, honestly, it's worth it. I've been keeping an eye on more newsletters—a modern solution to facebook and perhaps something to fill blogging's former niche—and I really enjoy this one. She takes on interesting issues and curates a lot of good articles. In fact, I often share things here on the blog that I found through her newsletter (I regret to report that I am not that original).
Making Things and Doing Stuff
This week I took on Spanish, dance class, and snacks.
Spanish Time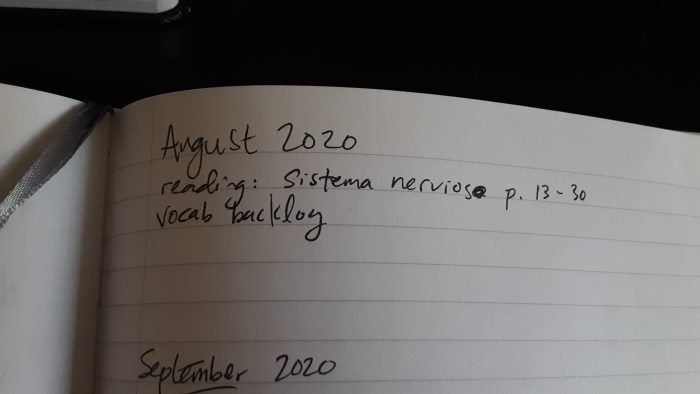 I took most of August off from Spanish because, as previously stated, I wasn't feeling it. However, by the tail end of the month I did feel motivated to start a new book, which I dutifully recorded in my Spanish notebook.
Taking the month off from studying turned out to be a great choice because I took some time to consider what I want to do next. I've been "learning" Spanish on and off for 20 years now and I really feel ready to put it to use in some way. I spent the first part of this year prepping for an exam that, now, I don't know when I'll be able to take. I have always wanted to get into translation so I decided this is the time to start. I spent the week searching for some volunteer gigs because I'm realistic enough to know I shouldn't be charging for my services yet. I applied to a couple of gigs through Volunteer Match and, fortunately, got some responses. This is something I'm really excited about and I'll tell you more once there is more to tell.
Moving It
Ballet class resumed this week after taking a break for most of August. I was happy to get back to it because I have enjoyed learning so far. Next week we are going to start practicing in the studio. I almost wrote that we would be "back" in the studio, but frankly I have never been. My instructor said I should look into getting some ballet shoes (recommended by not required—an attitude I appreciate) because it will be easier. So this week I'll be investigating that. Ballet is the pandemic hobby I didn't know I was going to take on, but here I am, buying ballet shoes.
Kitchen Witchery
Last weekend I took a request from Mandy for a "fancy white lady cheese plate" and went wild on it. We had many snacks and a chickpea dip. I also made this delicious coconut cream pie, which I will definitely make again. I also made, but didn't photograph, another round of red lentil soup and incorporated the little bit of coconut milk I had leftover. I added that and curry spice, which made the soup even tastier. Recommended eating!
I am currently waiting for this heat to leave us be so I can get back to making breads. I'm not turning on the oven in this weather.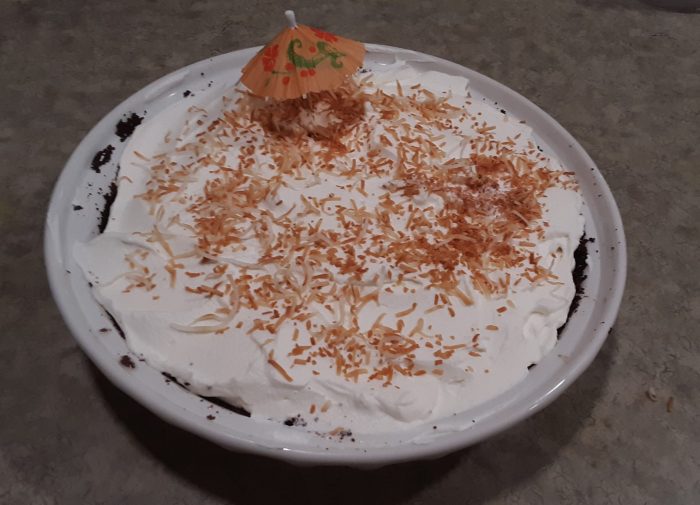 Cat Therapy
Finally, here are some cat photos for your nerves.