It's December, which is exciting for me because I love advent calendars. Starting my day with a piece of chocolate is great and we should do it year round.
Less thrilling: it's become Rare Household Tasks Month here. This week I cleaned and dusted our laundry room (and made Kirk vacuum up all the dryer fuzz trapped behind the machine) and cleaned the hard water deposits out of the shower head (link in case you, too, require this knowledge). Obviously we're not cleaning in anticipation of guests—what guest would dare to criticize a laundry room anyway—but I'm trying to set myself up to actually relax later this month. I'm planning to take vacation between Christmas and New Year's. Since both holidays are on a Friday, it equates to ten consecutive days without work for the low, low price of only four vacation days. I know myself and if I don't get some household stuff done before I'm on vacation, I'll fill all my time up with things like cleaning the windows instead of the relaxation I want, need, and deserve.
Consuming
Here are some things I've recently read, watched, or bought.
Books and Other Words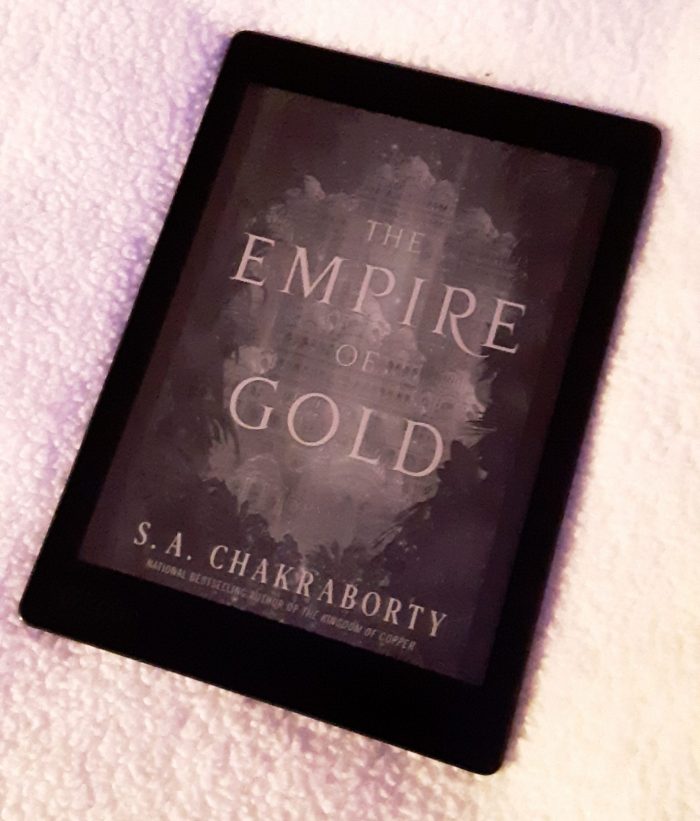 This week I read the third and last book in the Daevabad trilogy, The Empire of Gold. It was so good! I love this series. It has been the perfect escapism lately. I won't say more because I don't want to spoil anything for people who want to read the series.
Meanwhile, on the internet:
Aubrey Gordon on Dealing with Aggressive Fatfobia via Lithub. This article is heavy but accurate in describing the experience of being fat in the world. I thank the author for giving us the term "fatcalling" because I'd never had a good word to describe the phenomenon of random people shouting at me because they object to my fatness.
Scented candles: An unexpected victim of the COVID-19 pandemic via Kate Petrova on twitter. Negative reviews of scented candles claiming that the candles have "no scent" have correlated to rises in coronavirus cases. Fascinating. (note: one symptom of coronavirus is losing your sense of smell or taste).
Also on the internet: newsletters. I've been subscribing to a bunch of them via substack. It's all the fun of blogs except it comes to your email. Here's a selection of some really good ones from the last week:
TV and Music
We watched the new season of Animaniacs this week and I've had the theme song stuck in my head—dueling with the original version of the theme song. It somehow feels exactly how I remember it while poking fun at contemporary topics from Trump to designer donuts. I read an article about how the animators redesigned the characters to modernize them. This is interesting to me because the show to a non-expert in animation, seems exactly like the 1990s version. Yet, it's not.
I also felt compelled to watch Happiest Season on Hulu because lesbian Christmas movie. I went into this having already been warned by lesbians that it was not, indeed, the happiest. But did I listen? No. I watched it and yelled at the TV/into the void for the whole thing. Kristen Stewart was good and Dan Levy's classic anxiety gay character was, obviously, delightful, but this is not the lesbian Christmas movie we deserve. If you want to read about it and skip watching it, I recommend this article (also recommended if you watched it and need to process).
Rampant Consumerism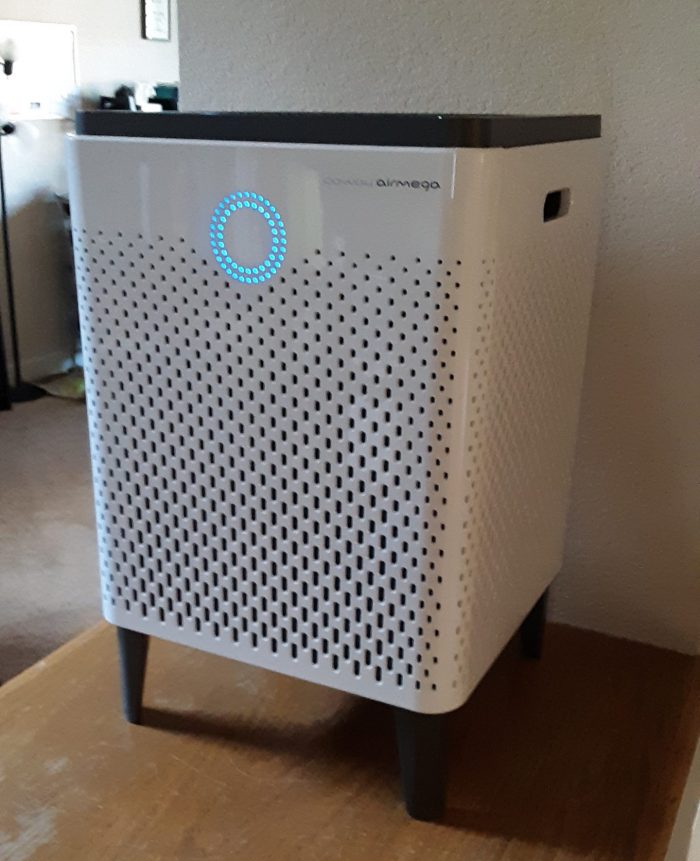 I've had my eye on this air purifier since fire season two years ago when the sky was sepia-toned and it seemed the world would end. After this year's apocalyptic repeat, I finally womaned up and bought the damn thing. It's the Coway Airmega and it was 20 percent off after Thanksgiving. So far, it seems good. It's fairly quiet and it's "smart" so it doesn't have to run constantly. I'm hoping it will spare us some pain next time there's a big fire nearby.
Making Things and Doing stuff
I've been embracing being festive for Christmas this year. I am liking Christmas more and more every year because I have realized I can do whatever I want and that there's nothing wrong with liking cute stuff if it makes me happy. My (now ex-)step-mom was a real tyrant about Christmas and doing shit her way, which was not my way and I didn't particularly enjoy the mandatory fun aspect of it all. Adulthood is all about remaking your life into what you want, so that's what I'm doing.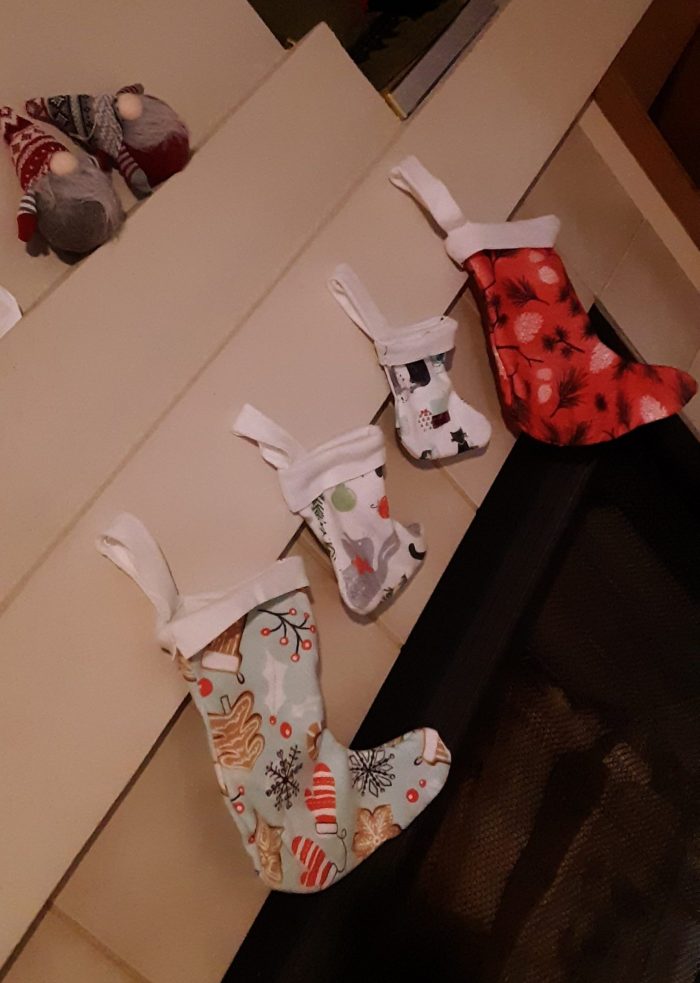 Languages
In the beginning of November, I took a lot of comfort in studying and using it as a method to avoid election doomscrolling. I had a really good routine going for a couple of weeks and then lost it again, but such is life (and studying). In any case, Spanish is moving along as always. I have been reading books and chatting with my teacher regularly. French is going okay but I need to start thinking about how I want to it to be interesting for me in terms of figuring out what to read or look at in the language so it's not just textbook life.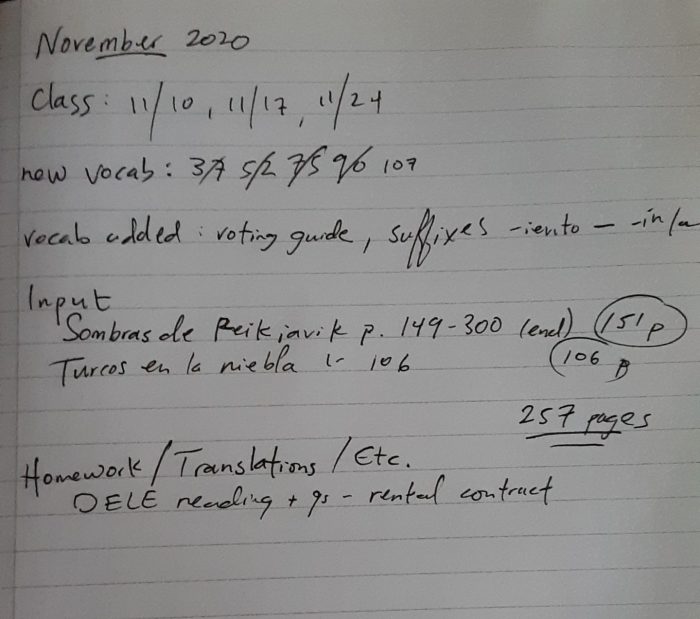 Knitting and Crafts
I've finished yet another pair of socks (everyone is getting socks for Christmas, in case you haven't guessed). This is the Luminary sock pattern knit in yarn from A Homespun House. I was fun to knit once I got into the rhythm of the pattern, which took me a little while. This pattern was also a good lesson in recognizing that "knit" and "knit through back of loop" are, in fact, not equivalent.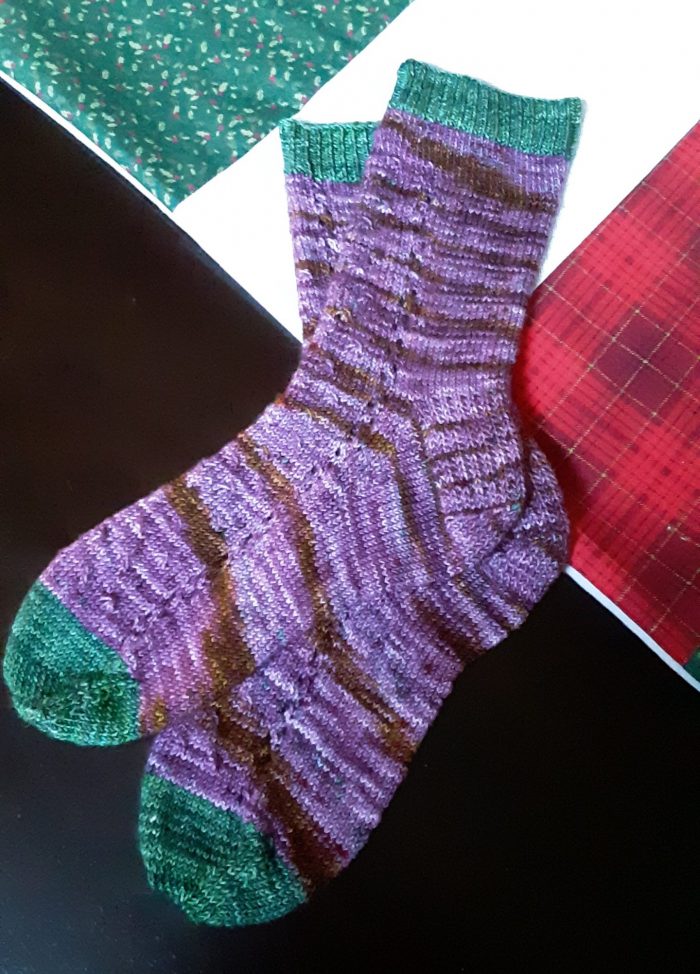 I mentioned a few weeks ago that I'd be making Kirk these gnome socks for Chistmas. So far the pattern is a lot of fun and very cute. Since this picture, I've turned the heel and started on the gusset, but this is enough to appreciate the pattern. I'm not trying to hide them from Kirk because we're home constantly and it takes a long time to knit. He seemed surprised and delighted by the choice, so I am happy.
In non-knitting news, I made a table Christmas-themed table runner. I feel that my younger self would find table runners highly unnecessary and uncool, but here I am, 34 years old, sewing table runners. If I'm going to be home forever, I want something to look at.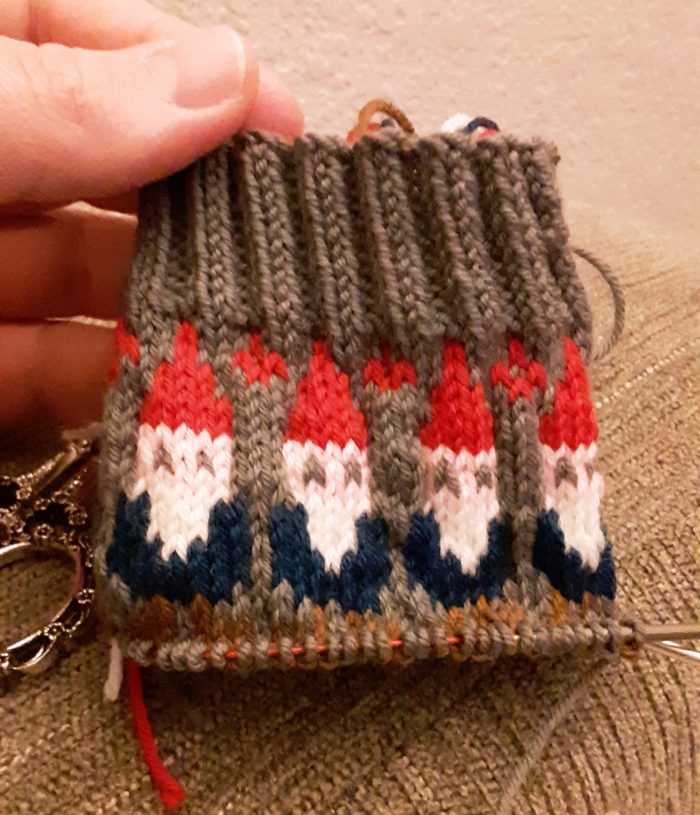 Kitchen Witchery
It's interesting to me to go back through the week's photos and see which foods I actually took a picture of. This week: treats! I made fudge for the first time using a recipe on a card I picked up at Nugget. The result was a success. On Saturday, we got a Christmas tree (not yet decorated so no photos yet, mom) so I decided to go high-key festive and make sugar cookies. Kirk requested Christmas tree shapes. Who am I to say no?
Something I put a lot of effort into but didn't take a photo of is this pumpkin tart, which, on paper, sounded delicious. I seriously hated the results though. It didn't seem to taste of anything and it felt like all the textures came out wrong. Ick. To cleanse my savory tart palette, I'm thinking of going back to a recipe in Salt, Fat, Acid, Heat for a butternut squash and blue cheese tart, which is the flavor I want but, you know, actually good.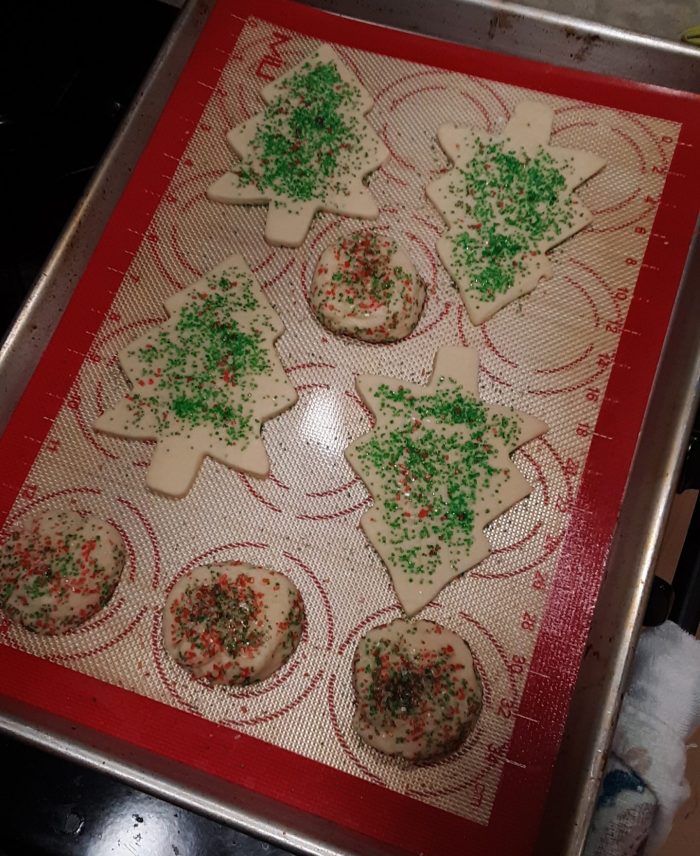 Cat Therapy
Finally, here are some cat photos for your nerves.