I've started listening to Gaslit Nation, an excellent podcast by two journalists who are experts in authoritarianism. The hosts have been emphasizing the importance of voting in the midterm elections this year and have said this could really be our last chance to make the democratic process work before autocracy tightens its hold on the country. It got me thinking about how I could encourage others to vote and maybe make the process less intimidating.
This post is to explain how I researched what's on the ballot for the 2018 midterms and how I came to my decisions. I am not at all trying to tell anyone how they should vote. You can vote like me if that is what you want to do, but what I really want is to show you how to figure out how to vote and my thought process.
I am not an expert in politics. I work as a technical writer and I have a master's degree in library science. This means I work with language and know how to interpret complex information. It also means I know how to find information. I am providing my process, but feel free to contact me if you have other questions.
Voter-Nominated Offices
Governor
My vote: Gavin Newsom
Although my grandma told me that I better not vote for Gavin Newsom, I'm doing it anyway. The California General Election Official Voter Information Guide (which you should get in the mail, but you can find online) does not provide a statement from Newsom, which I think is kind of a dick move on his part. I looked up Newsom's website to see what he says about the issues. His stances are all ones I agree with. So, while he can't be bothered to put out a statement, and someone I know told me she met him and he wouldn't stop ogling her chest, I guess I'm still voting for him.
The Republican candidate, John Cox, provides a statement that is coded to rile up the Republican base, mentioning a that politicians have "rigged the game" and talking about repealing taxes on gas, among other things. It also says that California has the "highest poverty rate in the country." I thought this was probably a lie so I went to look it up—operating on the theory that a politician lying about something means they're willing to lie about anything. I discovered it's actually true, but only when adjusted for the cost of living. I'm glad it's not a blatant lie, but I'm still not voting Republican.
Lieutenant Governor
My vote: Eleni Kounalakis
Both candidates, Eleni Kounalakis and Ed Hernandez are with the Democratic party and, based on their statements, neither of them sound like a bad choice. My highly un-rigorous method of breaking a tie when two candidates sound good to me is to choose a woman or person of color. In this case, Kounalakis is a woman and Hernandez is a person of color, so this metric is not very helpful. I checked each candidate's website and looked at what they said about the issues. Although they were fairly similar, I liked that Kounalakis supports universal broadband internet (that is, wi-fi as infrastructure) and building more housing, among other things.
Secretary of State
My vote: Alex Padilla
The Secretary of State is an important job in these times because this person safeguards our elections. Considering that Russia meddles in our elections, both directly and through targeted propaganda, we need a Secretary of State that will protect them.
Is Alex Padilla a person who can do that? I don't know, but I am pretty sure Mark Meuser, the Republican candidate is not. His statement talks about "bloated voter rolls" and says that we need to remove "those who have died, have moved, non-citizens, duplicate and fictitious registrations." This is a dog whistle. Voter fraud is actually a very small problem. When candidates bring this up, they usually mean that only the right sort of people should be voting, you know, white people and not pesky black people and immigrants with opinions.
Controller
My vote: Betty Yee
The Controller "serves as the state's account and bookkeeper of all public funds," according to the voter information guide. State of California employees see the controller's signature on all their paychecks.
Betty Yee is the democratic candidate and the incumbent in this position, and a woman. These are the main reasons I am voting for her. These candidates don't publish statements about how to tackle various issues because it isn't really part of their job. However, Yee is endorsed by tons of groups, including a lot of women's groups, which I think is important. Roditis, the Republican candidate, has a site that is focused on things like defunding the high-speed rail and repealing the gas tax. In general, I support paying higher taxes that pay for services so I disagree with Roditis on these issues.
Treasurer
My vote: Fiona Ma
Based once again on my metric of voting for women of color, I'm choosing Fiona Ma. This is also based on not voting for Republicans. Ma's statement says she supports "accessible and affordable healthcare" and wants to work to "alleviate student loan debt," which are things I also support. Republican candidate Greg Conlon is an old white man. In general, I do not vote for old white men if there are other, qualified candidates. Old white men have been running this country for too long and I want to see more women have the opportunity to lead. Also, Conlon's statement says that public employees have pensions that are too "generous." The pension is the main perk of public sector employment (as anyone who has gotten a paycheck for a public job knows). Screw this guy.
Attorney General
My vote: Xavier Becerra
This one is simple. Becerra is the democratic incumbent (if I recall correctly, he took over after Kamala Harris was elected to the Senate). Becerra has gone to court against the Trump administration multiple times to defend against encroaching Trumpism.
Insurance Commissioner
My pick: Ricardo Lara
I am voting for Lara because, as a member of the state senate, he voted for a universal, single-payer healthcare system and in general his positions line up with things I support.
Board of Equalization Member: District 1
My vote: Tom Hallinan
This is an interesting one this year. The Democratic candidate, Tom Hallinan, is running for the Board of Equalization (BoE) on the platform that the BoE is no longer necessary and that he will try to shut it down. I had to do some research to figure out what the BoE actually does. Per its website:
"Established in 1879 by a constitutional amendment, the BOE was initially charged with responsibility for ensuring that county property tax assessment practices were equal and uniform throughout the state. Over the years, the legislature expanded the BOE's subject matter to include many taxes and fees. In 2017 and 2018, the legislature created two new tax administration and appeals agencies, reassigning some of the BOE's tax functions. As a result, the BOE has rededicated itself to focusing on its historical responsibility of property tax oversight and its constitutional responsibilities."
That does sound a bit like the BoE is no longer relevant. Also, I don't trust the Republican party at all. I'm voting for Hallinan.
United States Senator
My vote: Kevin De Leon
Again we have two Democratic candidates on the ballot. Diane Feinstein is the incumbent and a ranking member on a few Senate committees. However, I am voting for Kevin De Leon. I am hoping that De Leon will push back harder against Trump and autocracy and Republican foolishness more than Feinstein does. I think Feinstein and Democrats should be doing more not just to say no to Republicans but also in setting an agenda and giving us something to hope for. Democrats are doing the minimum to keep our rights from eroding too quickly. I'm hoping De Leon will do more than that.
United States Representative: District 17
My vote: Ami Bera
My options are Ami Bera (D), Andrew Grant (R) here in Elk Grove. Bera is the incumbent and I am certainly not voting to put any more Republicans in congress, so I'm voting for Bera. I think he is a good congressperson, but I would like to see him be more progressive. His website has a lot about protecting the Affordable Care Act, which is great. However, I don't see anything about pushing for single-payer or universal healthcare. Conclusion: could be better, could be way worse.
State Senator: District 6
My vote: Richard Pan

The options for district 6 are Richard Pan (D) and Eric Frame (independent). I actually met Eric Frame at a Sacramento Labor-Community Coalition Meeting in August. He has a good sense of the class struggle we are facing and I thought him very genuine. However, I recently saw this article in which he says he is against mandatory vaccinations. It makes me wonder if he has any other unconventional beliefs that I should be concerned about.
Member of the State Assembly: District 9
My vote: Jim Cooper
The options for district 9 are Harry He (D) and the incumbent, Jim Cooper (D). Based on Jim Cooper's website, he has been involved in a lot of legislation that supports labor and women. I wanted to see what Harry He had to say for himself, however, he did not provide a statement in the county voter guide and I couldn't find a website for him. If you can't even get a website online, how are you going to be an assembly member?
Judicial
For judicial candidates, you get the option to say yes or no. These are hard because you have to be really into law and politics to follow individual judges' careers.  I mostly used ballotpedia and some explainers I found, like this one, which suggests who to approve based on whether a Republican or Democratic governor appointed them. I am not an expert at any of this, but especially not at judicial issues. I encourage everyone to research and listen to voices they trust.
Associate Justice, Supreme Court
Carol Corrigan:  No
According to Ballotpedia, Justice Corrigan has served on the California Supreme Court since 2005, when she was appointed by Governor Schwarzenegger. Being appointed by a Republican governor suggests she is a more conservative judge. From what I can tell, she's also a big Trump supporter.
Leondra Kruger: Yes
I don't know much about Leondra Kruger other than that she was appointed by Governor Brown in 2014.
Associate Justice, Court of Appeal, Third District
Cole Blease: Yes
This judge is an old white man, but I think his resume sounds like he has the people's best interests in mind:
"Justice Blease received his undergraduate (1952) and law degrees (1955) from the University of California at Berkeley where he later taught undergraduate courses in freedom of speech and the logic of argument. Before appointment to the bench he represented civil rights organizations and had a varied practice in public law. His clients included the California Teachers Association, the State Superintendent of Public Instruction, the County of Placer, the League to Save Lake Tahoe and public employee organizations."
Louis Mauro: No
According to Ballotpedia, Mauro (also an old white man) was appointed by Schwarzenegger. When I searched Mauro online, I found a bunch of attack ads against Justice Blease, which did not seem very professional for someone who "serves on the Executive Committee of the Anthony M. Kennedy Inn of Court, working to promote ethics, civility and professionalism in the legal profession." I am sure that Mauro didn't personally create these images, but why is anyone creating propaganda about a judicial candidate? Who is backing that?
State Propositions
Propositions are tricky, but I find that if there's general agreement from organizations that you agree with, you're probably on the right track. I referred a lot to this voter guide that was circulating on facebook. It consolidates guides from organizations like the ACLU, Sierra Club, and Democratic and Republican parties. You can also refer to the California Voter Guide for analysis and arguments for and against each proposition. I like to read the arguments for and against because it shows what kind of logic people are using to justify their choices. It is usually pretty clear to see what kind of perspective the writer approaches the argument with.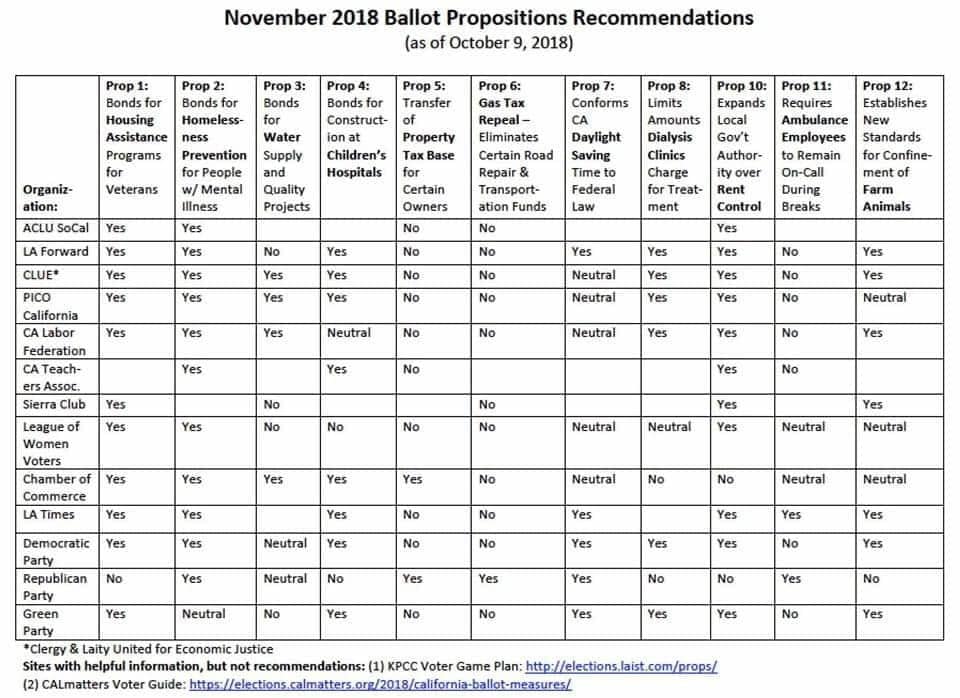 Proposition 1
My vote: Yes

This proposition helps fund housing programs for veterans. The funding for this proposition comes from the State selling bonds, which means they are not planning to increase taxes to provide more affordable housing.
Oh, the Republican Party is against it. What else do you need to know?
Proposition 2
My vote: Yes

Basically everyone supports this measure, which provides funding for existing housing programs for people with mental illness. It seems like the humane thing to vote for.
Proposition 3
My vote: Yes

I read the title of this one and immediately thought "yes" because our water infrastructure needs help, especially with the increasingly extreme weather events we are experiencing due to climate change. I did notice, however, that the Sierra Club does not support this proposition. I wanted to know why. Here's what their voter guide says:
"The flaws in the bond will enable certain dams and other infrastructure we have opposed. It also directs to unspecified water projects a specific category of funds collected through the state's cap-and-trade program that should be used to efficiently cut climate emissions."
The League of Women Voters rejects this proposition for an entirely different reason, stating that it "shift[s] the cost for water from the end users to California taxpayers"
That said, I still think it's a good idea to shore up our infrastructure for water. Two of the organizations I am inclined to side with are against this proposition for different reasons. For me, this does not override why I want to vote for it.
Proposition 4
My vote: Yes

Proposition 4 authorizes bonds to fundraise for children's hospitals. I do find it a little questionable that public money is going to private institutions. I did some quick searching and it does seem that most children's hospitals are private institutions, so maybe it is less weird than it sounds. In general, I want to see better healthcare so I am voting for this.
Proposition 5
My vote: No

From what I can tell, this proposal would benefit rich people who buy multiple properties. The State also estimates that it "probably would lose over $100 million in annual property tax revenue in the first few years, growing over time to about $1 billion per year." Property taxes fund schools. The voter guide says one of the benefits is it "allows the purchase of a more expensive home." This seems like a bad plan.
Proposition 6
My vote: No

The only group supporting this is the Republican Party. This proposition would repeal a tax passed by the State Legislature last year and reduce state revenue by over $5 billion. The tax we pay on gas goes directly to supporting roads and similar infrastructure. If you're driving on roads, you should help pay for them.
Proposition 7
My vote: Yes

I thought this proposition was to end our bi-annual time change, but it's actually giving the legislature the power to make changes to daylight saving time. I personally think daylight saving time is dumb and we should get rid of it. Plus, the time change results in increased traffic accidents and pedestrian deaths.
Proposition 8
My vote: Yes

The money tells the story of proposition 8. Dialysis companies are spending like crazy to prevent this from being passed because they know they will lose money if they are more heavily regulated. Regulate those bastards.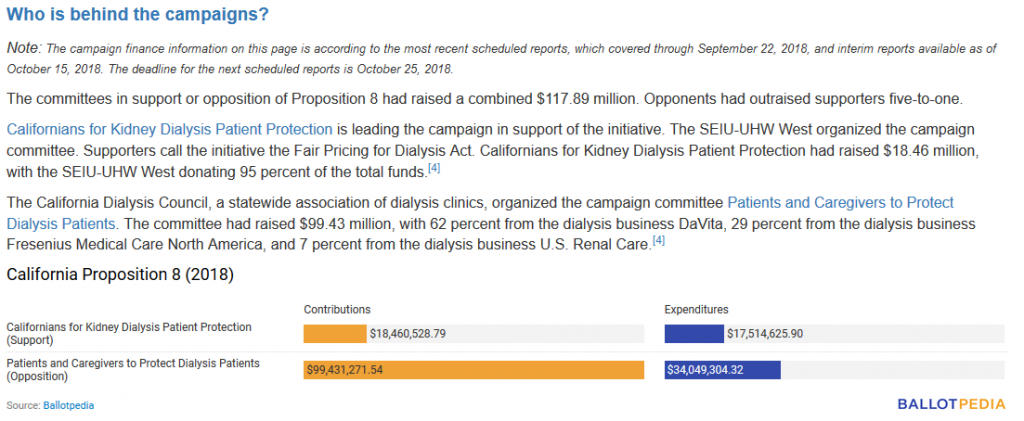 Proposition 10
(note: I didn't skip a number. There is no prop 9)
My vote: Yes

This proposition basically establishes rent control by repealing a state law that currently restricts rent control policies. This allows local governments to set rent control policies. We live in California. We see the rents. Is any more explanation required?
Proposition 11
My vote: No

This one confused me because I don't understand why we would vote to make emergency employees work their breaks. I thought I was missing something. According to the Peace and Freedom Party's Workers' Vote Guide (I'm a registered Peace and Freedom Party member, by the way), it really is an attempt to "deny breaks to private ambulance workers."
Proposition 12
My vote: Yes

The voter guide says this "establishes new minimum space requirements" for farm animals and "prohibits certain commercial sales" of certain animal food products. To me, this sounds humane. I am a carnivore, but I support treating animals better.
A teammate of mine is an animal rights advocate and expert on this subject, so I checked her page to see what she had to say on this subject. She shared this page, which suggests that the main groups opposed to the proposition are the farmers who would be impacted by the regulation. It sounds a lot like the dialysis companies opposing dialysis regulation.
Did this guide help you? Leave a comment with your thoughts or tips for others. You are welcome to share this all over the internet.