It's been incredibly hot this week. The kind of heat that promotes nothing but lethargy and a need for ice cream sandwiches. Yesterday we hit 107 Fahrenheit (a word that I will never learn to spell correctly) and today it's projected to be 105. At the time of this writing, it's about quarter to 10 in the morning and I'm currently baking biscuits because I know I won't be willing to bake later when it's hot. Reading this back it looks melodramatic, but the heat just shuts me down. What can I say.
Consuming
Here are some things I read, listened to, or bought this week.
Reading
I read a couple of novels this week. It's been too hot for the gym or roller derby so I've been parked in front of the fan with books or knitting for the last few days. I finished one of the Powell's Indiespensable books that's been languishing on my shelf for a few months: Late in the Day by Tessa Hadley. I read the whole thing but didn't enjoy it all that much. It was well written, the characters were complex people, but I guess I'm just bored of stories about straight people having affairs with each other. Why is that interesting or new? I don't know. But, I tried something new so good for me. Most of the Indiespensible picks are really good but this one didn't resonate with me.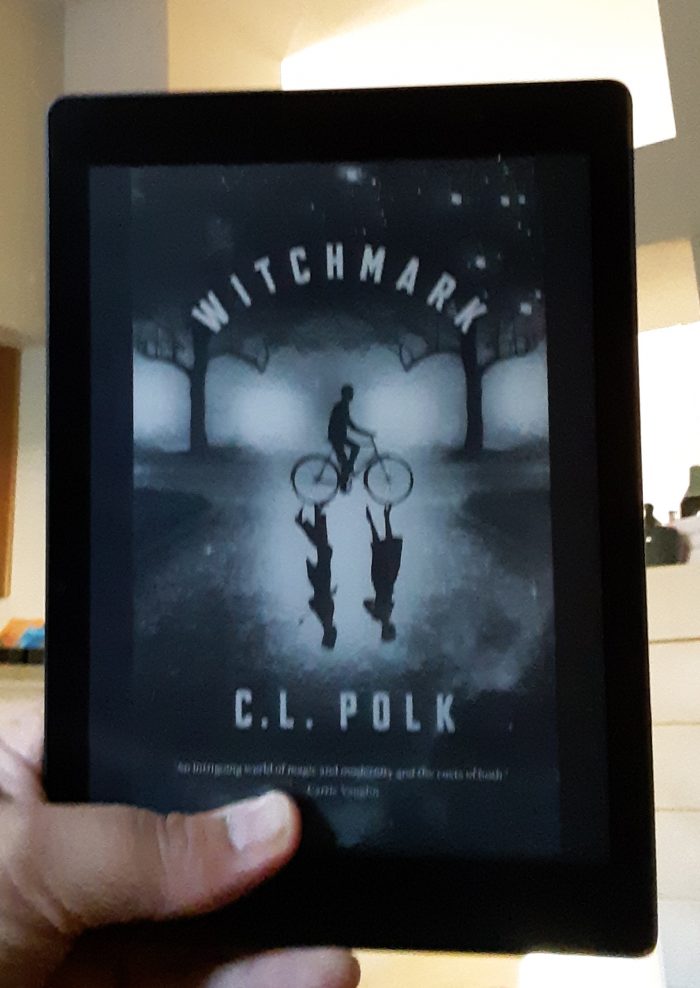 The book I did enjoy this week was Witchmark by C. L. Polk. It's a speculative fiction/fantasy/steampunk-ish tale of sticking it to the man and trying to find your own way in a society that has a certain idea of what you should be doing with your life. Also: gay witches. Need I say more? I was super invested in this story. I was also disappointed to learn that the sequel won't be published until February. So rude.
I also came across this article about a fashion line designed to frustrate license plate-based surveillance. I don't have a lot to say about it other than I think it's really cool and innovative. I hate that we're living in what is becoming a surveillance state.
Rampant Consumerism
I ordered some fabric this week because I had a Spoonflower gift card and was hit with inspiration. I decided I want to make a quilt out of cat fabrics. I want something that's going to make me happy when I look at it (file under: coping strategies for bullshit times), so that's what I'm doing. I also ordered a new hoodie from TomboyX because they finally got theirs back in stock and I will need a new one once it cools down again. I guess there's something about the hot weather that makes me dream of being cold again.
Making Things and Doing Stuff
It feels like I haven't done or made anything this week, but I know that's not exactly true. I definitely haven't been studying my languages at the level I want to, but with Spanish in particular, I've been feeling a bit undirected. I'm at the point where my progress with the language is going to come from getting interested in native materials. I guess I need to find some new media to keep my attention. Or perhaps it's only a matter of habits and discipline.
Kitchen Witchery
I haven't cooked a whole lot this week, but this morning I did make some delicious sweet potato biscuits using the recipe from The Bread Bible. They are amazing. I want to eat them all immediately. The recipe was quite different from other biscuits I'd made—it called for yeast and egg yolks, among other unconventional biscuit ingredients—but I can't argue with the results! I think I will make these at Thanksgiving this year (plus whenever I feel like eating biscuits).
sweet potato biscuits

sweet potato biscuit on a spooky plate
Knitting
My #WarmLadySummer presses on with knitting. I finished a sock and started it's partner this week. I really love making socks. I also found the perfect pattern for some yarn I've been wanting to use. I took a yarn dyeing workshop last fall and have some forest-colored yarn that I want to make into a leafy shawl. I'm looking forward to knitting up this forestgreen pattern once my socks are done.
a freshly knit sock

on to sock two
Derby Life
We've got our first home team game of the season tomorrow! My team (Blue Steel) will be facing off against the white team. We won the home team championship last year but I'm not sure if we'll be able to hold onto that trophy. It has been pretty stressful preparing for this game. I'm the team captain and have had a hard time getting enough people willing and available to play on my roster. We're going to have a lot of newer skaters on our team tomorrow, which is exciting but I'm not sure our teams have ended up being evenly matched. I guess we'll see how it goes!
Finally, here are some photos of Viola for your nerves.
Viola, being adorable

Viola the fluff beast