It's been a week. I'm exhausted today. My week was full of roller derby, actual work, and a hearty dose of climate anxiety despite trying to avoid the news.
Consuming
Here are some things I read, watched, or bought this week.
Reading
This week I read Confessions of the Fox by Jordy Rosenberg. It was a really interesting novel and very different from anything I've read lately. I have a lot of thoughts about it but I'm not quite ready to distill them into a paragraph. Suffice to say, I recommend it.
Some articles I read and appreciated this week:
Watching
In search of something to knit by, I started re-watching Buffy the Vampire Slayer. I wanted something that would amuse me and not require too much investment. Also, Giles is my style icon.

Rampant Consumerism
After last year's fires and the horrible air quality we had in Sacramento, I'd been mulling over buying some respirator masks in anticipation of the fire season. It feels kind of crazy and like a "prepper" thing to do but I do honestly think these kinds of things are the new normal. This week I ordered masks for us so we'd be ready for whatever comes next. The next day I saw news of a fire in Shasta and that the Amazon rain forest is on fire, so maybe I'm not too crazy after all.
Making Things and Doing Stuff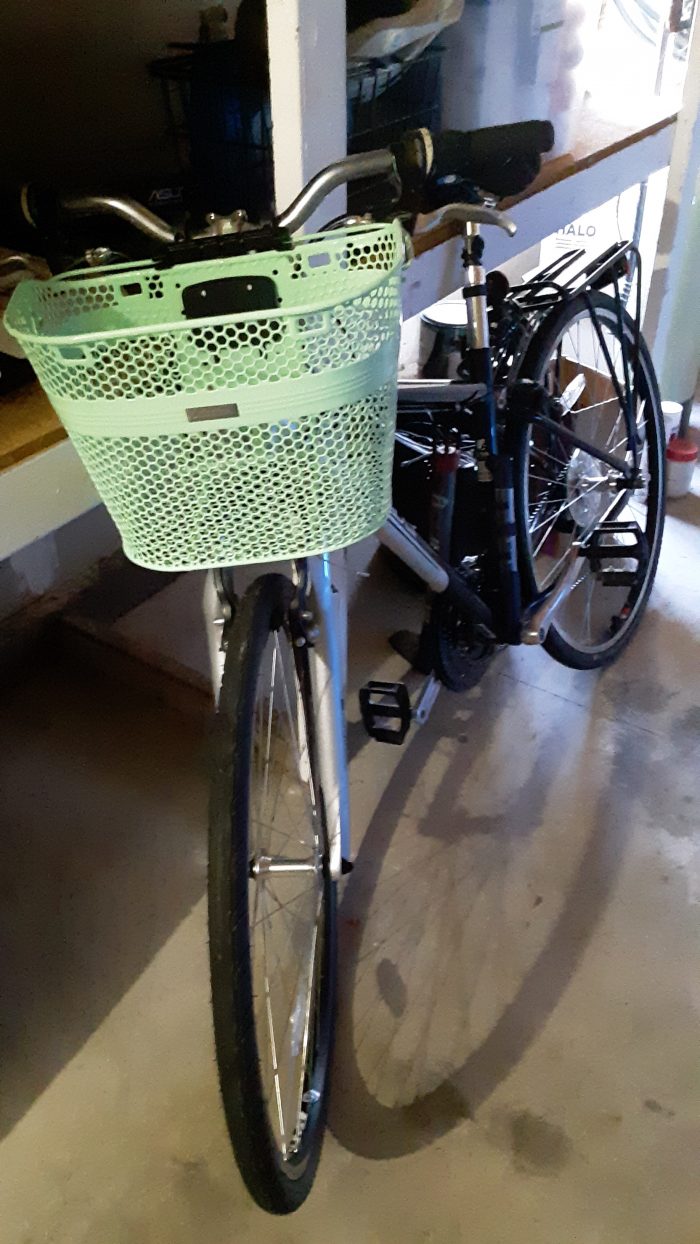 Now that I've sat down to write, I realize I did quite a lot this week. I never feel like I do anything (lol, anxiety) so it's good to reflect and realize that I'm doing plenty.
One of the highlights of the week was getting my bike back from the bike shop. I took it in because I had a flat tire and it needed a tune up anyway. I spotted a festive bike basket and the spirit moved me to upgrade. So this week I've been enjoying bike errands (despite the heat).
Spanish
I can't say whether it's my summer doldrums or something else, but I've been thinking about how to invigorate my Spanish studies because I am flagging. My usual routine involves lots of flashcards, reading and identifying words to save in my flashcards, weekly chats with my Spanish teacher, and maybe some TV or other things when I find time. This routine is not doing it for me lately. I was reflecting on why I want to keep learning Spanish, especially since I'm at a point where I can more than get by, so what is the point of endless studying? The answer is, in part, there is no point to endless studying. I want to be fluent in Spanish so I can communicate and appreciate everything that's in Spanish. With that in mind, I realized I need to let go a little of the "studying" part of my studies and just enjoy what I do know. I want to read more in Spanish but the whole process of reading for me normally includes underlining words I don't know, adding them to my flashcards, and learning them. I am still going to do that with harder books or things I really want to focus on, but I'm also going to have something I read just to read to take the pressure off myself and enjoy it. I love to read but I'm not finding the pleasure in reading in Spanish (partly because it's still kind of hard), so I hope this will help make it fun for me.
I wrote the previous paragraph as kind of a note to self earlier this week. I've since added a bunch of Spanish sites to my feeds and started watching a knitting podcast called Desmadejada. So far, so fun.
Derby Life
It has been a derby-filled week here. On Saturday, we played our first home team game of the season. Although Team Blue Steel lost, we had a lot of fun and it was quite a good game, all things considered. We had a number of skaters playing their first game, and I was glad to see that they had fun. Helping new skaters keeps me from getting too jaded by derby drama.
I also made my debut coaching our derby 101/201 class, what would have been called "fresh meat" in times past. It was fun to plan out a practice and then teach it. I always forget that I actually like teaching, I just hate children (RIP teaching career, 2011–2013). The skaters had some requests for things to learn, so I let that guide me instead of doggedly adhering to my plans and I think that worked really well. Might as well seize that enthusiasm when you have it. Plus now we have a bunch of newbies who can't wait to jump the apex.
At last night's practice, three people showed up wearing my face. It's surreal that people were willing to pay money for these and then actually wear them. I also think it's delightful that Amandaconda fashioned hers into a crop top. #fashion.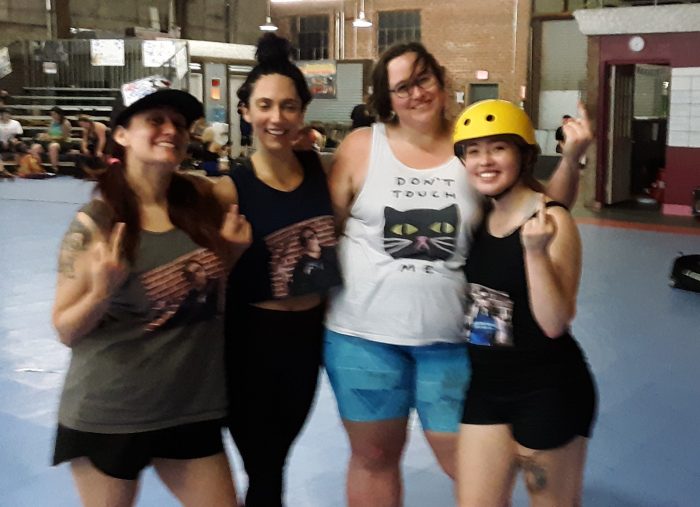 Knitting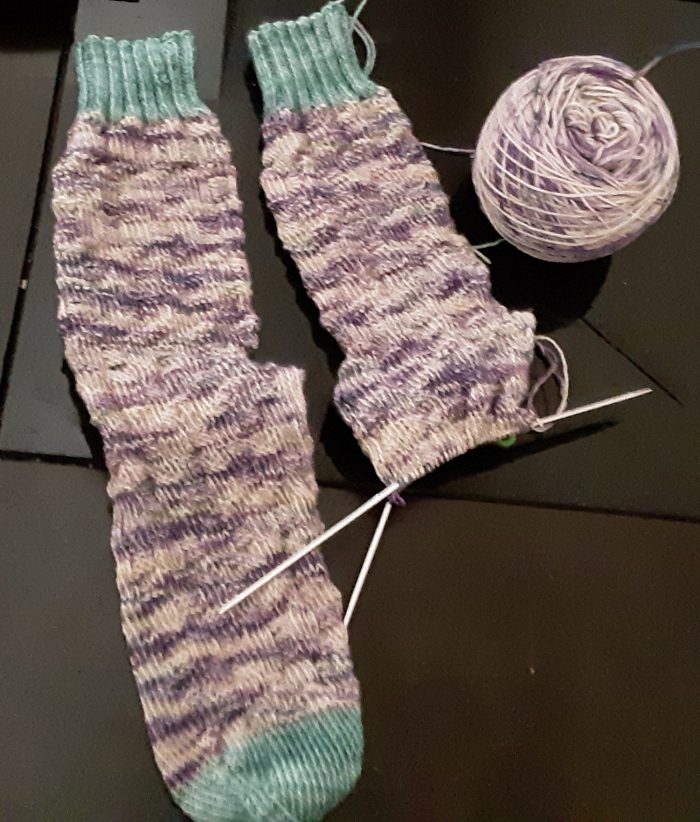 I had hoped to finish knitting my socks this week, but I didn't quite make it. I blame having to do work. However, I got through the heel turn and the gusset so the rest should go pretty fast.
I'm excited to start on some new knitting projects. I mentioned last week that I had a pattern picked out for the yarn I dyed. I also looked up some youtube videos for how to knit cables and discovered that it's shockingly simple. I can't wait to get some handsome cabled garments into my life.
Kitchen Witchery
I went on a bit of a baking frenzy last weekend. Maybe it's an attempt to avoid the news, maybe I'm just ready for fall. After making the sweet potato biscuits last Friday, I went on to make chocolate bread (from The Bread Bible) and bacon, cheddar, and corn muffins (from The Harvest Baker). Both were delicious, although the corn muffins were definitely much better fresh out of the oven than as a leftover. I also got to enjoy some time out on the back patio after we swept up all the pine needles last weekend. We have three huge trees so if we don't keep at it, nature reclaims the yard before long.
chocolate bread

backyard paradise
Finally, here is a cat photo for your nerves. Huey and Viola are surprisingly close to each other. By their standards, they're practically cuddling.