When I was 19, I got kicked out of Brigham Young University and had to move back in with my dad. That's a story for another day, but I will tell you that, at the time, I was profoundly unhappy. I thought I had failed and my life was over because I am the high-achieving type and for a long time, college had been the end-all-be-all. Even though my dad wasn't excited about the idea, I adopted a cat when I moved back in. I named him Khan, but nobody else called him that. I, of course, moved away again for school and Khan stayed with my dad and my sister Mia. He eventually became Mia's cat. The cat formerly known as Khan had a rough couple of years despite Mia's careful ministrations. On Monday, Mia called me to say he had passed. The news hit me much harder than I anticipated. He was there for me during a rough period and he has been there for Mia too. We're devastated.
When I adopted him, the shelter said that, until recently, he had been housed with the feral cats because they didn't realize he was used to people. I don't know what kind of life he lived before we adopted him, but he must not have enjoyed it much. He never wanted to run outside. Even if I carried him out into the yard, he wasn't interested. He knew how good he had it indoors. He used to sleep against the back of my knee. When I last visited Mia, he slept next to me on the air mattress. He will be remembered as a fine cat and he will be missed. Snuggle your pets while you can.
so long and so cozy

in contemplation

Khan as a young man
Consumerism
Here are some things I read or watched this week.
Reading
I didn't read a lot this week because I had to read a lot for work and then my brain was too pudding-like to read much else. That said, I did start reading Mona Eltahawy's book The Seven Necessary Sins for Women and Girls. This is the strongest work of feminism that I've read in some time. It's aggressive and it's perfect. I'm about halfway through it so far. I keep highlighting lines, which I am not normally much in the habit of doing (even with ebooks). Required reading for all.
Inspirational

Seven Necessary Sins: The T-Shirt
As for internet reading:
On Nextdoor, the Homeless Are the Enemy via Medium. I like seeing people talk about the shortcomings of things I don't like because it's validating. Even though I have a house, I've resisted Nextdoor because it sounds like it's fairly ridiculous. Turns out that defining the residents of a "neighborhood" as "people who own property in an area" is as limiting as you would expect.
The knitting community is reckoning with racism, via Vox. This article is not new but it was new to me this week. I follow a Spanish knitter named Sonia Masegosa and, on instagram this week, she mentioned several known racist knitters in the community and that she would no longer follow anyone who followed them. I follow a few knitters but had missed the recent push-back against racism so I, naturally, did a little investigating to find out what happened. This article provided some perspective.
1880s party starters had their own version of Cards Against Humanity via Atlas Obscura. This one is just fun. We citizens of the present tend to think we have the market cornered on humor and irony, but we don't. I thought this 19th century "Cards Against Humanity," called "Peter Coddle's Trip to New York" was pretty interesting and a good reminder that people in the past also liked to enjoy themselves.
Watching
RuPaul's Drag Race UK is now online so I've been watching it. My first impressions are that I love Bagga Chipz and The Vivenne. They're just so funny and have so much personality. Also, I don't know who writes the show and designs the challenges, but they are leaning way too hard on the monarchy, but perhaps that will fade as the show settles into itself.
Making Things and Doing Stuff
I spent a lot of this week in a manic state of editing. I got assigned a huge proposal to review and then, less than an hour after finishing, the state that had put the bid out cancelled the proposal. Reader, I was displeased. Still, I did make some time for other things.

Derby Life
I realized this week that I'm completely ready to take an off-season from derby. So I decided not to go to practice, with the exception of the practice I coached on Wednesday. Our new skaters are so nervous for their upcoming tryout, so we focused on skills for that. In my opinion, they have nothing to be nervous about, but I'm also not in charge. We concluded that I'm the Waldorf coach of the group because I'm always running drills that involve working out skills on your own and I tend to avoid a lot of high-pressure whistling, plus I'm willing to adjusts practices based on what people want to learn that day.
This Saturday we have a home game double header and I'm excited because I'll be announcing! I have hardly announced any games because I've played so much this season, which is not a bad problem to have, but it's tricky when you want to do everything. In any case, I'm looking forward to exercising my other favorite derby skill and watching some good games. I hope to see you there!
Kitchen Witchery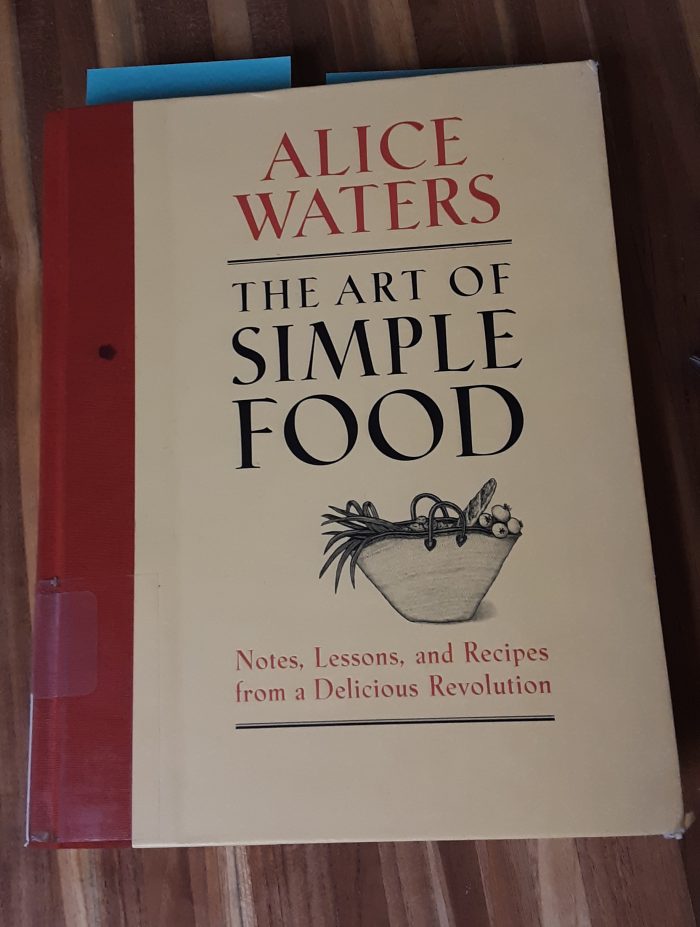 I haven't done a whole lot of cooking this week in part because Kirk was limited to eating soft foods thanks to last week's root canal and temporary (now permanent) crown. However, my cookbook club met on Saturday! We organized this month's get-together on short notice and I wasn't sure I could get the book in time, but my library hold came in on Friday afternoon and I picked some recipes that didn't require too much time. I like this cookbook and want to try some more of the recipes, which I'll probably do this weekend. For cookbook club, I made two new-to-me recipes: a chocolate tart and cheese puffs! The tart used a sweet dough, which was filled with chocolate ganache. The cheese puffs essentially involved making a choux pastry, mixing it with a big pile of cheese, then baking them into bite-size pieces. I also made some whipped cream (not pictured) to accompany the tart and that was a good choice. Both items were highly tasty!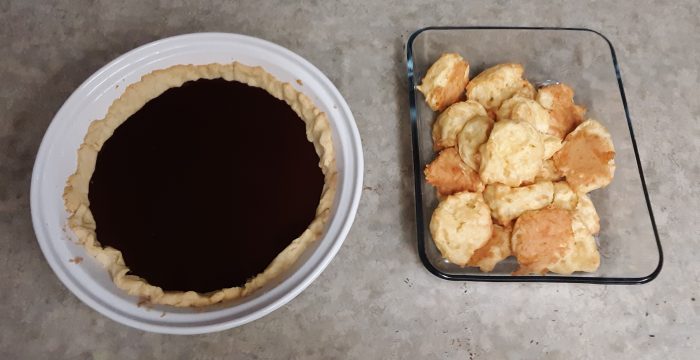 Knitting and Crafts
I got back to working on my cat quilt this week. I hadn't done anything since cutting the pieces last month. On Sunday, I laid out my design and sewed it all together. It only came out mildly lumpy. The next step is going to be to sew on the back and decide if I want to fill it with something or leave it as is.
I've also been working on knitting another hooded caplet. My mom said she wanted to see it (even though it's a Christmas gift!) so here it is, about one-third done. In fact since I took that photo, I have since finished the hood, but you'll have to live with a little mystery.
the plan

the reality

Viola … approves?

Huey helping me sew

hooded caplet round two
Finally, here's one more cat photo for your nerves.