Well we have now lived through two weeks of this shower remodeling process and I have to admit I am about ready to do some murders. I'm so stressed and annoyed by it all. On Monday, we were scheduled to get a hot mop (the waterproofing process, which turns out to be coating the floor of the shower area with tar), but the hot mop guy showed up, declared the shower not ready for him and left. Then I had another guy here for half the next day doing I don't know what. The hot mop guy returned the day after that. He did a fine job, I suppose, but dragging a bunch of hot tar into the house creates quite a stink and the house was super smokey. I was displeased. The tar has been drying since but yesterday we had the building inspector come to sign off on it all. Unfortunately, he concluded he could not approve the job because the contractors had installed the wrong type of window; it was supposed to be made of tempered glass.
Now I have a tar-filled shower stall and an un-tempered window. I haven't been able to use the master bathroom for two weeks and my whole house is covered in dust. However, what really set me off was, this afternoon, two guys showed up to drop of materials. They left the front door open when they entered and I told them we have to close the doors because I have cats. I directed them to the bathroom and suggested it might be easier for them to haul everything in through the backdoor. These fools propped the screen open and left the door wide open. I went back to check on the progress only to find a clear path of escape. Luckily, my cats hate people and were hiding, but they could have gotten out! I am furious. To top this off, they set one of their bits of equipment in the still-sticky tar. I went to move it and it pulled off a bit of tar in the process. How fucking deficient do you have to be to set something in WET TAR. Reader, I've had it. I can't wait for this shit to end. My shower better look flawless and be leak-free by the end of next week.
Consuming
Here are some things I read, watched, or bought this week.
Reading

I finished reading The Seven Necessary Sins for Women and Girls and I am still recommending it to everyone. I highlighted this line "It is difficult for me not to hate men" because it's like, yeah, it really is difficult. So many of them are acting like fucking jackals every day and then we're just supposed to pretend nothing is wrong? Even when they're leaving our doors open and tempting our cats to escape? It is difficult.
Man-hating aside, I read a lot of good stuff on the internet this week.
Watching
I may have mentioned this channel in a previous post, but I can't stop watching these low-key insane videos on the MepearlA youtube channel. For those who don't know, it's the opossum lady. The subtle, weird humor of it is just amazing. She's an inspiration.
I'm also still watching Buffy the Vampire Slayer because that's how I roll. I will say that Giles wielding a chainsaw is also an inspiration. I take inspiration from many places.
Giles with a chainsaw. What more can I say.

mood
Rampant Consumerism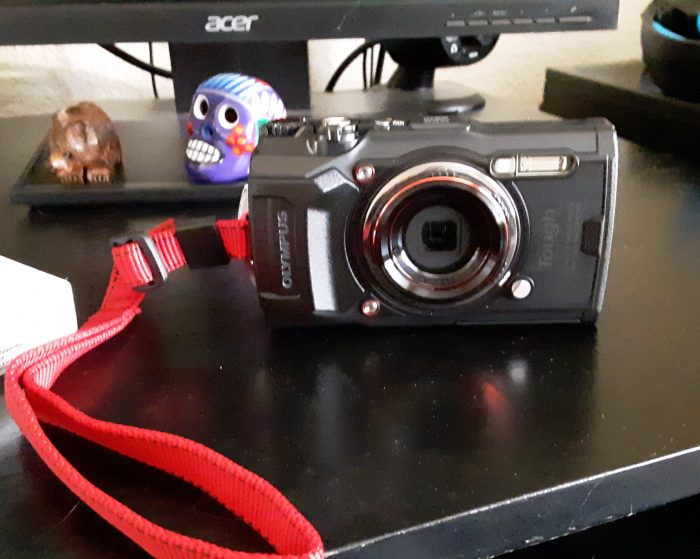 In anticipation of our Peru trip, I bought a new camera. I mostly rely on my phone for pictures these days, although I do have a DSLR and a 10-something-year-old point-and-shoot camera. I hate hauling a big camera on trips though because I just don't feel that strongly about photography. I use it when I want a really nice picture but otherwise leave it at home.
I picked this Olympus camera because it is supposed to produce pretty high-quality images, it's water proof, and can be dropped from about six feet without shattering. Seems ideal for adventuring and for my clumsy self.
Making Things and Doing Stuff
Something fun about doing things and sharing them on instagram is that you make instagram friends who just like what you do. This week's things got a few new people talking to me. It turns out that one of my followers is actually a former student from my painful years of teaching middle school. She messaged me this week to talk about my bread (see below) and then asked if I used to be a teacher and, when I said yes, she said she thought I was her English teacher. It turns out she was right! I hadn't been able to recognize her although she looked familiar. I had just assumed it was the account of some derby person I'd encountered. I joked that I hope I hadn't traumatized her and she replied that, on the contrary, she still talks to one of my other former students about how much they liked my class. So that was really nice to hear because my own memory of teaching middle school was that it was stressful and I hope I encouraged some of them but really the most I can hope for is that I was neutral and didn't harm anyone. But eight years on, at least two of my former students are okay.
Derby Life
I had fun announcing our home team game on Saturday with one of my favorite announcers, Sexy Beast. He told me after we were underway that it would be his last game and he is retiring! I am upset because he's just so much fun to work with, but I get it. I'm glad I got him to come visit us in Sacramento while I could. We had some technical difficulties with our receiver, which resulted in at least 15 minutes of us being off mic, sitting around and chatting. It was probably more fun for us, if less great from a game production standpoint.
My new glasses finally came in and now I have all the luxury of peripheral vision while playing. It's a little weird though because it's almost too much visual information. My brain is still adjusting, but hopefully it will get adjusted quickly. This weekend, our C team, Kodiak Attack has a game in Roseville. It should be a lot of fun. We have a few skaters playing their first inter-league game so they are excited and the enthusiasm is contagious.
new derby glasses

super announcing duo. Photo from Liz Marchiando Imaging
Knitting and Crafts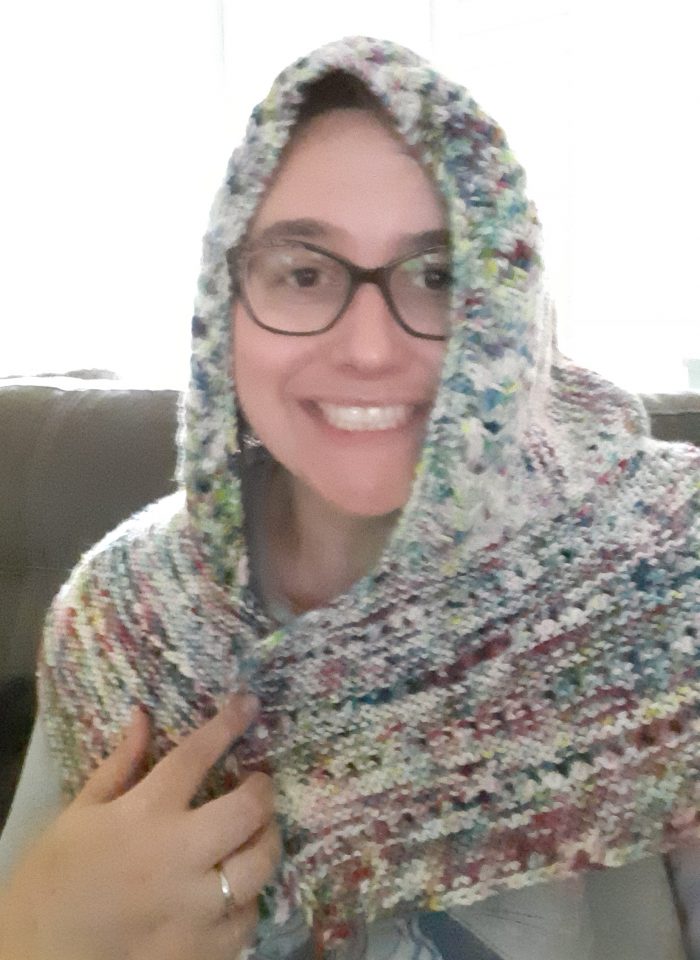 Knitting! It's chilly so I am mainly interested in nesting on the couch and knitting, so that's what I did almost all weekend. I finished up the hooded caplet for my mom (Christmas spoiler, lol) and got a request from my friend Mandy to make one for her too. I am getting my money's worth out of this pattern, that's for sure. After finishing the caplet, I started on a pumpkin hat for Mandy's baby, Ronni, who will, in the tradition of babies everywhere, be dressed as a pumpkin for Halloween. Luckily I had some extra orange yarn lying around so I was able to save myself a trip to the yarn store. Well, save myself a trip and the money of buying more yarn I won't use for another year.
I have also started doing a little research into where to buy the good yarn when I visit Cusco next month. I really want to get a little bit of vicuña yarn, but that is expensive so I want to plan ahead and know where to get the good shit. Suggestions welcome if you happen to have this highly specific information!
Kitchen Witchery
I still have our last cookbook club selection, The Art of Simple Food, on loan from the library so I opted to have my own personal second round of cookbook club. I made Alice Waters' gingersnap recipe, but cut it out using the ripndip cookie cutter that my mom bought for me. Because who doesn't need cookies shaped like cats giving the middle finger? We all need this. They are good cookies but not my favorite gingersnap, but that's okay. Cookie diversity is important. I also tried the recipe for white bean and butternut squash soup, which turned out better than I expected. I thought it would be fine but plain, but it was actually really tasty. I tried a new bread recipe to accompany the soup, although this was from The Bread Bible, so not part of my mini-cookbook club effort. This "hearth bread" came out pretty good, but I know I can do it better. I'm going to try again this weekend and see if I can nail the bake and be patient enough to let it rise more. I have been inspired by the Great British Baking Show and I want to try slashing a spiderweb pattern onto a bread for Halloween, but first I want to get the bread right.
great cookie cutter or greatest cookie cutter?

sassy snaps ready to bake

"like I give a fuck"

white bean and butternut squash soup

new loaf, who dis?

bread: the inside story
Finally, some cat photos for your nerves. With the colder weather, Viola has enjoyed hanging out and being cozy with me. We sat on the couch watching the Great British Baking Show and knitting (well, Viola didn't knit anything) almost all day last Saturday.
afternoon knitting buddy

luv 2 backlite