I've been writing this post off and on for the last couple days as I recover and try to organize my thoughts. This trip was good but it was deeply exhausting. The tomfoolery began before we even left Sacramento: when we arrived at the airport we were informed that American Airlines had changed their flight schedule and our flight would not arrive in LAX early enough to make our plane to Lima. The airline had not bothered to inform anyone of this change and we retreated to start again the next day.
However, the good stuff of the trip was really good. It was wonderful to visit our friend Anne in Cuzco and I loved seeing Machu Picchu and trying new things. I think one of the nice things about travel is it can remind you of what you like about being at home, too. I thrive on routine but too much routine can make you restless. After this trip, I'm glad to be home and back to doing things like planning out what to cook this week and when to go to the gym.
Lima
We had planned for about two days of sightseeing in Lima, but thanks to the airline fuckery we were only really had one. We did get to see some cool things like John F. Kennedy park, which is full of cats. Kirk said he knew that's what I wanted to do most so we made that our first stop. See the world, pet the cats there.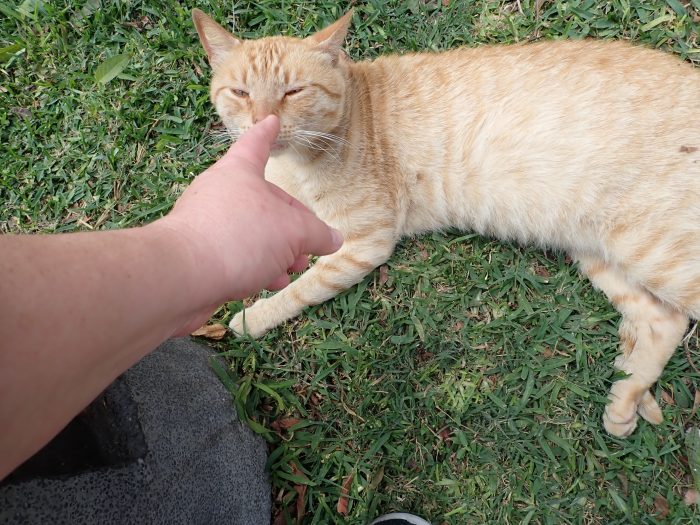 After stopping at the cat park, we mostly walked around the Miraflores neighborhood, which is the main touristy area where we stayed. We spent a while walking up the Malecón, which is a big pedestrian walkway that overlooks the ocean. Just for kicks, we walked up to a fancy mall called Larcomar, which was pretty much like every other fancy mall that you would find anywhere. It's so weird, yet boring, how capitalism replicates itself all over the place.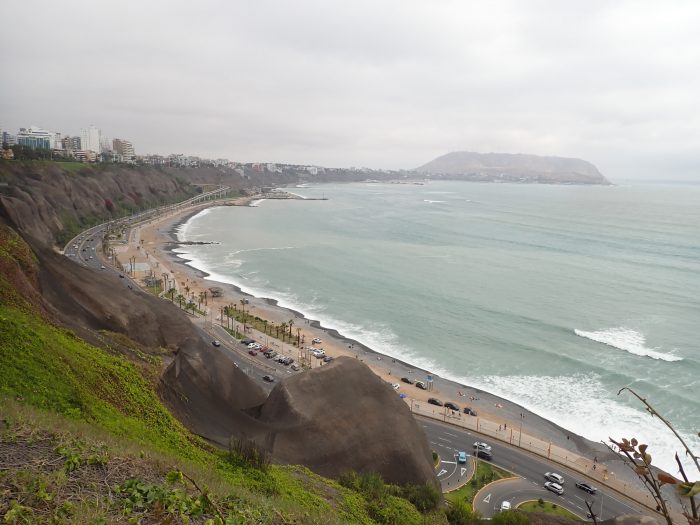 Cuzco
After Lima, we spent five days in Cuzco. Cuzco is a really cool city. It's situated in a steep valley and the neighborhoods seem arranged vertically. What we liked the most is that there is a mix of old and new throughout the city, which is what makes it unique. You can see the colonialism overlaid on the old Incan architecture, but a lot of that has been reclaimed again—lots of buildings are converted monasteries, like the hotel we stayed in and some of the museums we visited. Things come back around. We had a few good vantage points for city photos, including Anne's apartment in the San Blas neighborhood and the view from Christo Blanco, which is a giant statue of Jesus up on a hill.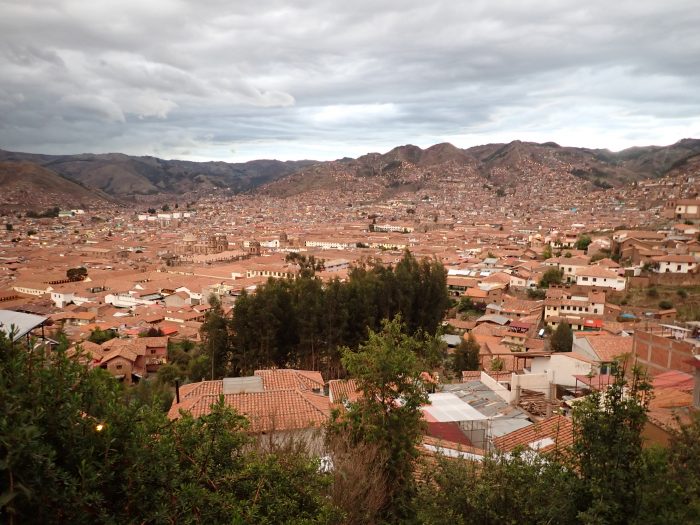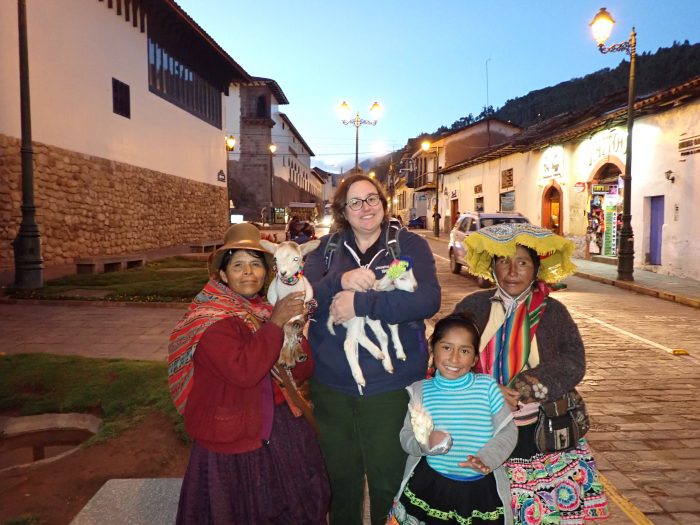 I decided to embrace being a tourist. I know a lot of people like to blend in or otherwise act cool when traveling, but, especially somewhere like Cuzco, there is no blending in for a large white person like me. Plus, I am a tourist. I am there being confused and impressed by things the locals see every day. I did my best not to get hustled but did fail a few times. On a walk to the Plaza de Armas, some women leapt into my path and shoved a baby goat in my arms, which is something I'm really not going to turn down. I got Kirk to take a photo and then started talking to the women because I knew they would want a tip for this experience. They tried to charge me 10 soles per person in the photo and I had to laugh. I gave them 10 soles total and walked on. And now I have this ridiculous photo of me holding a goat. Not pictured: the first goat they handed me would not stop kicking me until they took him back. Docile goat photos only.
Chocolate Workshop
One of our first tourist activities was to take a chocolate-making workshop at Choco Museo. This was a lot of fun and I actually learned a lot about how chocolate gets made. We roasted and ground up cocoa beans, tempered and molded chocolate, plus did silly activities like compete for who can make the best llama out of a pile of cocoa beans …. we did not win. When we started the class, I assumed I'd be shepherding my beans from pod to bar (to be fair, it is advertised as a "bean to bar" workshop), but cocoa beans take weeks to dry and process into chocolately goodness. I didn't realize just how long it takes to turn cocoa into chocolate. Still, we got to mold our own chocolate and mix in flavors and ingredients like Peru's ubiquitous ají chili, coconut, or M&Ms. The results were delicious.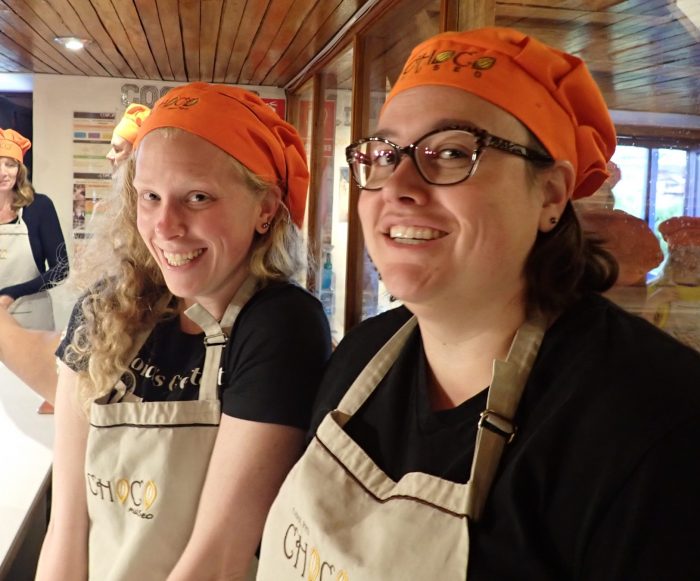 Culture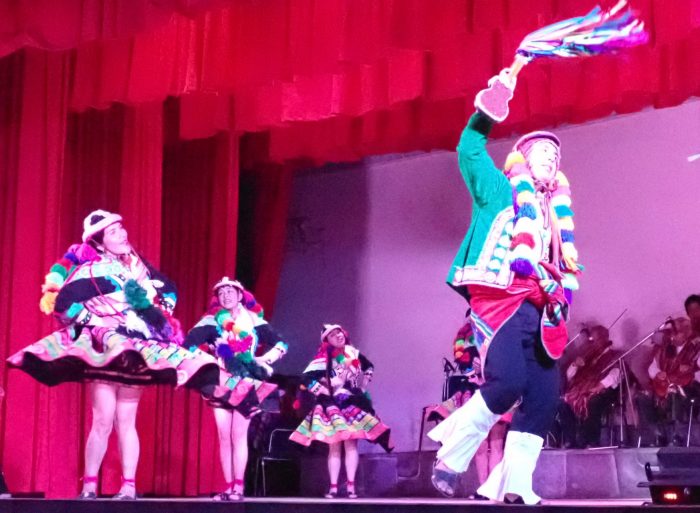 We took in a little cultural enrichment too, starting with a folk dance performance at the Centro Qosqo de Arte Nativo. I mostly enjoy folk dance for the whirling and twirling of costumes. Folk dances seem to always have these strong codifications of gender roles, which is kind of weird to watch. But I guess that's culture for you?
We visited a few museums too. My favorite was the Textile Museum because, particularly since I learned to knit, I've developed a major appreciation for the effort and artistry that goes into making things. This museum also sells the yarn that women there make, and I bought several balls of alpaca yarn that I'm looking forward to knitting into a sweater.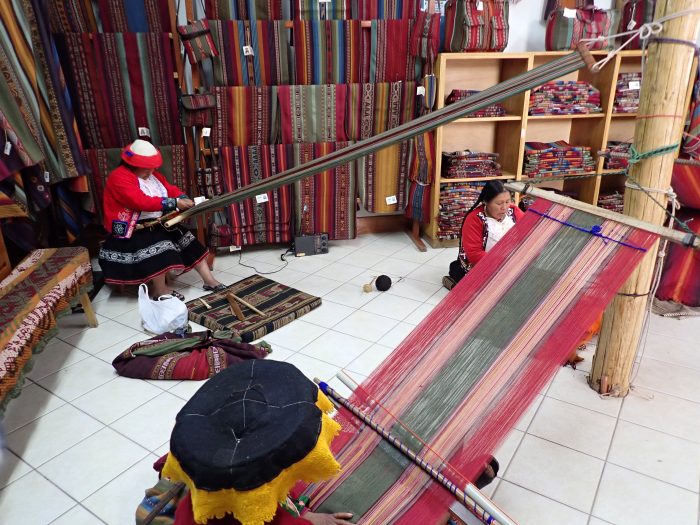 La Mal de Altura
Altitude sickness, or "soroche" as its colloquially known in Peru, is pretty serious shit when you're at 3,400 meters (11,155 feet). I knew it would be hard to breathe in Cuzco but I completely underestimated how bad that would feel. I got a prescription for altitude medication from my doctor before the trip and decided I would wait to take it and see how things felt when we arrived. I got a headache more or less immediately when we arrived on Sunday afternoon, so I took the altitude medication before bed after concluding that there was no prize for toughing things out.
I kept taking the medication on Monday, but by Tuesday, I was not feeling very good. We had planned to hike up a few miles to Christo Blanco, but Anne suggested we take a taxi up and walk back down, which seemed like a great alternative. As we were walking around that morning, I was feeling pretty shitty, physically and mentally. It was hard to feel like I could barely do anything when I know I have made a lot of progress athletically and I am strong and capable. We tried doing a low-key hike to a small archaeological site called the Templo de la Luna. I had to stop every 15 to 20 feet to spend five minutes catching my breath. Afterwards, we took an afternoon rest at the hotel and I took a nap but was still faring just as badly as before, so Kirk started researching the medication I was taking and what I should do. I emailed my doctor who said I probably had altitude sickness and that I needed to go to a doctor in Peru immediately so things wouldn't get worse.
I asked the front desk at our hotel if they had a recommendation for a clinic we could visit. Altitude sickness is pretty common among tourists and they were prepared. They called the local clinic and a doctor actually came to the hotel to assess me. My resting heart rate was 111 and my blood oxygen saturation was at 86 percent (I have since learned that a normal range is around 92 to 96 percent). The doctor said we'd need to go to the hospital for me to get some oxygen. What this meant in practice was taking an ambulance to a hospital that seemed specifically designed for de-oxygenated tourists and spending the whole afternoon and evening there trying to get my oxygen levels back up.
As an American, my first question was: what does this cost? It turns out that an ambulance trip, a six-hour hospital stay, a lung x-ray, hours of oxygen, and a handful of prescriptions will only run you about 850 soles, or 275 dollars, which I found shockingly inexpensive. There's room here for some political commentary, but I suppose I'll leave all that for another post.
I spent the last few days in Cuzco moving slowly and trying to avoid any extra exertion like walking uphill. Luckily, I'm a rich white woman and can afford to take taxis everywhere if that's what I want. Plus, the day after the hospital trip, we had plans for Machu Picchu, which is at a lower elevation (around 8,500 feet) than the city so that made life mildly easier.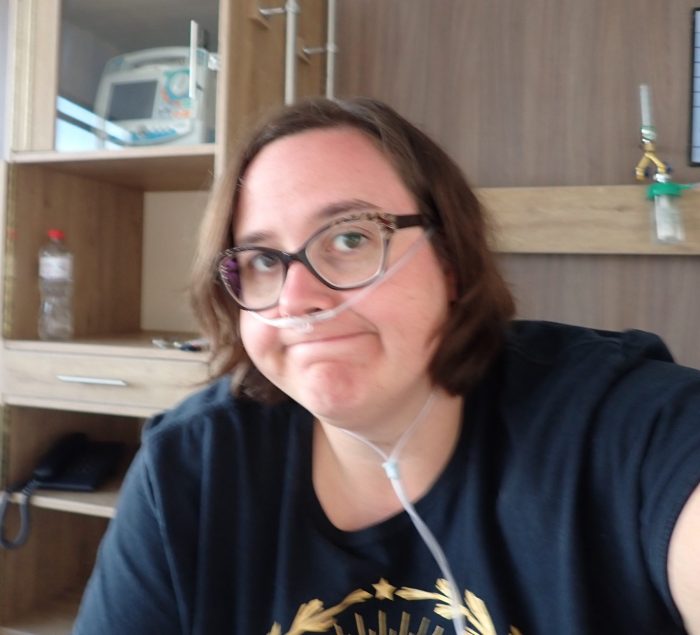 Dogs of Cuzco
On a lighter note, the city of Cuzco is absolutely teeming with dogs. I took pictures of a lot of dogs because I like cute animals. One dog, which Anne has been calling Lady, even hiked with us, despite my excruciatingly slow pace. She would run up the hill then come back down to be pet whenever we took a rest. It was adorable.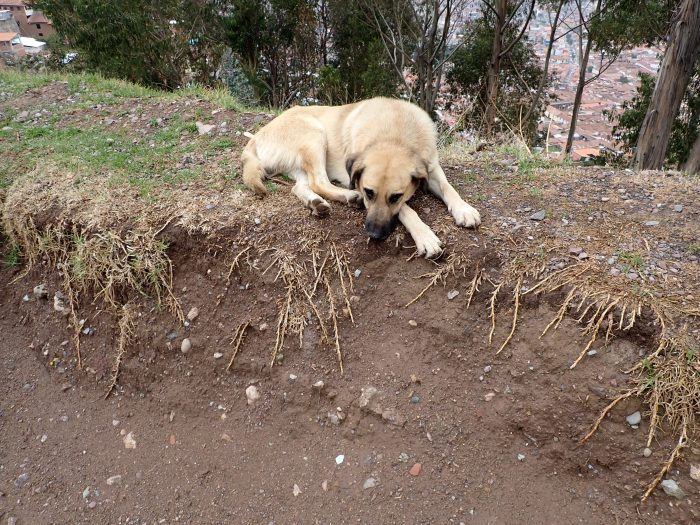 Machu Picchu
Machu Picchu was of course on our itinerary. We took a train on PeruRail called the VistaDome, which has big windows on the sides and roof of the train so you can watch the landscape go by. It takes about three hours to reach Machu Picchu even though it's only about a 60-mile trip. The train winds through the Andean countryside, which I found peaceful. Plus it was a nice break after having just recovered from altitude sickness.
When you arrive in the town of Machu Picchu, you still have to travel to the site itself. We were informed that you can take a bus (about a 30 minute wind up the mountainside) or walk. We chose the bus.
Machu Picchu is as impressive in person as you would expect it to be. My only complaint is there is not a lot of information there about the site. I expected more plaques or perhaps a map on entry so I would know what I was looking at. For example, one large rock was labelled simply "sacred rock," which I do not find especially informative. There were tour guides for hire, but I don't really like to be hampered by a guide; I want to move at my own pace (that day's pace: slow). Even without knowing all the details, Machu Picchu is amazing. Plus, I was able to pet no fewer than four llamas, so I had a good day.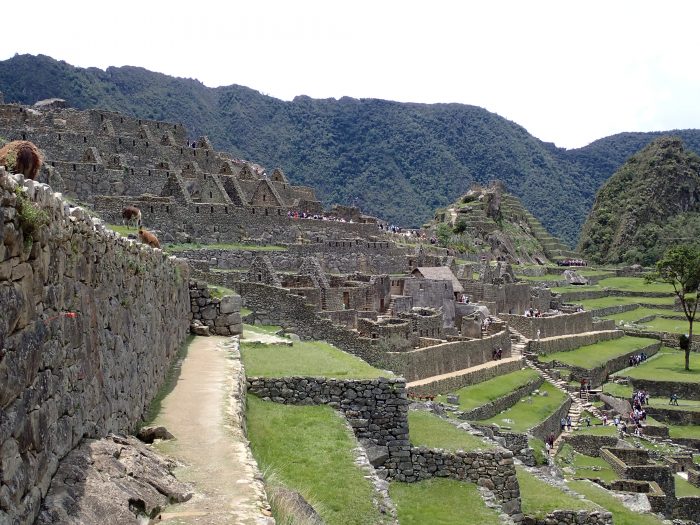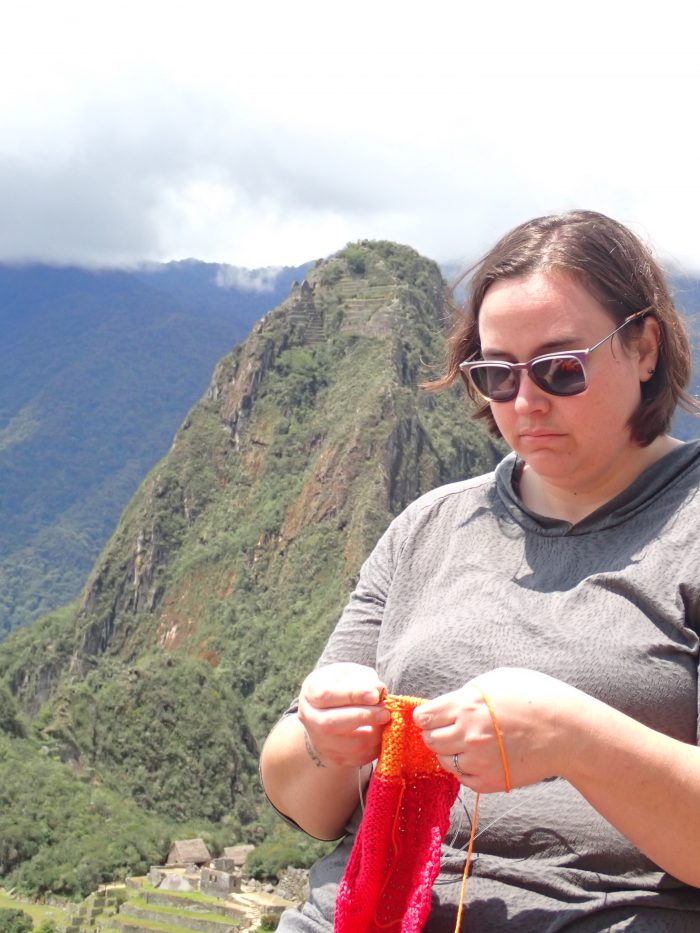 I was excited to spend a few minutes at Machu Picchu knitting. I know that might seem a little weird, but it's my own quasi-spiritual experience. Women through the ages have knitted and prepared textiles in places like these and I wanted to commune with the matriarchy in some kind of way. Most of history is about men, but given the heritage of textile art we see in the Andes, we know women were there making amazing stuff. So, this is my small tribute to their efforts.
Food
Peru is known for having amazing food and I can confirm that this is true. I can be a bit of a finicky eater (a lot of things disagree with me), but I was able to eat a lot of tasty food in Peru, even though I can't eat quinoa or fish without getting sick. We tried a lot of regional dishes like ají gallina (chicken in a yellow chili sauce), adobo (a pork chop soup said to cure hangovers), lomo saltado (a meat and vegetable dish), pollo a la brasa (roasted chicken), plus desserts and many other tasty foods. Even the food I had at the hospital was pretty decent. It's possible that we got a better-than-average sample of good food in Cuzco since we had Anne guiding us to all her favorite spots. Still, I'm sold on Peruvian food overall.
I noticed a couple of food trends. One was that you can get pollo a la brasa everywhere. There are chicken restaurants all over the place where you order chicken by the quarter, half, or whole and it comes with a pile of french fries. We even tried a grocery store version of this in a moment of fatigue and desperation when I was hungry and too tired too walk anywhere (this being hours before the hospital trip). The other trend is a drink called chicha, which is fermented purple corn. Peruvians use it in a spiced drink called chicha morada (purple chicha), and it's actually pretty good. We also had a pudding-like dessert made of chicha (pictured below). It's nice to encounter uses of corn that aren't the high fructose kind.
The main spice that runs through a lot of Peruvian cuisine is the ají chili. It's not something I've noticed here at home, and being the sort of person I am, I spent our trip keeping an eye out for ají to buy and bring home. I found some ají sauce at the grocery store and then, luckily, on our last day as we were browsing the San Pedro market, I found people selling packets of dried ají. I also bought a cookbook of Peruvian recipes so I am looking forward to having a go at some Peruvian dishes once I'm settled in again.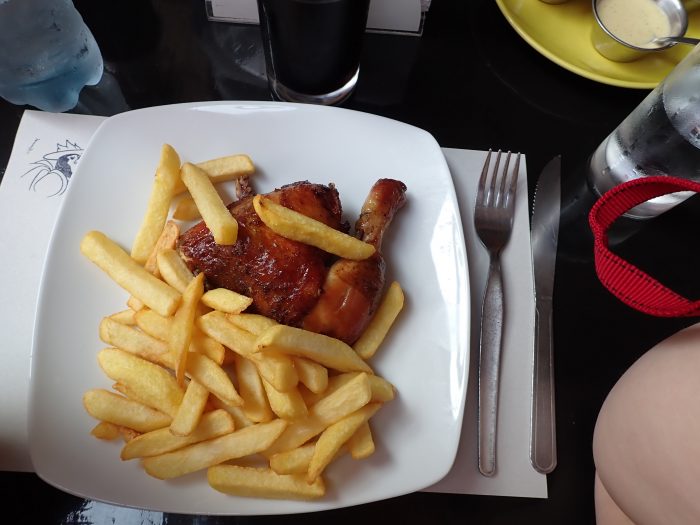 It was a good trip but I am glad to be home and breathing air with more oxygen in it. Plus, home is where my cats are.