This week felt incredibly long to me. Is it the approaching winter solstice? Impeachment? Christmas anticipation? I don't have answers, only more questions, as usual. Although I am, actually, feeling some Christmas anticipation. I've appreciated being festive this year with getting our tree up and baking a lot. It also helps to have the trappings of Christmas; last year I made a tree skirt and stockings so that was already done. Thanks, past self.
Consuming
Here are some things I read, watched, or bought this week.
Reading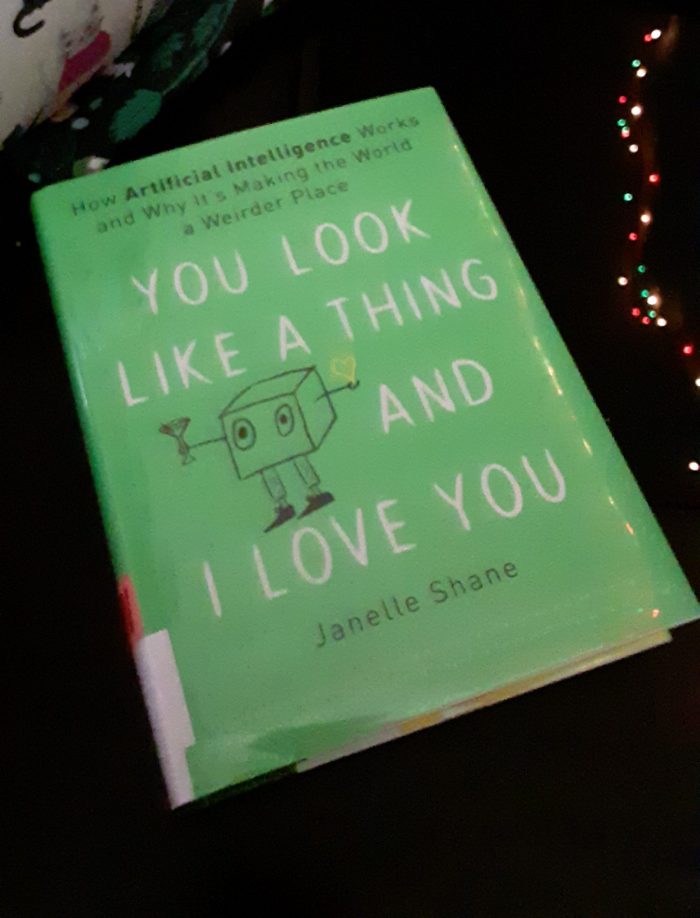 This morning I finished You Look Like a Thing and I Love You: How Artificial Intelligence Works and Why It's Making the World a Weirder Place by Janelle Shane. You may recognize the author from the neural network-generated roller derby names she shared a while back. The book is an entertaining and easy-to-understand primer on artificial intelligence, including how it does and doesn't work. Shane also illustrates a the book with her comical line drawings to make points about AIs solving problems in ways humans don't expect, like traveling from one place to another by being really tall and falling to their destination. It's fun, informative reading and I recommend it to everyone because we are all affected by the decisions that AI makes.
Most of the things I've read online this week have been depressing and heavy as hell, so read at your own risk.
Resolution impeaching President Trump for high crimes and misdemeanors via the Washington Post. Many other people have said basically everything that needs to be said on impeachment in the last two days, but I would be remiss to not mark the occasion. I'm glad he's been impeached. I'm sad but unsurprised that this will not encourage him to leave or change his behavior.
Tech giants sued over 'appalling' deaths of children who mine their cobalt via CBC. Cobalt is a key ingredient in lithium-ion batteries, you know, those things that make your phone work. Children working in horrific conditions are mining it. Modern life is fucking terrible.
Mormon church has mislead members on $100 billion tax-exempt investment fund, whistleblower alleges via Washington Post. The fact that the Mormon church isn't using its funds for good doesn't surprise me, but the $100 billion figure does. It's fucked up that this church can keep its tax exempt status while it does this. I accidentally got into some internet comment fights with people about this article and, unfortunately, I think a lot of Mormons aren't going to think critically about this situation and what it means for them. As usual, I have zero regrets about leaving this pyramid scheme masquerading as a religion.
Watching
Kirk and I have been watching Star Trek: Enterprise for the last month or two and we're almost done with season two. It has a deserved reputation for being the worst Star Trek but there are things to like about it. The character of Commander Tucker has become one of my favorites for his facial expressions, and of course I love the Vulcan character, T'Pol. Fun fact: I had never watched Star Trek before I met Kirk. We watched the original series probably five or six years ago and have been slowly making our way through the rest of it.
Rampant Consumerism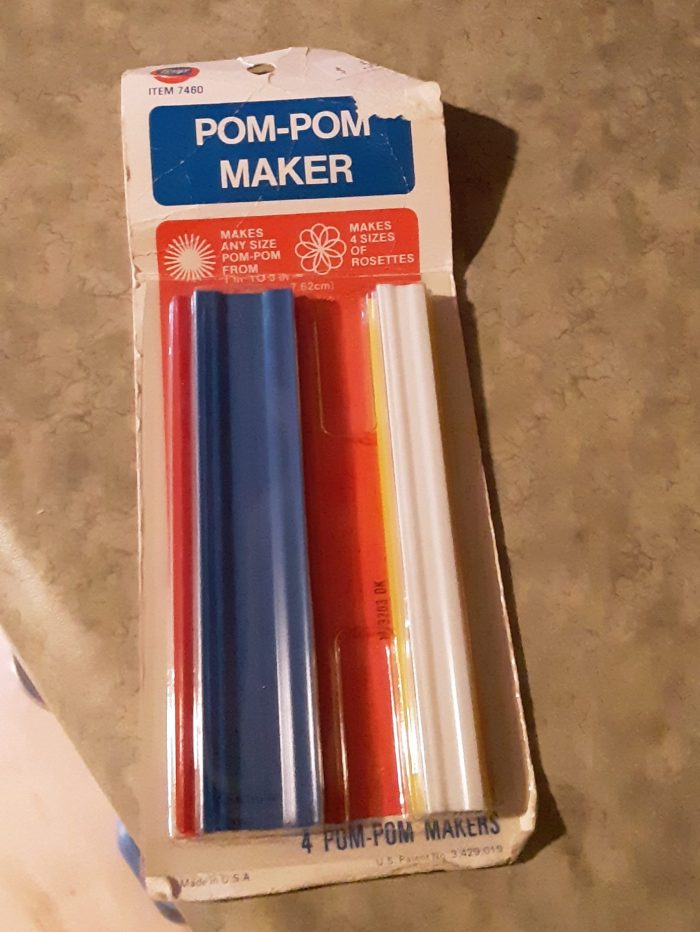 I haven't bought a lot this week (other than my last few gifts), but my friend Sharlotte and I did visit ReCreate in Roseville after our office holiday party on Wednesday. It's basically a second-hand craft store full of surreal things like barrels of trophy parts and spare doorknobs, plus fabric and glue guns. I spent 75 cents on this package of pom pom makers. Next time I knit something that needs a pom, I will be so ready.
Making Things and Doing Stuff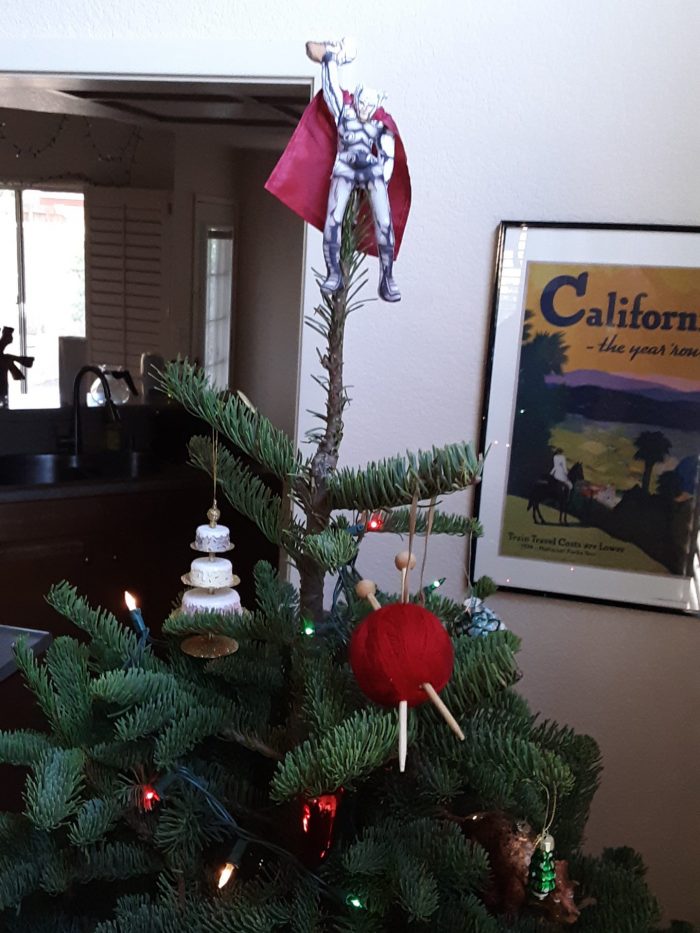 We've been doing some Christmas stuff here. Last Friday we bought a tree and we finally decorated it on Monday. Thor tops our tree because we have yet to get ahold of the Spock tree topper of our dreams. Huey has spent a lot of time camping under the tree, which is not pictured here because it's impossible to take a picture of a black cat in a dark place and not end up with gleaming demon eyes. I would like to say that I've put gifts under the tree, but I have not. The cats will tear the paper apart and gnaw on it, so our countertops are festively adored with Christmas packages. We make do.
My office had a Christmas party this week and I decided to attend to keep myself from being seen as too anti-social. That said, I wish I hadn't gone. Among several awkward things (like not getting a gift in the gift exchange, and only having the option of eating quiche for lunch [note: I do not like eggs]), I got to hear a number of colleagues complain about everyone's favorite generational punching bag: Millennials. You'd think after a decade of "Millennials are ruining ___" headlines, I'd be over it, but it is incredibly uncomfortable to sit around listening to people—management really—talk about how millennials don't want to have cars or move away from home. It sucked because I didn't really feel like I could say anything, though I could say a lot about how student loan debt and poverty has crippled our generation, how not driving is good for the environment, or perhaps how I'm right here and you're saying all this to my face. Great to know what the people I work with really think of me.
Strongs
I haven't had a lot of exciting things to say about working out lately, but I will say I am starting to get back into the rhythm of it. This month, I have been determined to get in three workouts each week so I can rebuild my habits and I have so far been successful. One activity in my program this month is sumo deadlifts, and after a couple weeks of warming back up, I was able to do a set at 225 pounds last Saturday, which is exciting. I'm still not lifting as heavy as I feel like I "should" or that I want to, but I'm happy that I am making progress again.
Kitchen Witchery
My holiday cookie rampage raged on this week. I made luxury oatmeal cookies (from the Baking Bible), in which you make oatmeal-based granola and then mix that into the batter instead of plain oats. It called for raisins (gross) so I substituted those for more chocolate and the results were really good. I also made these caramel swirl hunks to use up some more dulce de leche (not pictured because I forgot to take a photo!). They were good but not mind blowing. Finally, I made these spiced sugar cookies, which are a refreshing addition to the holiday cookie canon.
In less successful baking, I tried to make a yule log for this month's cookbook club. The recipe in Martha Stewart's Christmas Cookbook calls for a genoise sponge, which I recognized from watching the Great British Baking Show. Unfortunately, genoise is as stupid and difficult as it seems to be on the show and mine came out rubbery and gross. I planned my day badly and was pressed for time, so I didn't let the mousse set long enough and also didn't have enough time for my meringue decorations to cook. Anyway, our gathering was great, but my dessert was garbage. Hopefully no one is holding it against me.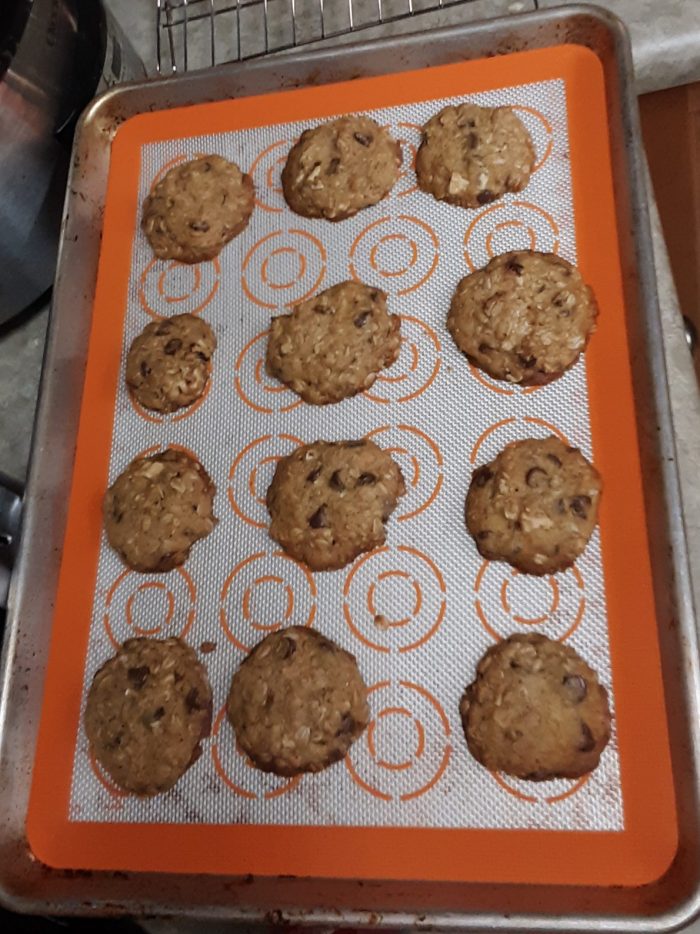 Finally, here's a cat picture for your nerves.