Another year and Christmas has come and gone! We had quite a nice Christmas and spent it chilling at home, which is my favorite way to spend Christmas. I got multiple gift certificates for my local yarn store and my mom signed me up for a "knitalong," which means I'll be getting surprise yarn in the mail this year. I also got some cool cookbooks, and my sister bought me some nice bath stuff. Kirk and I told family members who lamented "we don't know what to get you," to get us Home Depot gift cards, and now we have a not-insignificant amount of Home Depot cash. I'm also excited because Kirk bought me a Le Creuset dutch oven, which I have been wanting for a while but I have been unwilling to lay down the money for a single pot. It's taking it's inaugural voyage tonight and I will report back next week on how it went.
Consuming
Here are some things I read, watched, or bought this week.
Reading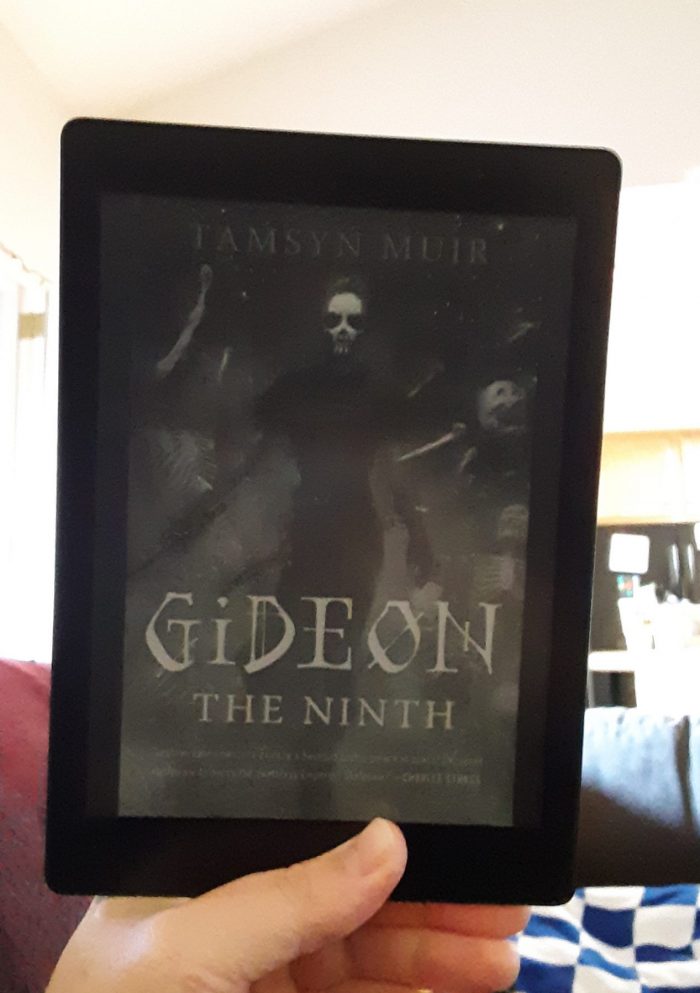 This week I read Gideon the Ninth by Tamsyn Muir in basically two days. A little while ago, an author I follow on twitter posted a blurb about its sequel that read "the necromancers are back and they're gayer than ever!" Naturally I was like, what blessed tome is this? Which is how Gideon the Ninth ended up on my radar and my ereader. This book is so good. It's a new favorite, not just of the year but of ever. The main character's voice is very "regular person who has to put up with supernatural bullshit" and I was reading it thinking, yep, I'd also be calling her a dick in this situation. It has arcane bone magic, intrigue, space travel, ancient secrets, and lesbians. It's basically a perfect book. I spent most of Christmas eve and Christmas day on the couch reading it and I wanted to stay up all night reading but I'm a responsible adult and here we are. Anyway, I immediately pre-ordered the sequel, Harrow the Ninth, in which the necromancers are back.
In more serious books, I read How to Be an Antiracist by Ibram X. Kendi. This book is part memoir and part guide. Kendi takes the reader through a series of topics and explains what made him rethink each one and how he was able to come to an anti-racist view, and how you can too. The main conclusion of the book is that racism comes from policy. Our laws are racist so we decide that means it's okay, and behave accordingly. Kendi asserts that, to become anti-racist, we have to develop and adopt anti-racist policies. One thing I really liked about this book is that the author explicitly defines everything to make sure everyone is using the same language. This makes it easy to follow his arguments and to give everyone an anti-racist vocabulary.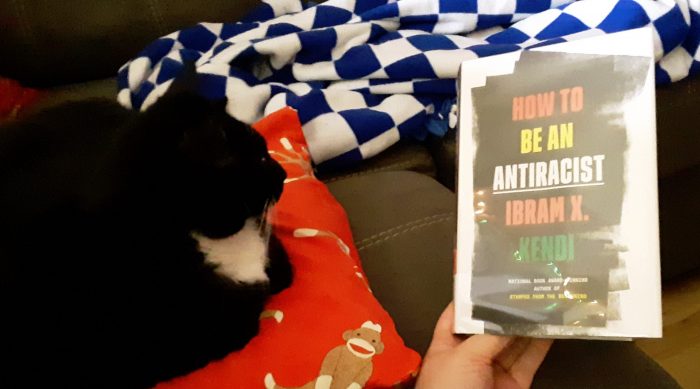 Watching
This week I watched the movie Atomic Blonde. It's a spy movie set in Berlin just before the fall of the Berlin wall. It was reasonably entertaining but not life changing. I think the recent Rick and Morty episode lighting up the heist genre has low-key ruined anything with a bunch of double crosses. That's okay though, it was still something I could knit to.
Rampant Consumerism
As a Christmas gift to myself, I bought a few ebooks (in part because Kobo has a sale and part because no one wants to buy me books because they don't know what I have). I bought Gideon the Ninth, as discussed above, as well as The Sisters of the Winter Wood, All Systems Red, and the Unlikely Escape of Uriah Heap.
Making Things and Doing Stuff
This week didn't feel that action-packed, but that's probably two days of unrepentant laziness talking. Last Saturday I went to a holiday brunch/party with some friends and that was really nice. There was cookie and ornament decorating, which was a really good party activity. I brought my knitting because that's the person I've become. Two other people there saw me knitting and said "dang, I should have brought my knitting!" More knitting at parties coming in 2020, you heard it here first.
Kitchen Witchery
I mostly made more treats this week, and I am looking forward to taking a break from that for a while. Delicious though they are, after a few days of Christmas eating, I am recalling why a balanced diet is important. This week I made toffee (recipe from The Baking Bible), snickerdoodles, and shortbread (recipe from How to Cook Everything). Most of the cookies I made this season went to the Cookie Project, but I kept a bit of each and presented what I'm calling my "cookie portfolio" on Christmas. Cookies aside, I finally tried making this glorious macaroni and cheese recipe and it was as great as it sounds. It's one of those things that's constantly appearing on my twitter feed, but it's more work than I normally put into macaroni. All I can say is that it was worth it but it's definitely not something I should be eating too often. To round out the week's carbohydrates, I also made some regular sandwich bread and some small bread bowls (not pictured because I forgot) for Christmas eve dinner with my in-laws.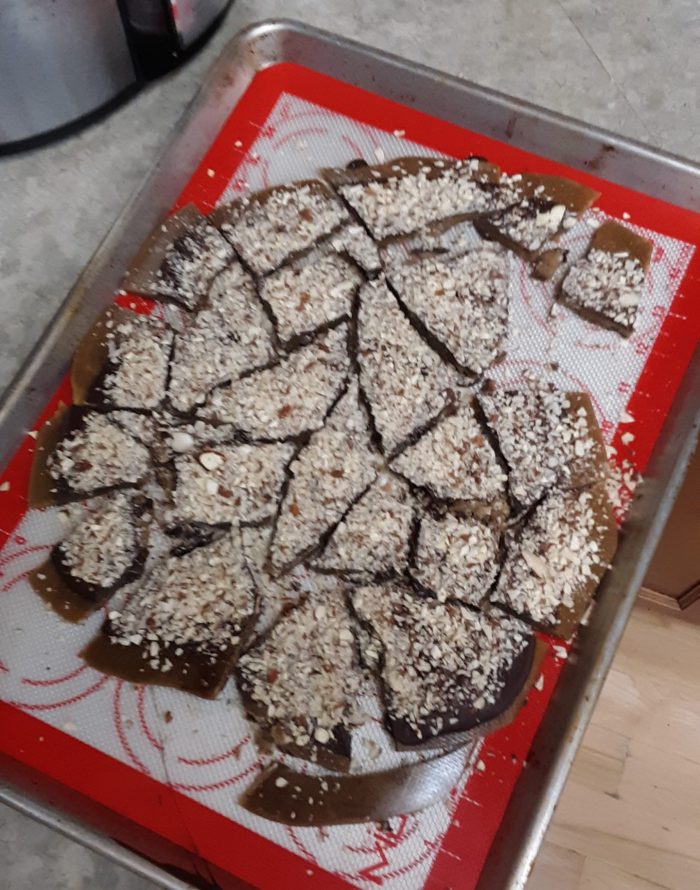 Strongs
Despite Christmas—both the year-end inertia and how surprisingly crowded my gym has been—I kept to my goal of going to the gym three times this week. My program increase reps of the same exercises for a few weeks then goes back down towards the end, so this week I was able to push my lifts a little heavier because I had fewer reps. I got up to 195 on my back squat and 45 with dumbbell bench presses. I haven't done my last workout yet for this week, but I'm hoping to go a little heavier with my sumo deadlifts tomorrow.
Finally, here are some cat pictures for your nerves. Although Huey's intense gaze is more likely to unnerve you than calm you. The cats got a scratching post and a ribbon toy for Christmas. They've both enjoyed them, but Huey made an early move to let everyone know they belong to her.