The world's on fire, sheltering in place continues, and I'm fine I guess. I'm sure I've talked about this before, but I struggle with the dissonance between being personally okay and seeing what's happening in the world. It feels like survivor's guilt, although that's not strictly accurate either. I don't feel guilty. I feel lucky. Lucky to be employed and in my cozy house with plenty of books to read and food to cook. There's a sense of "why should I feel upset or stressed," but I've seen a few takes that essentially say we're all witnessing and experiencing some level of trauma right now. Having society completely change and all your expectations get smashed is traumatic. I'm planning to read up on this idea some more and then perhaps I will have something more enlightening to say. For now, I'll just say that if you feel weird or stressed or guilty or freaked out even if you're "fine," I hear you. I get it.
Consuming
Here are some things I've been reading, watching, and buying.
Reading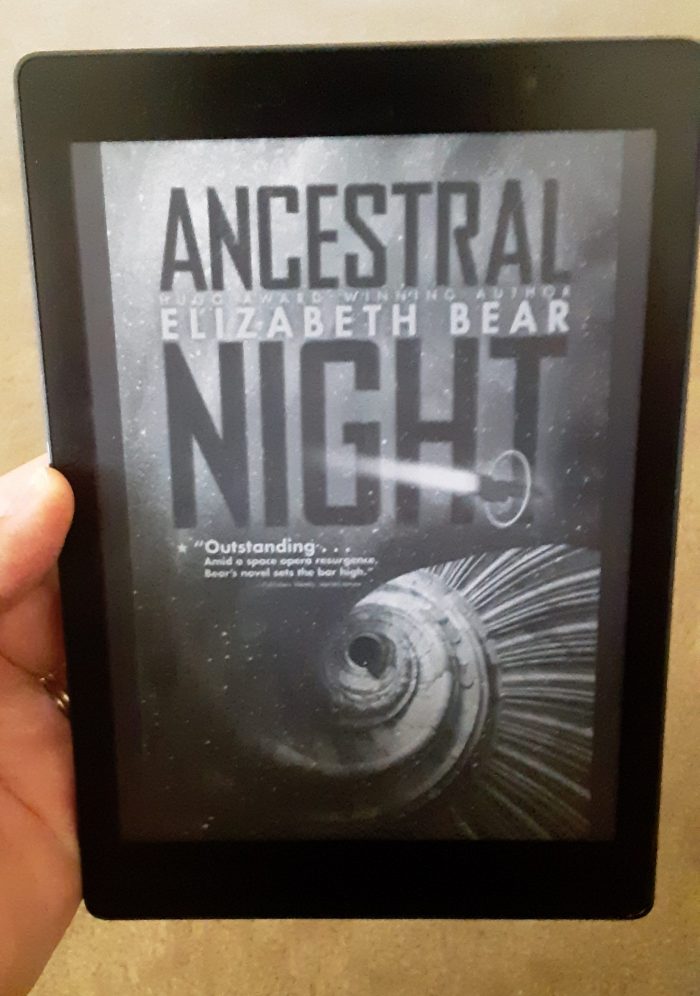 I've been reading a lot and rotating through several books every day because it makes me feel like I'm doing different things, even though I haven't left the couch or hammock. I've also been putting lots of library ebooks on hold because I want something to look forward to but everything is cancelled. Luckily, I'm easily entertained.
One of the fun novels I read this week is Ancestral Night by Elizabeth Bear. This is an interesting sci-fi story about a small crew of space scavengers who get caught up in some bad shit (as one does) and have to deal with their sense of self and ethics and ancient tech. There's AI, lesbians in space, and space pirates.
In internet reading:
Watching
I watched HBO's show We're Here, which follows drag queens Shangela, Eureka O'hara, and Bob as they visit small towns across the country and perform a drag show alongside locals who they transform into drag queens. This show is everything I didn't know I needed. It's wonderful and exciting to see drag used as an art and a way of building community, instead of the way we usually see it on TV, as a reality competition. We're Here honestly made me cry with its sincerity and compassion. I can't recommend it enough.
Rampant Consumerism
Like many people, I haven't felt moved to spend a lot of money lately. However, I have bought a few things to help keep me occupied at home. Months ago, I bought some thread and needles with intentions of learning embroidery, although so far all I've stitched is some patches onto my statement vest. I realized this would be easier if I had the right tools, so I ordered a little needle box and some cards to wind my thread on.
About a month ago I ordered a curated book bundle from The Last Bookstore as a birthday gift to myself and the books finally arrived this week! I paid $100 and got a huge stack of used and new books. It's exciting to get surprise books picked out for me!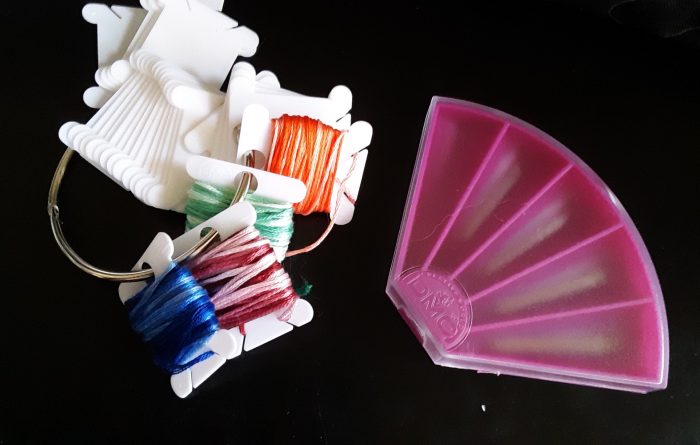 Making things and Doing Stuff
As usual, most of my things and stuff have been at home.
Knitting and Crafts
I think I've said it in a previous post, but I've finally settled into my quarantine groove and have been able to get back to doing things like knitting. I finished the Noordzee shawl! Finishing a knitting project is always exciting because they take so long. I wasn't sure I was going to like it as I was knitting, but now that it's done, I think it looks pretty cool. I love the cable texture (it's the reason I decided to knit this pattern). I've gotten started on my next knit already. I cast on this sock a few months ago then decided it was too tiny and difficult for the moment. However, a tiny, difficult knitting project is exactly what this moment needs. Plus, a it's not big enough to pile in my lap and make me hot. It's a win-win.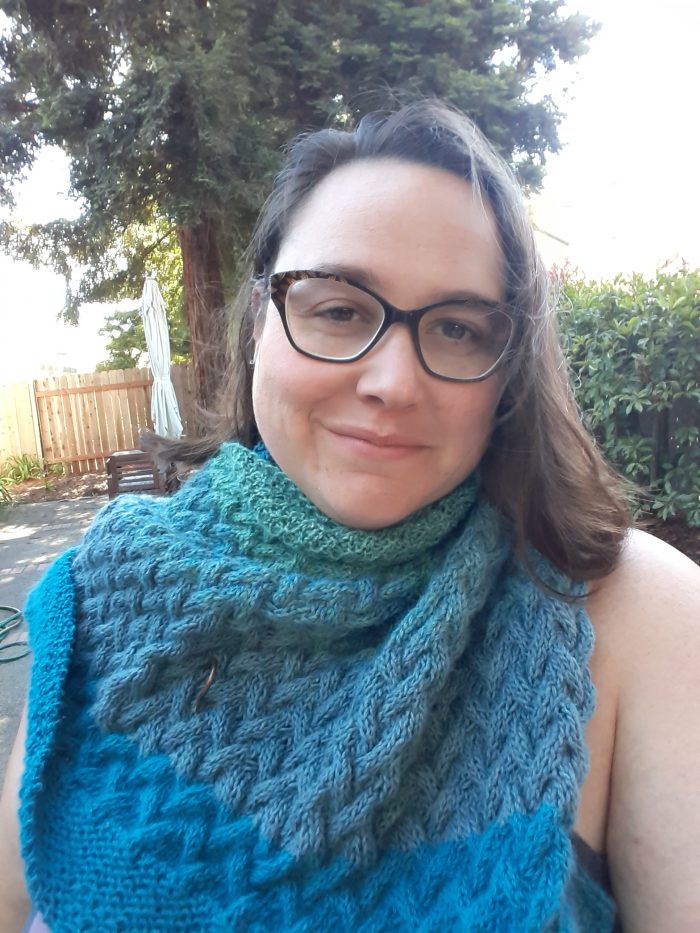 Gardening
We decided it was time to pull up the winter plants and get on with the summer growing, so we made one last spinach and broccoli harvest—both were covered in aphids and I made Kirk wash them off. We also let Huey take a tour of the garden because she was staring at us from the doorway. Our new crops are a jalapeño, beans, zucchini, herbs, and tomatoes. We left the leeks to keep growing (although I think they're about as big as they're going to be) and our garlic is still in there too.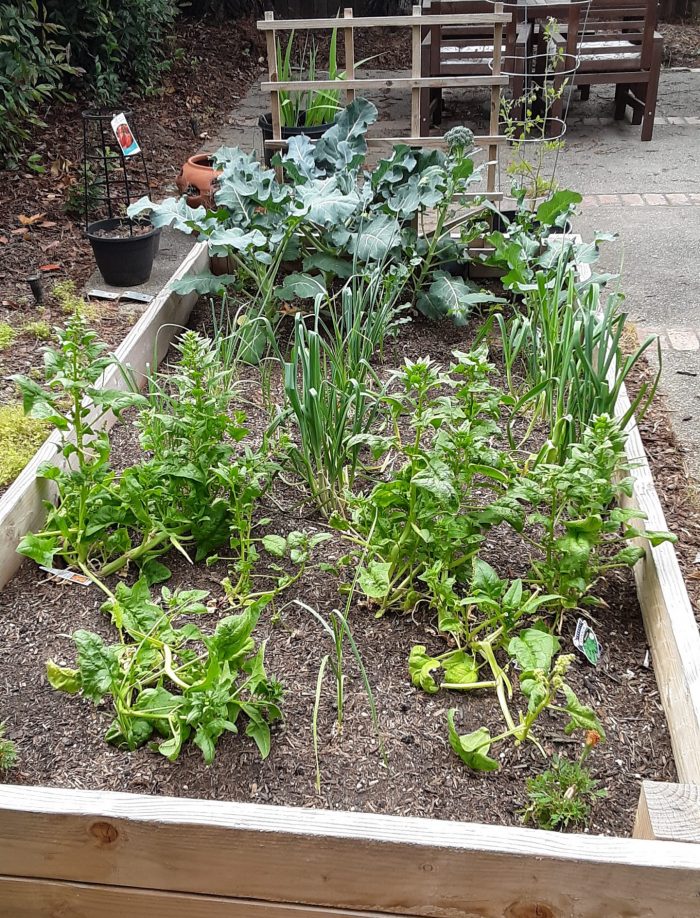 Kitchen Witchery
I've been keeping the food situation fairly simple lately and last week I was focused on making things that wouldn't heat up the house any more than strictly necessary. I made some pork tenderloin in the slow cooker and a tortellini primavera based on the pasta primavera recipe in How to Cook Everything. I also gave non-alcoholic piña coladas another try with a better recipe, and they were really good! Although most things are good with whipped cream and a cherry on top. I might look for some more fun, alcohol-free drink recipes to try (Kirk doesn't drink and I don't particularly enjoy drinking so here we are).
When I was growing up, my step-mom (now ex-step-mom) made a recipe called chicken roll-ups, which I absolutely loved but that she was rarely willing to make. We got to request anything we wanted for dinner on our birthdays and that was always my choice, but she would grumble about having to make it because it was "hard." Reader, it is not fucking hard. It's shredded chicken, mixed with cream cheese, rolled into a crescent roll and baked, then topped with a "gravy" of cream of chicken soup. I elevated it a little bit by making my own rolls, using a little less cream cheese, and adding some actual seasoning (lol, white American cooking). It's always a pleasure to reclaim something like this.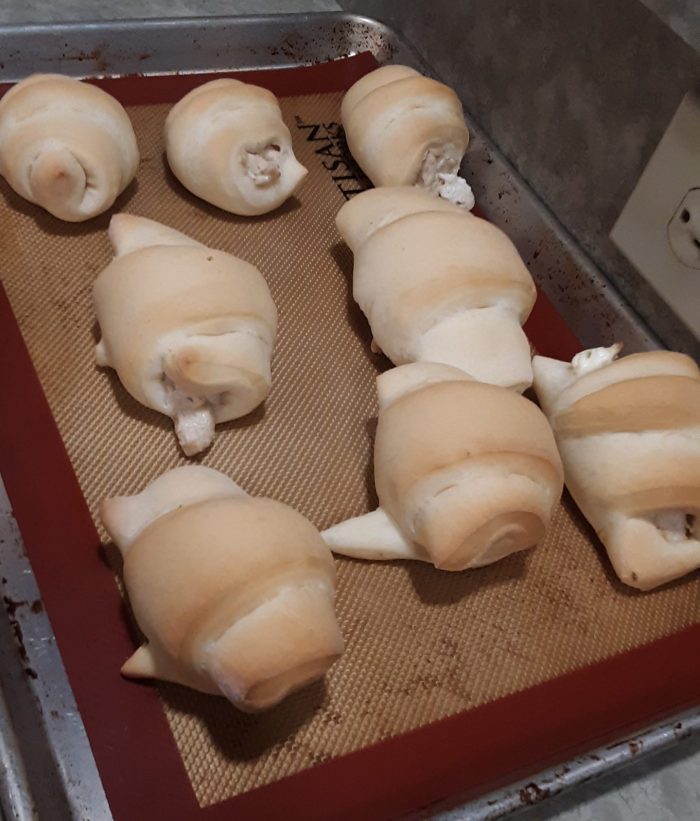 Finally, here are some cat photos for your nerves. Apparently this is a Huey appreciation post.