Long story short: I read 90 books this year! I'm quite pleased because that is nearly double last year's 46 books.
I made a more detailed list this year, noting whether books were from the library or not, digital or analog, or written by a man or a woman. Here are some statistics about my 2014 reading habits:
Page count: approximately 35,177 pages. I used the page count from each book's LibraryThing page.
Library use: 55 of this year's books I borrowed from the library. The other 35 are books I bought.
Female and male authors: I read 30 books by female authors and 59 by male authors. I read more than one book from some authors. In total, I read work by 26 female authors and 34 male authors.
Digital and analog: I read 39 books analog (also known as "dead tree") books and 51 digital books.
Fiction and Non-Fiction: I read 23 non-fiction and 67 fiction books
Series: I tend to read a lot of series (the lot of a genre reader). I finished Atwood's MaddAddam Trilogy and Vinge's Zones of Thought. I read through all extant Dresden Files (that's 14 books plus a volume of short stories), Leckie's Imperial Radch as it stands so far, Butler's Xenogenesis, the Jemisin's Inheritance Triology, Scalzi's Old Man's War, and Grossmans' The Magicians.
Favorites: I think my favorite books this year were Ancillary Justice, Station Eleven, The Bread We Eat in Dreams, and The Girl in the Road. That said, I read a lot of really great novels this year. I think there are a lot of interesting, fresh stories coming from women in science fiction and fantasy right now, in particular.
Books read by month: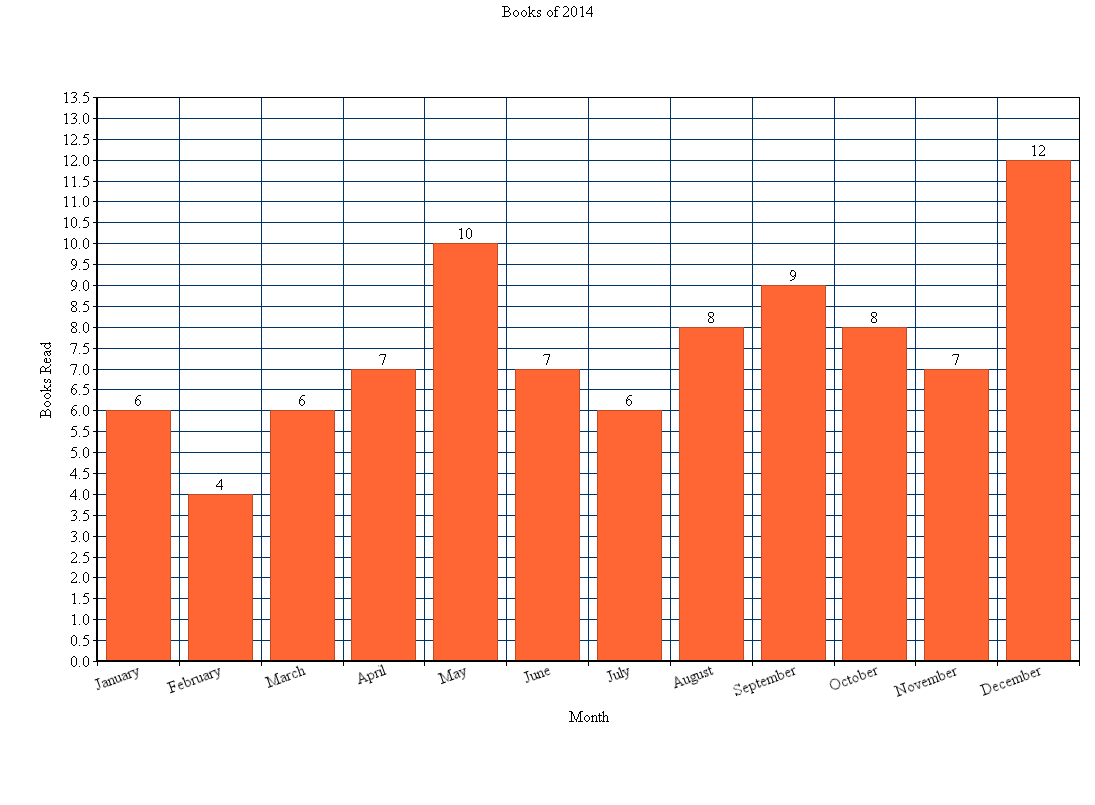 Here's the full list of what I read in 2014:
 Schooled: How the System Breaks Teachers by Dalton Jackson
 The Hobbit by J.R. R. Tolkien
 Present Shock: When Everything Happens Now by Douglas Rushkoff
 MaddAddam by Margaret Atwood
 Fast Food Nation: The Dark Side of the All-American Meal by Eric Schlosser
 A Deepness in the Sky by Vernor Vinge
 From Asgard to Valhalla by Heather O'Donoghue
 Storm Front by Jim Butcher
 Makers by Cory Doctorow
 Fool Moon by Jim Butcher
 The Children of the Sky by Vernor Vinge
 A People's History of the United States: From 1492 to the Present by Howard Zinn
 The Golem and the Jinni by Helene Wecker
 Grave Peril by Jim Butcher
 Homeward Bound: Why Women are Embracing the New Domesticity by Emily Matchar
 The Map of Time by Felix J. Palma
 Sea Change by S. M. Wheeler
 Loki by Mik Vasich
 Notes from the Internet Apocalypse: A Novel by Wayne Gladstone
 In Sheep's Clothing: Understanding and Dealing with Manipulative People by George K. Simon
 Salt Sugar Fat: How the Food Giants Hooked Us by Michael Moss
 The Undertaking of Lily Chen by Danica Novgorodoff
 The Bread We Eat in Dreams by Catherynne Valente
 Queen of Kings: A Novel of Cleopatra, the Vampire by Maria Dahvana Headley
 Summer Knight by Jim Butcher
 The Power of Myth by Joseph Campbell
 Lexicon by Max Berry
 City of Dragons by Robin Hobb
 The Pilgrims by Will Elliott
 Death Masks by Jim Butcher
 Parasite by Mira Grant
 Blood of Dragons by Robin Hobb
 Writing Effective Policies and Procedures: A Step-by-Step Resource for Clear Communication by Nancy J. Campbell
 Ancillary Justice by Ann Leckie
 A Queer History of the United States by Michael Bronski
 Lockstep by Karl Schroeder
 Blood Rites by Jim Butcher
 Dead Beat by Jim Butcher
 Jennifer Government by Max Berry
 No Place to Hide: Edward Snowden, the NSA and the U.S. Surveillance State by Glenn Greenwald
 Proven Guilty by Jim Butcher
 Three Princes by Ramona Wheeler
 White Night by Jim Butcher
 Artemis Awakening by Jane Lindskold
 When We Wake by Karen Healey
 The Waking Engine by David Edison
 Small Favor by Jim Butcher
 Turn Coat by Jim Butcher
 Changes by Jim Butcher
 Side Jobs by Jim Butcher
 Ghost Story by Jim Butcher
 Cold Days by Jim Butcher
 The Communist Manifesto by Karl Marx & Friedrich ENgels
 The Googlization of Everything by Siva Vaidhyanathan
 The Girl in the Road by Monica Bryne
 Skin Game by Jim Butcher
 Supercapitalism by Robery Reich
 Lock In by John Scalzi
 The Bone Flower Throne by T. L. Morganfield
 Dawn by Octavia Butler
 Adulthood Rites by Octavia Butler
 Imago by Octavia Butler
 The Hundred Thousand Kingdoms by N. K. Jemisin
 The Broken Kingdoms by N. K. Jemisin
 The Kingdom of Gods by N. K. Jemisin
 The Great Glass Sea by Josh Weil
 Ancillary Sword by Ann Leckie
 Rise of the Warrior Cop: The Militarization of America's Police Force by Radley Balko
 The Goblin Emperor by Katherine Addison
 Old Man's War by John Scalzi
 The Ghost Brigades by John Scalzi
 The Queen of the Dark Things  by C. Robert Cargill
 The Last Colony by John Scalzi
 Zoe's Tale by John Scalzi
 Vicious by V. E. Schwab
 Failed States: The Abuse of Power and the Assault on Democracy by Noam Chomsky
 Station Eleven by Emily St. John Mandel
 When Google Met Wikileaks by Julian Assange
 The Human Division by John Scalzi
 The Magicians by Lev Grossman
 God's War by Kameron Hurley
 The Magician King by Lev Grossman
 The Magician's Land by Lev Grossman
 Without You, There Is No Us by Suki Kim
 Krampus: The Yule Lord by Brom
 Revolution by Russel Brand
 I, Q by John De Lancie and Peter David
 The World Split Open (multiple authors)
 WikiLeaks: Inside Julian Assange's War on Secrecy by David Leigh and Luke Harding
 This Changes Everything by Naomi Klein