I've been feeling like I'm in a rut lately with pandemic/pretending-there's-no-pandemic life chugging along as it does. I'm existentially fatigued from work and the pressure of knowing I just have to keep showing up to work for another 30 years (which, seriously ??????). Work continues to be extremely stupid (we are keeping the details light here on the blog just in case) but I do have some promising leads on new jobs and I hope I get one and I hope it's not stupid so I can stop feeling so much angst about it.
This weekend has actually been really great for getting out of the rut. Friday night we went out to the bay area to meet my one remaining friend from the short, fraught period of my life when I was a student at Brigham Young University. We got some Korean barbecue then went out to a fire poi/other fire objects hangout in a park because my friend Kael is big into it. I was lightly into it many years ago so, yes, I did spin a little fire poi and no I don't have any photos at this time. Doing a big, hippie park hangout is not my scene these days but it was still good to go out and do something different and watch people play with fire. This was also a super rare weekend in which I went out two nights in a row. Last night I went to the Sacramento Ballet and that was cool too. I don't want to do this much every weekend, but it's nice to have a break in the monotony and see some friends. It will also make me appreciate being inside for a little while.
Consuming
Here are some things I've recently read, watched, or bought.
Books and Other Words
I can't believe I went a whole month without getting through a book, but I finally finished something this week. I read my first Star Trek novel: Deep Space Nine: Hollow Men by Una McCormack. I don't remember how I got there, but I started following a Star Trek-themed account on instagram and that account started a book club. I didn't join the club but I read the book they chose on my own. I thought it was good but it took me a little while to get into the story. A lot of the fun of reading is imagining the world and the characters but, in this case, I can perfectly picture the characters and exactly how they would say things because I've watched Deep Space Nine. So, it was cool but it was also not as exciting as reading something unknown.
TV and Music
It's been big Star Trek energy here since we've also been watching both the new Trek shows: Discovery and Picard. I have no smart thoughts about them other than they are good and it's nice to have new Star Trek. We are also looking forward to Star Trek: Strange New Worlds, which is coming out sometime this year and is a prequel to the original series.
Rampant Consumerism
To mark that first, horrible Monday after daylight saving time starts when we all have to get up an hour early for work, my friends held a little eat-cake-and-chat session on zoom. It was great and we were forced to wonder why we hadn't been doing this all along. I had been wanting to try a cake from Milk Bar and this seemed like the right occasion to do it. It was a tasty, respectable cake, but not the greatest ever. It's very sweet, which is not a problem for me, but there was no counterpoint to the mega-sweetness. Maybe I should start a youtube channel to review cakes.
Making Things and Doing stuff
Last night we went to the Sacramento ballet. This is the second show that we get with the season tickets we bought. It's also only the second ballet I've seen; the first was the Nutcracker. This was a modern performance and very different from the high-drama of the Nutcracker. It is much harder to know what the "story" is for an unfamiliar piece, especially in comparison to something that has absolutely pervaded pop culture. However, I did really enjoy it. It's cool to see what ballet can really look like, beyond the small stuff we do in my class. It was also delightful to go somewhere with people and get some novel stimulation.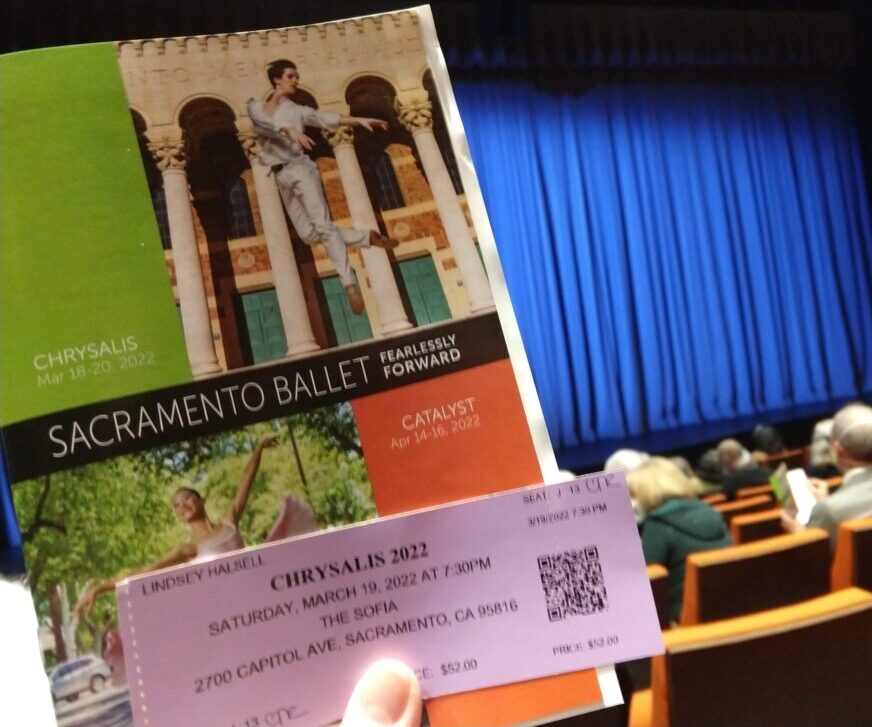 Languages
My Spanish test is two months away and my brain is already producing stress dreams about it (thanks!). A few nights ago I dreamed that I didn't realize the test was that day and then I couldn't find the piece of paper or email I needed to get in. Obviously this is an anxiety dream based on real-life events. Since I've been feeling a little more alive this week, I have been getting into a new textbook to help me focus and feel ready for the test. Ironically, I feel less ready than I did back in November. I'm sure this is just anxiety but I don't feel like I've been studying enough. Although I always feel like I'm not studying enough so I'm probably wrong.
Moving It
My roller derby team is planning to have practices again and I am now confronted with whether I actually want to keep playing in the near future or at all. I'm feeling conflicted about it because it turns out I like team sport (surprise), it's good exercise, and I've made a lot of friends there. However, the pandemic is still very much a thing, I'm enjoying my new hobby (dance!), derby is very hard on the body, and I've learned that it's difficult for me to be involved in roller derby without trying to do too much. I've decided that I'm definitely not going to start up again until after I take my Spanish test in May, since I'm already stressed enough. Part of the difficulty of this decision is that derby did really become part of my identity and it feels cool to be a roller derby person. If I'm honest with myself, I don't think I want to keep playing (though I at least want to keep announcing at games). I haven't played for two years after all thanks to the pandemic, but it's a whole process of working through those feelings. And feelings are so dumb.
Kitchen Witchery
I am still taking it somewhat easy in the kitchen lately but I have to share these perfect rolls. You may not like it, but this is what peak performance looks like.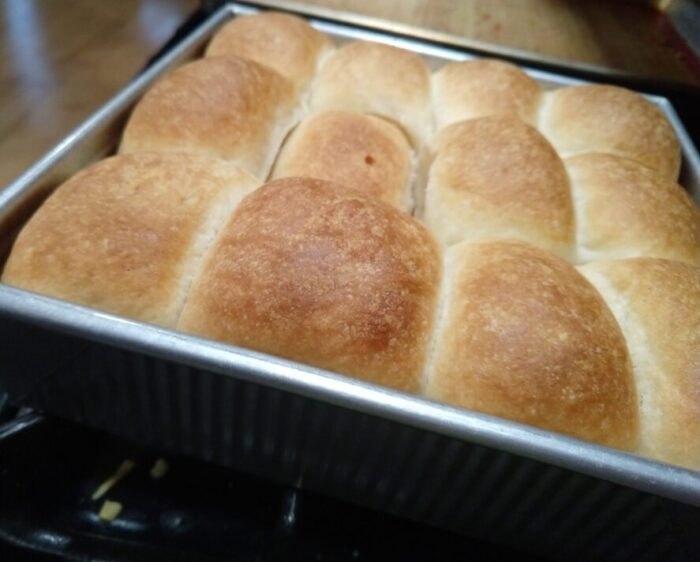 Cat Therapy
We took Fritz to the vet this week—don't worry, he's fine. He was having (gross stuff warning!) some blood in his poop but, of course, the problem resolved itself by the time we went to the vet. The good news is we're now certain he's free of parasites and the vet said he's very healthy. We also learned that he now weighs over 10 pounds! Fritz did really well riding in the car and Kirk decided we should go through the Taco Bell drive through just to see how Fritz behaved (Fritz didn't order anything and didn't do anything nuts like try to leap through the drive-through window). Will Fritz go on more car rides? We shall see.
Finally, here are some cat photos for your nerves.