Hello friends and enemies. Remember two weeks ago when I said my knee had been making troubling noises and causing problems? Well, I went to the doctor about it. One x-ray later and I learned that I have both arthritis and osteopenia. I'm not thrilled about this but I'm glad to have the information so I can do something about it and hopefully keep my dumb joints and bones from deteriorating too quickly.
The whole process of dealing with the doctor has been infuriating. Before I went for the x-ray, my doctor's advice was to lose weight and do low-impact exercise like riding a stationary bike. I told him I'm still in my 30s and would like to do things so just riding a stationary bike is not gonna cut it. He basically shrugged at me and sent me on my way. What aggravated me even more is that the doctor didn't even tell me about the osteopenia after the test results came in; I wouldn't have known about it had I not looked at my x-ray results online. The doctor sent me a two-sentence email to tell me I have mild arthritis and he had referred me to physical therapy. When I wrote back to ask for more information, I got a copy/paste response about how much calcium to take. Talking to the doctor was less informative than reading half of a wikipedia page.
I have a lot of questions about this stuff so I have picked a new doctor (my appointment with her is in a couple weeks) and have been reading some academic literature on the subject. I also had a consultation with a physical therapist that my ballet teacher recommended and I'll be seeing her for a real appointment next weekend. What I have learned so far is that the crunchy noises (medical name: crepitus) are not the sounds of the joint breaking in real time and don't indicate damage. However, crunchy noise does suggest you have problems like arthritis. A lot of the literature says it's important to stay active (which reminds me, the doctor also told me to strengthen my leg muscles. Have you met me?) because you need strong muscles to support the knee joint and because muscle mass is important for encouraging your bones not to turn into dust. So, I am still going to my dance classes and I have been going for a little physical health stroll most days, which has the added benefit of getting me some sun—you have to get enough vitamin D so that your body can absorb calcium so, again, your bones don't turn to dust.
This has all been a lot to deal with. I know I'm not really young anymore but I feel too young to have to deal with all this. Alas, I have been doomed by my genetics. We did not pay the subscription fees to get those premium genes. My mom also has knee problems osteopenia, and my grandma has osteoporosis (which is what osteopenia progresses to). I'm guessing five years of roller derby may not have helped my knee situation either given that arthritis can also be caused by "trauma." Even with knee pads on, I'm sure all those falls did not help me.
Speaking of roller derby, yesterday Sacramento Roller Derby held their first games since before the pandemic. I showed up to do the live game commentary and entertain(?) the viewing public with my antics. It was a little surreal to be at the roller derby and not know everyone anymore, but of course the universe does not revolve around me (shocking information!) and things move on and new people who I don't know join. A bunch of people I do know seemed not to totally recognize me and I got a lot of double takes so that was funny and strange. At least as many people asked me if I am planning to come back to play. Given the aforementioned medical situation, I am officially retired from playing roller derby. It's not worth the potential for greater injury. I have to live with this busted sack of bones for quite some time yet. All the same, it was fun to see people and do something outside of the house.
Books and Other Words
I've been on a bit of a non-fiction jag lately. Sometimes I am consumed with knowing a little bit about everything and there are so many books out there and I want to read them all.
Children of Ash and Elm: A History of the Vikings by Neil Price. I really enjoyed this book. Of course the subject matter is of interest to me, but I thought it was so well written, which doesn't always happen with history books. The author managed to inject a little humor (not that history is hilarious, but Price has a wry way of describing things). I also liked that it was a balanced take on the Vikings and really did a lot of work to put them into context and humanize them, while still acknowledging their flaws.
The Darkness Manifesto: On Light Pollution, Night Ecology, and the Ancient Rhythms that Sustain Life by Johan Eklöf, translated by Elizabeth Denoma. Light pollution is not something I had thought much about before this book, to be honest. This is an almost poetic, yet well-researched, explanation of how light affects nighttime creatures as well as humans.
Pirate Enlightenment, or the Real Libertalia by David Graeber. I checked this book out from the library because I saw Cory Doctrow mention it. I didn't know anything about it other than this recommendation, so I thought it was going to be about information piracy and some kind of modern philosophy around that. No. In fact, this book is straight up about pirates in Madagascar in the 1700s and how European pirates interacted with the local cultures. It was fascinating!
Meanwhile, on the internet:
Kitchen Witchery
I made this chickpea, coconut, and cashew curry recipe last week. It was very fast and easy. Although I do like getting into complicated recipes, I also have to eat every single day (unbelievable, right?) so I was glad to find something easy and good like this. I'll definitely make it again. I also tried a really tasty recipe from 100 Cookies: chocolate hazelnut bars. It's got the perfect blend of textures and it's delicious. The photo is uninspiring but you get the point.
Cat Therapy
Here's Huey chilling with me.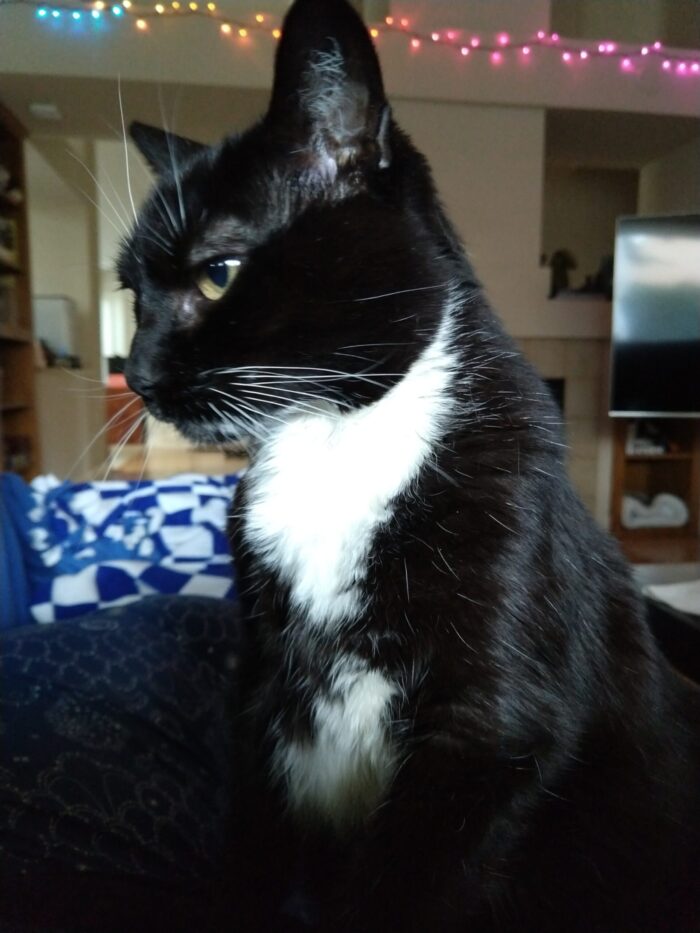 Fritz is now two years old! He doesn't know what a birthday is because he's a cat, but happy birthday to him! He remains a cute menace. He's taken to lounging in the windowsill in the mornings when the sun comes in. He looks like the platonic ideal of a cat. I take a picture of this every day.