The Supreme Court overturned Roe v. Wade on Friday and it's basically all I can think about. So, instead of my usual blog, I'm sharing some thoughts and resources, for whatever it's worth.
I think some of you will think I'm overreacting. To this I say: I would love to be wrong. However, experts in law, privacy, and reproductive justice are sounding the alarm in stark terms. This is a time to prepare for the worst even if it might not happen.
I will also make my usual caveat that I'm not an expert on any of these things in particular. I'm good at reading and gathering information. Putting a post together like this helps my anxiety. If it helps anyone else, that's a wonderful treat.
Historical Context
I want to highlight that corporations using data to know too much about you is not new. Ten years ago, we learned that Target might know if you're pregnant before you or your family does. Furthermore, women have already gone to jail over miscarriages. We also know that the Trump administration was tracking detailed information about periods and pregnancies of the migrant women and girls they were holding in custody. I'm sharing these links to show that it's not far-fetched to think that corporations might know you're pregnant or that the government might take you to court over a miscarriage or stillbirth. It's not just that it will happen with Roe overturned, it's that this already has happened. This is why we have to be careful. The infrastructure of surveillance already exists.
Internet Privacy
Because we do most of our work and communicating online, locking down your internet presence as much as possible is extremely important.
The Electronic Frontier Foundation (EFF) has a Surveillance Self-Defense toolkit that walks you through what you can do to secure your online presence. This isn't specific to abortion, but there is a lot of helpful information to securing your personal data in our high-surveillance tech environment. One of the EFF's recommendations is to use a virtual private network (VPN), which is a way to obscure your physical location to people snooping on your online activity and to secure your data from your internet service provider. I am personally thinking about getting the Mozilla VPN for a little extra internet security.
The Digital Defense Fund has published a guide to Keeping Your Abortion Private & Secure, which offers internet security advice specific to getting an abortion.
Social media companies like facebook/instagram, twitter, and whatsapp will not hesitate to share your private messages with law enforcement. I highly recommend getting Signal for messages. Signal messages are encrypted and no outside parties can access them, including law enforcement.
Another way to help keep your searches private is to use a search engine like DuckDuckGo, which doesn't collect data like Google does. Here's a guide on how to change your default search engine in Firefox.
Existing Networks and Resources
As more of us get involved in reproductive justice, we need to support the many organizations that already exist. I know we are all feeling desperate to help and just do something but telling strangers you're happy to have them visit you for "camping" is not the answer. Existing abortion networks have pointed out that they've been doing this work for decades and have the infrastructure in place to keep people save. It's one thing to invite a friend to stay with you, but strangers can't trust that we aren't going to snitch. Abortion networks vet people who drive or offer places to stay in advance. The best thing to do is get in touch with your local abortion network to volunteer or to send money. Hell, you don't even have to send money to a local network. Send money to one in any state.
The National Network of Abortion Funds has a directory or abortion providers to reference if you need an abortion or if you're looking for a fund to support. I recently set up a monthly donation to northern California's Women's Health Specialists, which has offices in Redding, Grass Valley, and Sacramento.
I highly recommend Robin Marty's book The New Handbook for a Post-Roe America: The Complete Guide to Abortion Legality, Access, and Practical Support. I read the original guide a few years ago and found it very informative. This book is a great practice resource and gives some background on the ongoing work in the field.
California Thoughts
I live in California where we are lucky to still have legal abortion and not have any shitty trigger laws like many states. In fact, California is going in the opposite direction. The governor signed a law that "seeks to protect those in California from civil liability for providing, aiding, or receiving abortion care in the state," which is great. I hope California remains a safe haven for women's health. However, I still think we need to be cautious and prepared for the worst. I've seen experts say that authoritarianism moves fast. Once you hit a tipping point, the madness speeds up. So, while I hope we remain safe here in California, I don't want to count on it.
Do Something
It feels like we're all screaming into the void right now (no shade to screaming into the void). I think most of us who aren't already involved in this work need to get in touch with existing organizations, get offline, and do the work. Here are some of my ideas for what to do:
Get informed. Pick some reliable sources (not infinite doom scrolling!) and follow them. Pick a publication, an expert with a blog or twitter feed, or a book like Crow After Roe and make sure you know what you're doing.
Take an EMT or Basic Life Support course. If you're interested in health care, this is a way you can provide tangible support in your community.
Send money. I know I already said find your local abortion fund and send money, but I'm saying it twice because what most people really need is money to go where the abortions are and pay for health care.
Start volunteering for an existing organization, learn what they need, then figure out how your skills can help.
Shut up online. Stop talking about your plans publicly on the internet. Take it to a secure messaging or email. Again, I would love to find out that I'm being over-cautious but I don't think that's true. Get your online security in order now before things get worse.
Build community: Local community is what's going to get us through this. Connect with people near you (not just about abortion rights) and be ready to support each other when things are hard.
If you have an idea that I missed, let me know in the comments and I will add it to the list!
Funny Pictures
Like many of you, I have been coping with this by looking at and sharing internet memes. Perhaps these will cheer you a little as they have me. I know this is all very serious, but if I don't laugh, I will cry.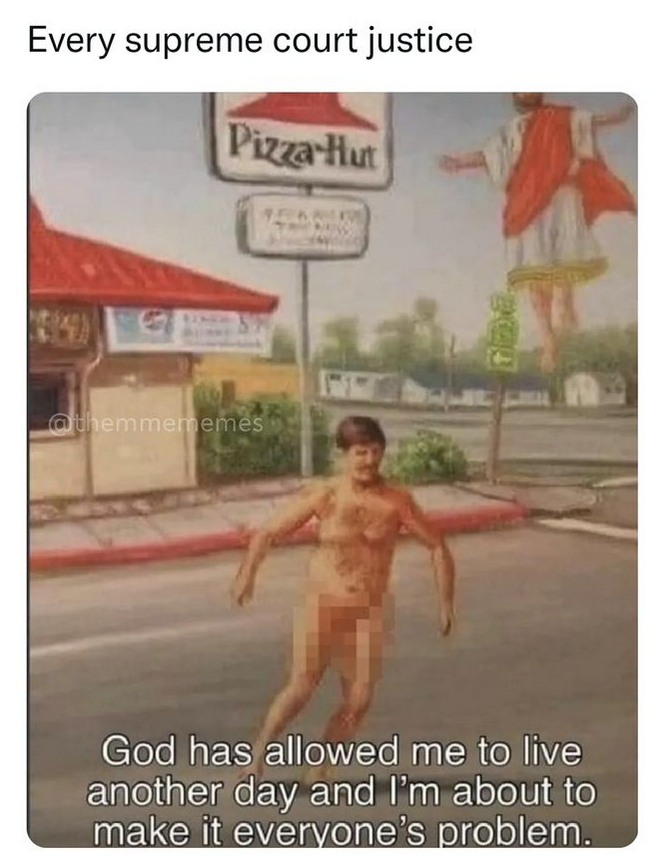 Cat Therapy
This isn't a regular blog post but I still think you might want some cat photos for your nerves.