I'm back for another week of talking about my life. I'm proud of me for sticking with this for at least two weeks.
Something I've been thinking about a lot this last week is the situation at the border with refugees being kept in concentration camps. I want to write about this but I'm still organizing my thoughts. I'll probably make a separate post this weekend about what I plan to do and some articles. So, even though that's been on my mind all week, it's not making an appearance in the rest of this post.
Consuming
Here are some things I read, listened to, or bought this week.
Reading
This week I finished reading Anti-Social Media: How Facebook Disconnects Us and Undermines Democracy. I started following the author, Siva Vaidhyanathan, on twitter a while ago after reading his book The Googlization of Everything — and Why We Should Worry. Vaidhyanathan is a professor at the University of Virginia who researches communications and technology and their interactions. I really appreciated reading Anti-Social Media and I recommend it for anyone who uses facebook. Although it's an academic work, it's very accessible and easy to read. One statement from the book that resonated with me is that facebook encourages declarations, not discussions. You post something and … that's it. People click on the emotional reactions and most posts don't get much further. That's something I have noticed, the lack of discussion. It is possible but it is hard to get it started. Although facebook claims to be a tool that brings us together, it does so only superficially. A lot of what we post could serve as a conversation starter, but I rarely see conversations started, which is why I started these weekly posts for myself.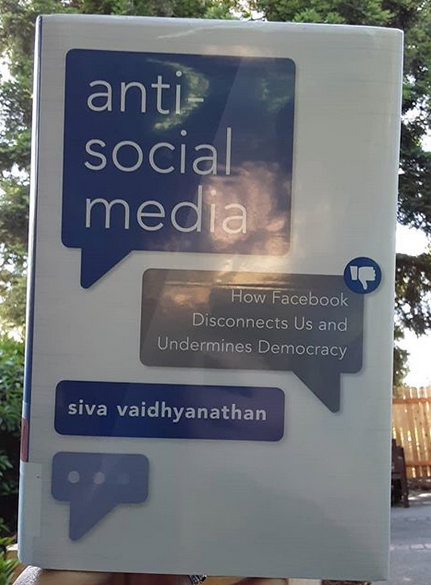 Related to this lack of discussion is that facebook rewards emotional engagement and that, according to Vaidhyanathan, contributes to our inability to see large-scale issues. If a political campaign knows people get riled up about abortion, the campaign can make targeted ads about just that. People will share (in outrage or glee) the ad and no one will have discussed the bigger issue of how the candidate actually intends to govern or what our cultural values are and how we promote them through governance. I liked the book for putting words to this phenomenon. I want to keep trying to find ways to connect with my friends and communities that are not mediated by facebook, or at least that encourage a deeper connection.
I also read an interesting article from The Atlantic called The Boomers Ruined Everything: The mistakes of the past are fast creating a crisis for younger Americans. It makes the argument that the baby boomer generation perpetuated a certain level of conservative policy making, which has made it much more difficult for younger people to get jobs and houses. I've complained plenty about baby boomers fucking things up for us, but it's interesting to see a case for specifically how that happened.
Listening
I've had the Pussy Riot song "Make America Great Again" stuck in my head all week. It's something of an anthem for these fucked up times. A warning if you are going to watch the video, it's fairly disturbing. However, it is a strong, artistic statement. Look up the song on spotify if you're not ready to watch, but here's the video link regardless: https://www.youtube.com/watch?v=s-bKFo30o2o
Rampant Consumerism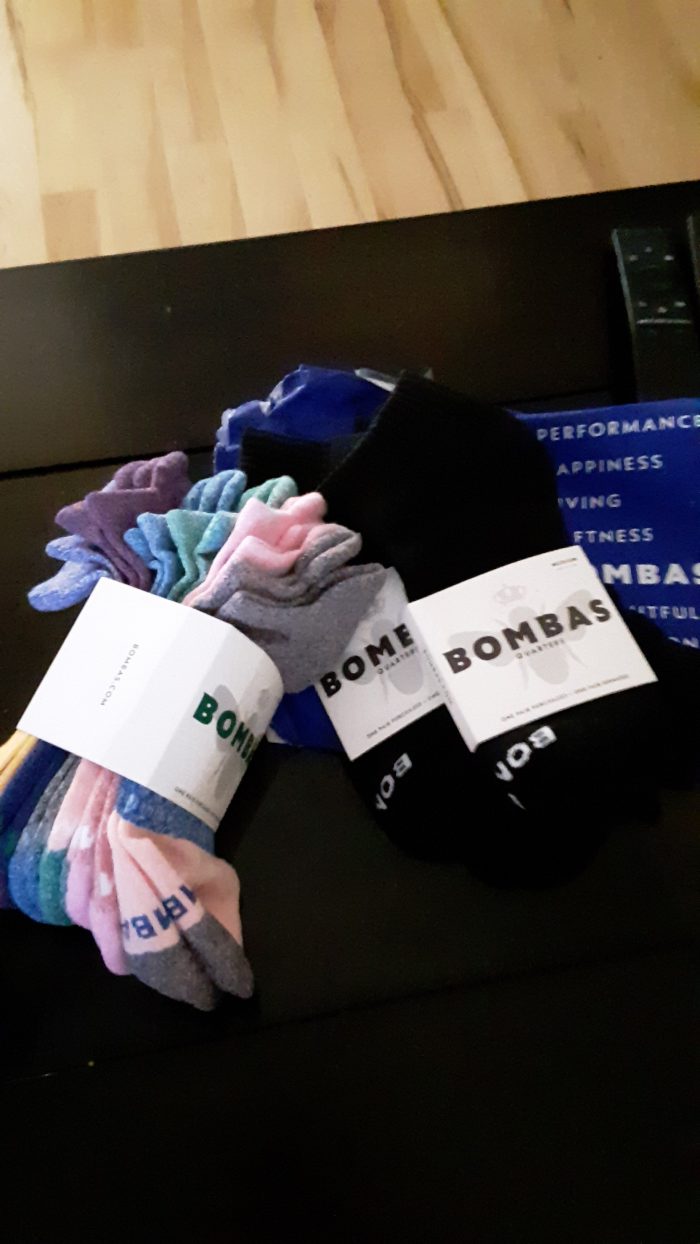 I bought some new socks from Bombas recently. A few teammates have been talking about how great they are, so last month I bought two pairs to test it out. I told Kirk they felt great and his response was that all new socks feel great. He had a point. After a few washes, they still feel amazing. I didn't know socks could actually feel this good, as ridiculous as that sounds. Highly recommended. This isn't even a paid post, it's my real opinion. I like the company because they donate a pair of socks to people in need for every pair that people purchase. In the absence of our government using tax dollars for taking care of citizens, I appreciate companies taking the initiative to do so.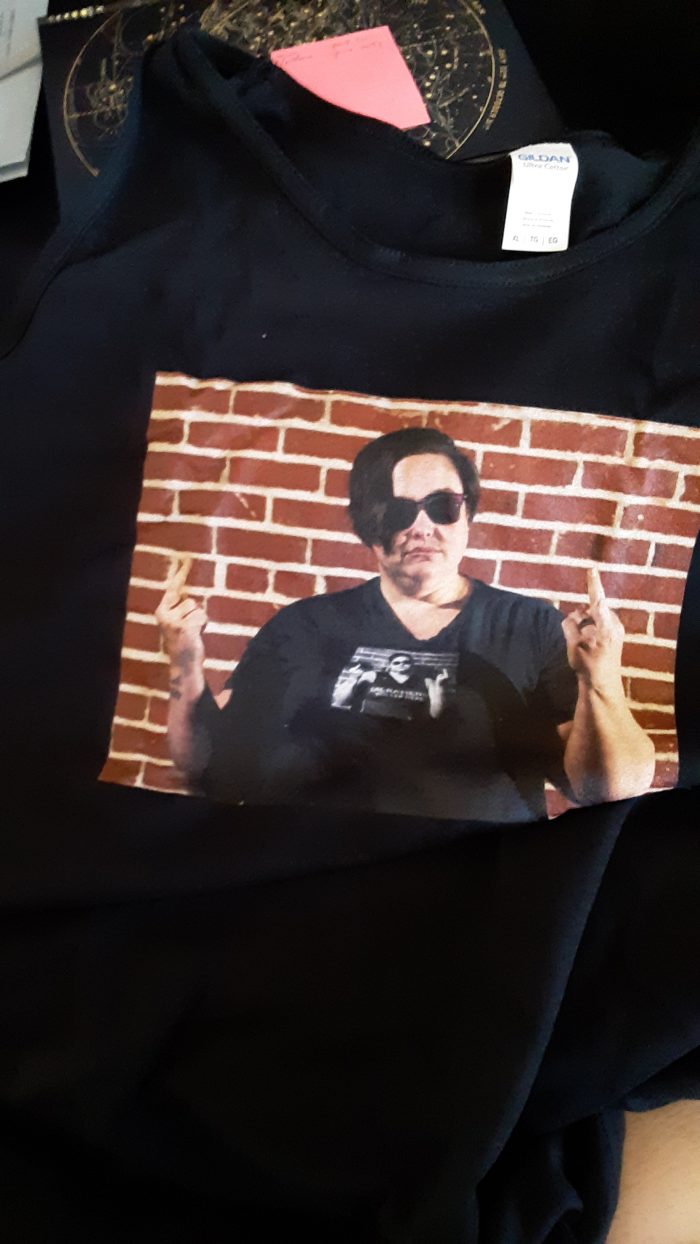 I also finally got my new shirt, which features me wearing a picture of me wearing a picture of myself. This shirt will imbue me with even more power—because what's more powerful than adorning yourself with your own image? You can get your own on my teespring site, which has this shirt as well as the non-recursive version. Profits go to me and world's best derby photographer Bone Appétit to fund derby travel.
Making Things and Doing Stuff
Here are some things I did this week.
Roller Derby Life
Our game against Santa Cruz went really well! It was a close game throughout, which means our opponent was a good match, but we won in the end. It's always satisfying to win a close game. Knowing that the game could have easily gone either way, but that we won, makes it feel like we accomplished something. I thought all my teammates did a really good job and it was fun to have a big crowd at the Rink. I also got the award for best blocker, which is always exciting! Although I am pretty sure that in some games, I'm not actually the best, just the one with the hits that my opponents most remember.
I also found out this week that I did not make the travel B team. It didn't surprise me but I was hoping for that extra bit of validation. The upside is that I don't have to adjust my practice schedule and I get to stay with all my friends.
Language Learning
My Spanish teacher Oliva and I discussed learning versus acquiring a language, inspired by this video in which the author spends a year learning Arabic. Linguists differentiate between acquiring a language (learning like a baby would, by interacting with people who speak the language) versus learning it (like you would do in school, memorizing grammar and vocabulary). In the video, the author sets out to acquire Arabic by having language exchanges and lessons with native speakers. I will say it made me nostalgic for learning Arabic, although I suppose the matter of that language is a discussion for another day. I like some of the strategies he used, but I found it presumptuous that he suggested you could just approach people you know and ask them to help you learn a language, as if that's not a big investment of time and labor. In any case, I am going to try to incorporate some of the spirit of this into my own learning. I tend to focus on my flashcards and drills because it has a certain predictability that I enjoy, but I know I need to spend more time reading and listening and getting that comprehensible input. I'm hoping this will especially help my Icelandic, since that is a tricky language and I'm super bad at understanding the spoken language.
Getting Crafty
If you follow me on instagram, you've seen this already, but I am proud of my handiwork, so I'm sharing it again. I finished a baby quilt for my friend Mandy and her forthcoming baby. I choose fabrics to celebrate her heritage and I think the end result turned out great, especially considering my limited quilting experience.
Kitchen Witchery
We went to the farmers market last Sunday so of course I spent this week making lots of good food based on what I found there. For the most part, I didn't cook anything too elaborate, but I enjoy the task of making simple food extra tasty.
undressed chicken caesar salads

macaroni and cheese and broccoli

homemade pesto

walnut, pesto, and cheese rolls

pork tenderloin with pesto, zucchini, and mashed potatoes
Chicken caesar salad with carrots and lettuce from the farmers market. I grill up a bit of chicken and the result is a very simple meal.
Macaroni and cheese plus some broccoli. This colby jack cheese from the farmers market is basically the perfect cheese for macaroni.
Pesto. I bought a huge bunch of basil from the farmers market with the intention of making pesto, but without a clear idea of what to do with it. Luckily I discovered some inspiration.
Walnut pesto, and cheese rolls. The recipe is from "The Harvest Baker," and these are basically all I want to eat now.
I grilled a pork tenderloin and glazed (in a manner of speaking) it with pesto. Served with grilled zucchini and mashed potatoes, and of course, more pesto.
Finally, here's a luxurious Huey for your nerves.