Hello, friends and enemies. I've felt a little uninspired in the blogging department lately. Although I've been assured that what I have to say is interesting, I feel like there's not enough happening in my life or my thoughts from week to week to warrant saying much here. Like, yes, I read more books, I cooked more foods. This is my status quo. There's nothing wrong with my status quo, but is it interesting to document? A friend suggested I could change up the blog format if I'm not feeling this one anymore and I like that idea, but I'm not sure where to go instead.
This blog is now ten years old, if you can believe it. I've only been using this weekly format for the last three or four years. When I first started the blog, I was finishing grad school, where I had taken a class about web design (yes, as part of my library and information science degree) and part of the class included setting up a WordPress blog. I had been thinking I was also going to set up a portfolio website so I bought lindseyhalsell.com and this domain for my blog. I never did make that portfolio, although I start new plans for it every other year, but the blog has endured. I started the blog to write book reviews because I thought somehow I was going somewhere with that (the reviews are still up under the book review tag, if you want to see my old book thoughts). My most viewed post is actually this review of a book about the Independent Fundamentalist Baptists, which I think people are finding by searching "Are independent fundamentalist baptists a cult?" (If you're searching that question and found this post: it doesn't matter if it's a cult or not. You're allowed to feel safe, fulfilled, and happy. If you're not getting that where you are, I hope you can leave).
I'm sure I want to keep writing about my life and things happening in the world around us in some capacity, but I'm not sure what. The posts I've been most proud of are my informational ones, like the voter guides, although those are also the most work. I'm open to suggestions if anyone has any insights.
Books and Other Words
I'm off to a good start with reading this year. I won't say "could this be the year I read 100 books?" because I always seem to curse myself. Plus, it's easy to want to lie around and read at this time of year.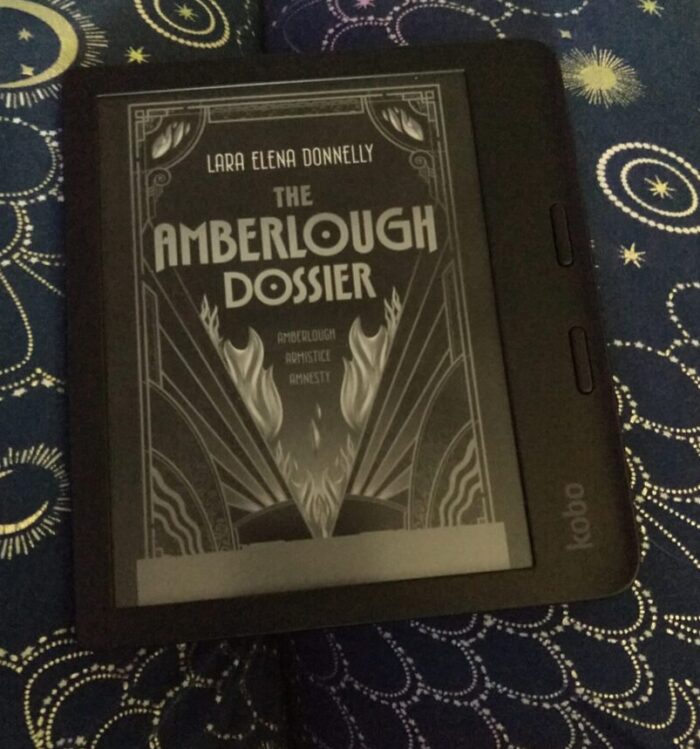 The Amberlough Doissier by Lara Elena Donnelly. I really loved this trilogy. It's set in a sort of alternate-universe 1930s. The main characters are two lovers, a spy who is bad at his job and a male cabaret performer/self-proclaimed "sovereign of the demimonde." Encroaching fascism makes them both need to leave the country and they each secretly make plans to try to get the other out. Hilarity ensues?
High Times in the Low Parliament by Kelly Robson. This was a fun little book. Lana works as a scribe but is really only interested in flirting with all the girls. Thanks to unfortunate circumstances, she gets summoned to be a scribe in parliament, which consists of representatives throughout Europe and is run by fairies. The fairies have announced that they are going to drown humanity and start over if parliament can't get its shit together, which reads to me like an allegory for climate change. You know what? Shout out to Kelly Robson for making climate dread fun and sexy.
Egypt's Golden Couple: When Akhenaten and Nefertiti Were Gods on Earth by John and Colleen Darnell. These authors are living the dream I had at 18 of being part of a married couple of Egyptologists and writing books about eighteenth dynasty pharaoh Akhenaten, my personal favorite. Although I am glad I did not become (and marry) and Egyptologist, I still like to visit my old academic stomping grounds from time to time. I liked how the authors incorporated stories into their book to complement the historical reporting.
Miss Iceland by Auður Ava Ólafsdóttir. I didn't know what this book was going to be about but it's Icelandic and I had heard good things so I read it. I thought it would be some kind of send-up of a beauty contest but it's much better than that. The main character, Hekla, just wants to write books. She moves to Reykjavík to work and write but is constantly harassed by men (this is set in the 1960s—peak harassment era), particularly one who insists she should be Miss Iceland for a beauty competition, in which she would get to travel to scenic Long Island. The story is great, it's well written, and will make you mad about misogyny and homophobia.
Meanwhile, on the internet:
Making Things and Doing stuff
I don't think I've had a chance to mention that I tried weed again after my very boring first time. I dedicated new year's eve to this second experiment and my friend Abby came over to record any potential antics. I did actually get high this time, though not wildly so. My brain slowed down a little and I felt like I was laughing a lot more. Kirk said I seemed the same though. Also, since I'm already pretty weird and open about my thoughts, I wondered if we'd even know if I was high. Abby theorized that I might start talking about economics or something profoundly normal/boring if I was out of my mind. She's probably right but I didn't take enough to get to that point (and thank god, right? How insufferable would that be?).
Moving It
Last week I had a vision therapy follow-up appointment. It's been three months since I finished 52 weeks of vision therapy for my stupid, misaligned eyeballs and the appointment was to check that I hadn't lost what I'd learned. I was stressed that they were going to tell me I needed more therapy (have I mentioned that it's very expensive and not covered by insurance?). Fortunately, my eyes are as strong as they've ever been. The therapist told me I nearly broke one of the tests—a computerized one that adapts as you respond correctly—and nearly doubled my score from last time I took it. I'm extremely relieved to be done for good with this.
Languages
I've been having a lot of fun with Spanish lately working with translations. I've been translating a story from Spanish to English, which is not the direction I'd go if I were a professional translator (it's much preferred to translate into your native language), but it's helping me refine what I know and bringing up a lot of nuances in the language for us to discuss. I recently translated the very silly title Not Pounded by the Physical Manifestation of Bisexual Gatekeeping by Chuck Tingle. I've started on All Systems Red by Martha Wells, for my second translation.
I keep thinking about finding ways to get more into translation and then not doing anything. I know there's a whole genre of wikipedia editing dedicated to translating articles from one language to another to fill in gaps. A while ago, I was also trawling some volunteer board for little translation jobs. Perhaps I'll look into that again. It's hard to imagine that translating can ever be my full-time job, even though I know intellectually that I'm not too old to change careers, but I at least want to play around with it a little more.
I also started having a little fun (and frustration) translating in Icelandic. I can't over-emphasize that my Icelandic is not actually good enough for this task, but it's informative as a learning experience. I have knitting reference books in both Icelandic and English, so I tried translating just a little bit of each, hoping that working in the same topic would make it easier. It sort of worked. Translating into Icelandic was hard as hell. I know nothing of syntax. That said, I am going to try this exercise again. I'm thinking I'll use cookbooks next.
Kitchen Witchery
I was on a real losing streak in the kitchen for a few weeks, which included a cake stuck in the pan, a completely inedible Christmas dessert, and more than one botched dinner efforts. Fortunately, I have finally broken free of it and have made some good food this week. I made a delicious beef pot pie (recipe from The Harvest Baker), but the photos don't look like much so you'll just have to picture it in your mind. I also made these really good scones with raspberry "jammy bits" and chocolate chunks. Kirk said I should make them again, which is high praise from him.
Cat Therapy
I would be remiss to not mention that it's two years today since Viola died. I miss her terribly but having Fritz has made it a lot easier to bear the loss.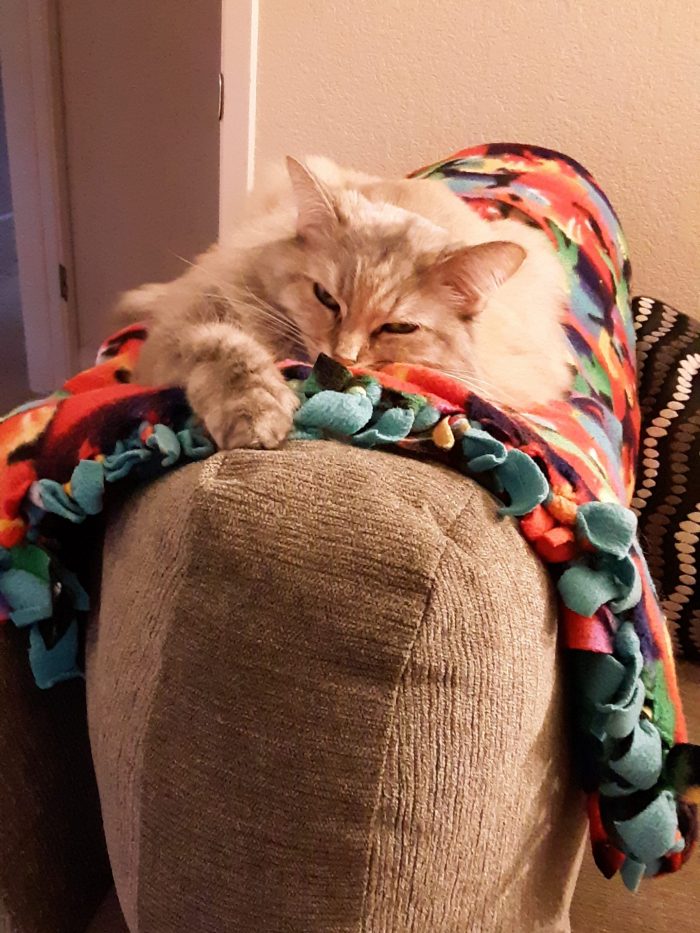 Finally, here are some more recent cat photos for your nerves.